How Tim Burton Landed On Batman's Operatic Ending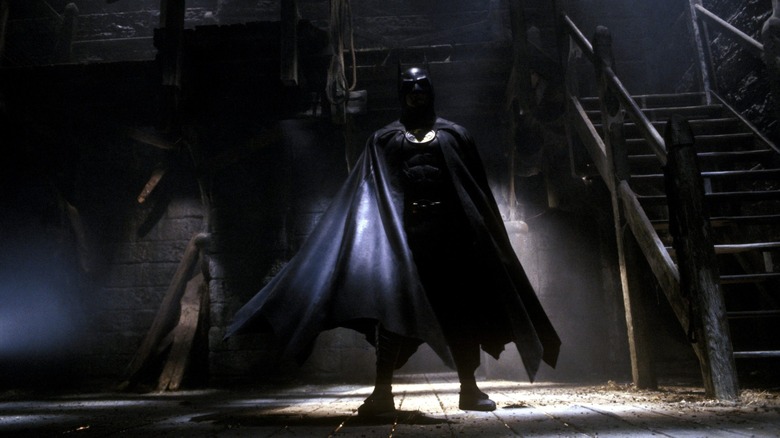 Warner Bros.
After appearing in approximately a dozen films and counting, the character of Batman has proven to be one of the most versatile (and profitable!) in cinema history. At this point, Batman is almost a cinematic universe unto himself, with the character and the films he appears in able to range from dark and gritty to family-friendly camp. However, this wide range of possible tonal approaches means that landing on just one version for each cinematic adaptation is cause for debate.
Just such a debate plagued the making of 1989's "Batman," a production that was made even more challenging given that the prior live-action version of the character had been the intentionally comedic late-'60s TV show and feature film. Director Tim Burton, screenwriters Sam Hamm and Warren Skaaren, and producers Jon Peters and Peter Guber all had a general, more serious direction in mind for the film, yet they bandied about a number of disparate ideas on how to achieve that throughout the making of the movie.
Such unresolved creative tension was bound to hit a stumbling block, and did so when it came to the movie's ending. While problems with the finale increased to the point where filming was momentarily halted, Skaaren, Burton, and the cast were eventually able to come up with a final sequence that ultimately satisfied the movie's narrative, tone, and themes, proving that "Batman" — the film and the character — contained an operatic depth that could move beyond cartoonish fight scenes and quips.
Think about the future: the original ending gets dropped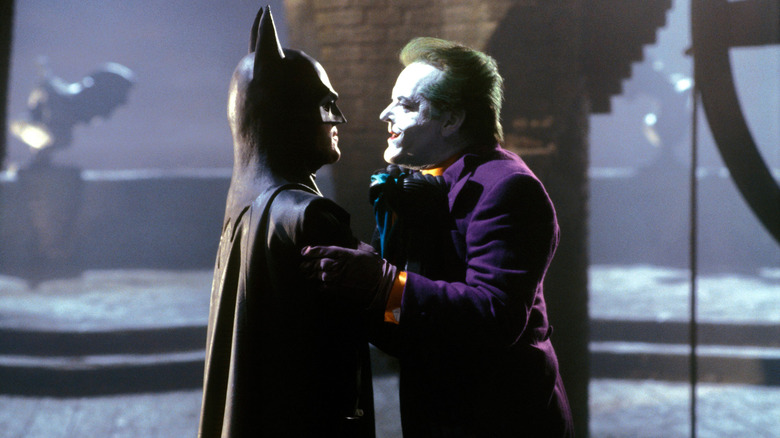 Warner Bros.
While Hamm's draft of the screenplay helped get the film made, his unavailability thanks to a Writers' Guild of America strike led to Skaaren being hired to rewrite. Although Skaaren was a veteran script doctor who'd previously worked on Burton's "Beetlejuice," he found "Batman" a particularly difficult gig given the debates over the movie's tone, not to mention other production problems like the recasting of Vicki Vale from Sean Young to Kim Basinger after the first month of shooting.
With the ending being shot toward the last few weeks of principal photography, Burton and his cast ran into problems. The original plan had been for the Joker (Jack Nicholson) and Batman (Michael Keaton) to square off at the top of Gotham Cathedral, but Peters insisted that Vale be included in the finale, and had gone ahead and commissioned a 38-foot model of the cathedral's bell tower without telling Burton. As Burton recalled, he and the cast were shooting the ending with no sense of direction, at one point filming Nicholson and Basinger "walking up this cathedral, and halfway up Jack turns around and says 'why am I walking up all these stairs? Where am I going?' And I had to tell him I didn't know."
Burton had already realized that the initial script "needed a little work," with the rest of the filmmaking team thinking that "it needed a total rewrite," and as "Batman" neared the end of its production, another writer was brought on to help Skaaren rework the script: British screenwriter and actor Charles McKeown. With just weeks to go before the production wrapped, "Batman's" ending was saved thanks to a team effort, led by a chance trip to the West End.
Let's get nuts: musical theater and Hitchcock help create the new finale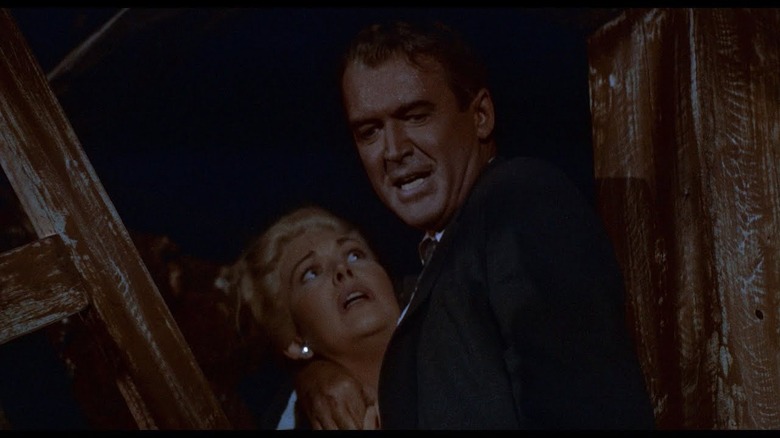 Universal
Without Andrew Lloyd Webber's 1986 musical version of "The Phantom of the Opera," "Batman" may have had a very different finale. According to actor Robert Wuhl (who portrayed Knox in "Batman"), Nicholson and Peters saw "Phantom" while shooting "Batman," and "they came back to set with a vision for much more climactic, operatic ending." Burton ran with the idea, choosing to shoot a sequence within the bell tower set to a waltz (which composer Danny Elfman would eventually write) wherein Batman takes out a number of Joker's henchmen.
Capitalizing on the opportunity the waltz would provide, Basinger approached Burton with her own idea for Vicki's involvement in the finale: Vicki would actually dance the waltz with Joker. The actress recalled that "Tim and I sat for hours really putting that dancing scene together and presenting it to Jack," Nicholson eventually approving Burton and Basinger's notion that she would "seduce him to take his focus from Batman." Basinger astutely realized this would "flip" what the Joker had been doing in the movie up to that point, with the waltz being a musical number weaponized against a villain who had used music several times earlier in the film as his own deadly distraction.
For his part, Burton leaned into the Gothic aspects of the finale to heighten its operatic tone. He and cinematographer Roger Pratt pumped up the German Expressionism of the cathedral setting (designed by Anton Furst with an eye toward Gothic architecture) while composer Elfman let his Richard-Wagner-meets-Bernard-Herrmann score flex its bombastic muscles. Elfman's Herrmann influence didn't emerge from nowhere; the climbing the cathedral scene, with Joker forcefully dragging Vicki up a precariously high flight of stairs, recalls the climax of Alfred Hitchcock's "Vertigo," for which Herrmann had composed the score.
Burton's "Batman" is a movie about characters driven mad by a seemingly never-ending cycle of trauma, and these characters express themselves in a number of theatrical ways. In addition to Bruce Wayne and Jack Napier dressing up as a bat and a clown, respectively, the emotions of these characters become so great that, as in musical theatre or opera, they emerge in the form of music or a sort of dance: Joker creates musical numbers for himself and even asks Batman to "dance" during the movie's final fight sequence. "Batman's" ending being operatic is only natural as a result of all this, proving that there was a way to take a comic book character and portray him seriously while still retaining a sense of high drama.