The Batman Soundtrack Is Getting A Deluxe Vinyl Release From Mondo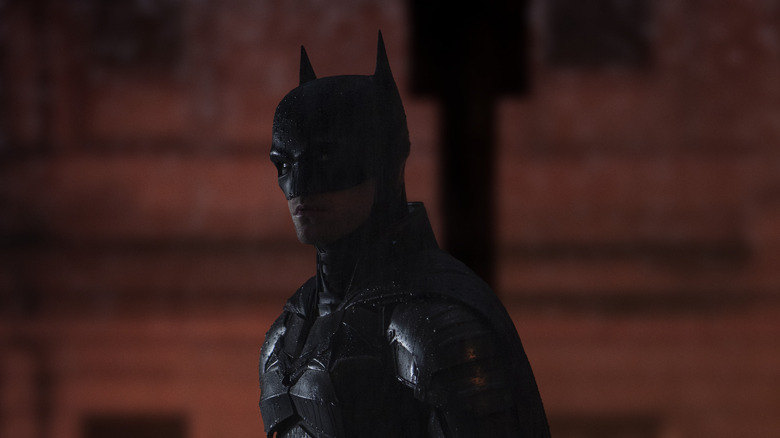 Warner Bros. Pictures
"The Batman" blew me away. I unabashedly love this film with all my bat-winged heart. I've been humming the score since I saw the film, and though I'm not a person who listens to movie scores for fun, I would absolutely do it with this one. This means you're going to have to get in line behind me to pick up the Mondo pressing of "The Batman" Original Motion Picture Soundtrack when it goes up for pre-order. 
Mondo is partnering with WaterTower Music for this vinyl featuring Michael Giacchino's gorgeous score, which, by the way, has some very punny titles, as you'll see below. Giacchino is responsible for film soundtracks like, "The Incredibles," "Coco," "Jojo Rabbit," "Ratatouille," "Star Trek," "Jurassic World," "Rogue One: A Star Wars Story," "Spider-Man: Homecoming," and "War for the Planet of the Apes." Maybe you've heard of them? This is the fifth partnership between director Matt Reeves and Giacchino, and clearly they've made some magic here. 
'Highway to the Anger Zone'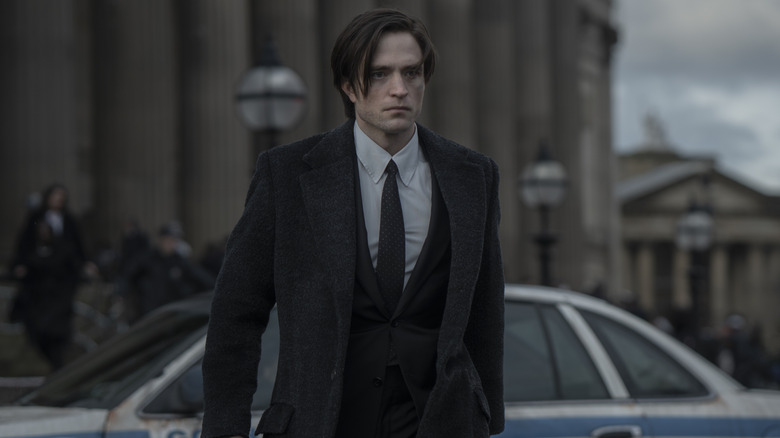 Warner Bros. Pictures
Mondo Creative Director Mo Shafeek said of the soundtrack, "In 2022, five decades and nearly two dozen takes on the character and the music of his world, it should be impossible to tackle the world's greatest detective with such a fresh and iconic take, but here we stand, and the soundtrack to 'The Batman' is as inspired and essential as the film itself."
I find it hard to disagree with that. I know people always say lovely things in press releases, but this score is ... chef's kiss. It didn't distract me from what I was watching, but it stuck in my head for days. It's simple, and it's perfect. I don't gush over soundtracks very much, but this one deserves it. Just look at that cover:
If you want to pick up the Mondo pressing, you can pre-order it on Wednesday, March 9, 2022 at 1:00 PM ET at Mondo's officially online shop. The score runs nearly two hours (yes, the movie is almost three, but there was "Ave Maria" and "Something in the Way" all through there as well) and will be housed on three discs, with all new artwork by Henry Adams. It's pressed on 180 gram vinyl with the colored LP version exclusive to the Mondo webstore, but it's also available on 180 gram black vinyl. It will retail for $50 USD. Check out the tracklist below.
'For All Your Pennyworth'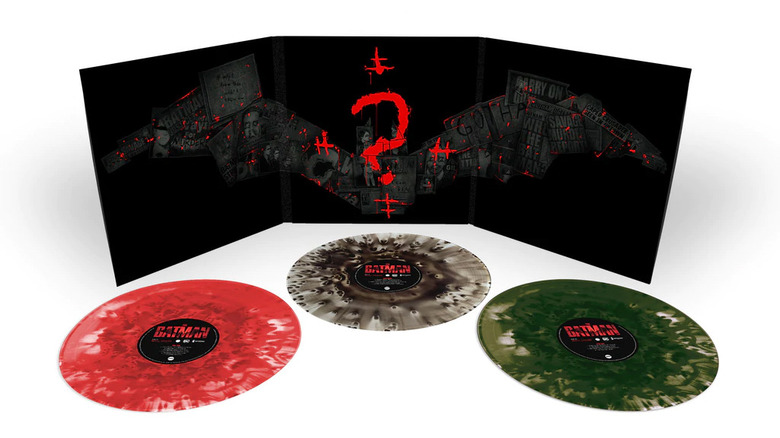 Warner Bros. Pictures
Look at the puns. Look at them! One track is called, "Are you a Kenzie or a Can't-zie?" Another is titled, "Hoarding School." And then we have, "Escaped Crusader." I need to own this for that alone! 
"The Batman" Vinyl Track List
Side One 
1. Can't Fight City Halloween (4:05) 
2. Mayoral Ducting (2:34) 
3. It's Raining Vengeance (4:31) 
4. Don't Be Voyeur with Me (2:38) 
5. Crossing the Feline (1:46) 
6. Gannika Girl (2:31)
Side Two 
1. Moving in for the Gil (4:23) 
2. Funeral and Far Between (1:46) 
3. Collar ID (1:15) 
4. Escaped Crusader (2:44) 
5. Penguin of Guilt (3:45) 
6. Highway to the Anger Zone (5:20)
Side Three 
1. World's Worst Translator (3:35) 
2. Riddles, Riddles Everywhere (1:54) 
3. Meow and You and Everyone We Know (5:19) 
4. For All Your Pennyworth (2:38) 
5. Are You a Kenzie or a Can't-zie? (5:45)
Side Four 
1. An Im-purr-fect Murder (3:49) 
2. The Great Pumpkin Pie (2:22) 
3. Hoarding School (4:55) 
4. A Flood of Terrors (4:30) 
5. A Bat in the Rafters, Pt. 1 (4:34)
Side Five 
1. A Bat in the Rafters, Pt. 2 (6:42) 
2. The Bat's True Calling (3:05) 
3. All's Well That Ends Farewell (2:41) 
4. The Batman (6:47)
Side Six 
1. Catwoman (3:03) 
2. The Riddler (5:01) 
3. Sonata in Darkness (12:11)
"The Batman" stars Robert Pattinson, Zoë Kravitz, Paul Dano, and Jeffrey Wright. It's playing in theaters right now. Do not get the large soda when you see it. You'll thank me later.