Bruce Lee's Enter The Dragon Wasn't Inspired By Other Kung-Fu Movies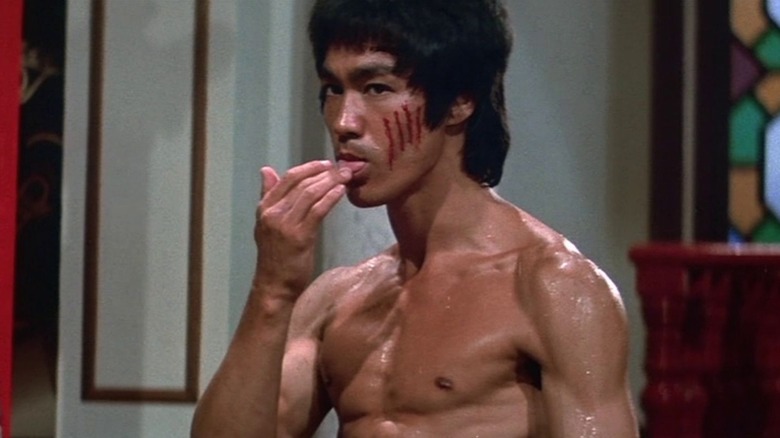 Warner Bros. Pictures
"Enter The Dragon" rules. There's simply no other way to put it. It's the final film in the late, great Bruce Lee's filmography and is often the film that springs to mind when people mention him in conversation; it managed to blend a mixture of genres including martial arts, espionage, and blaxploitation; and it's inspired a number of martial arts films and characters — including Marvel's own "Master of Kung-Fu" Shang-Chi, who recently was the star of his own martial arts epic "Shang-Chi and the Legend of the Ten Rings."
But what led to the creation of this kung-fu classic? "Enter The Dragon" cinematographer Gil Hubbs took part in a group interview alongside producers Fred Weintraub & Paul Heller and the late Bob Wall that celebrated the film's 40th-anniversary release on Blu-ray. During the interview, Hubbs and Weintraub discussed the influences that shaped "Enter The Dragon" — and one of these influences had a major impact on the plot and look of the film. And, surprisingly enough, the influences don't involve kung-fu movies. 
Like something out of a comic book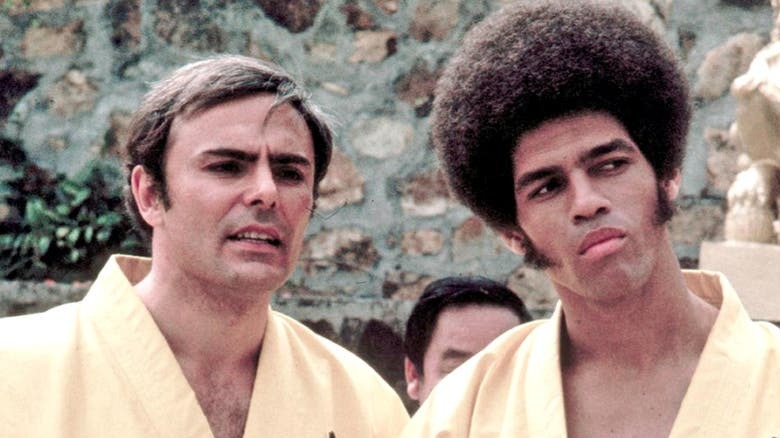 Warner Bros. Pictures
According to Heller, it was not kung-fu, but comic books that played a large part in shaping the visual language of "Enter The Dragon":
"When we first started thinking about the look of the film, there was a comic strip called Terry and the Pirates, and that became sort of the genesis of the whole look of the film. It was about a Dragon Lady and Chinese pirates, and it was a wonderful moment in time about adventure. But it has a wonderful, brilliant color scheme of golds and blues and reds, and if you think about Enter the Dragon, that's what we did. And that was very, very conscious. It just felt like it would be very right for the film."
"Enter The Dragon" does boast a dynamic color scheme that feels right at home inside of a '70s-era comic, including the golden gi that Jim Kelly's Williams wears; the final fight taking place in a hall of mirrors also feels very comic-booky. 
The idea of a comic influencing a film doesn't seem that far-fetched nowadays, given the rise of the superhero genre in film and television, but back then it must have seemed like a novel choice. And it also gives Williams' iconic line "You come right out of a comic book!" a whole new meaning.
In a league of its own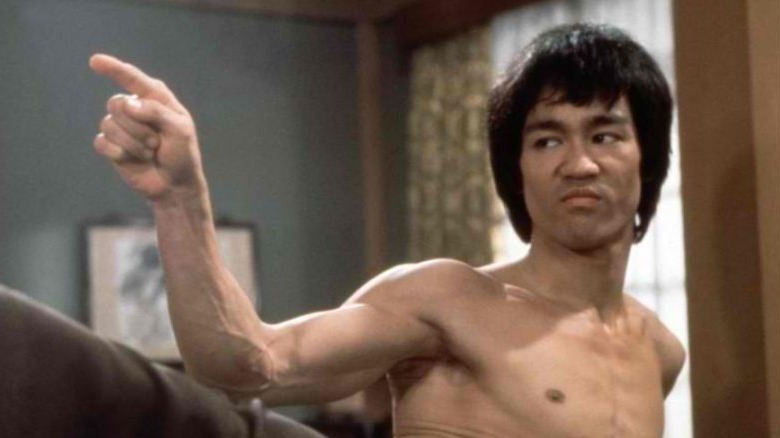 Warner Bros. Pictures
Even with the martial arts genre being a hot commodity, Hubbs said that "Enter The Dragon" didn't draw on any other kung-fu films for inspiration — mainly because he hadn't seen one:
"I don't think we referenced existing martial-arts films. I had never seen one — I had never seen a scene from a kung fu fight, and I had never seen a martial artist on film."
Hubbs also said that "Enter The Dragon" grew into much more than a simple martial arts film due to Lee and Wall's collaboration.
"And I think Bruce maybe wanted it to be more like the films they were making in Hong Kong, and I think Bob realized that for it to do well around the world, it needed to be different. It needed to have a broader story and people identify it visual to be different. So they worked very closely together; they did have many discussions and disagreements, and Bob handled them very well, and Bruce was very talented."
It says a lot that even though "Enter The Dragon" wasn't inspired by other films, it wound up being an inspiration in its own right. A large part of that is due to the collection of martial artists in its cast, but also a result of filmmakers willing to think outside the box.