Fresh Star Daisy Edgar-Jones On Trading Tender Romance For Twisted Thrills [Interview]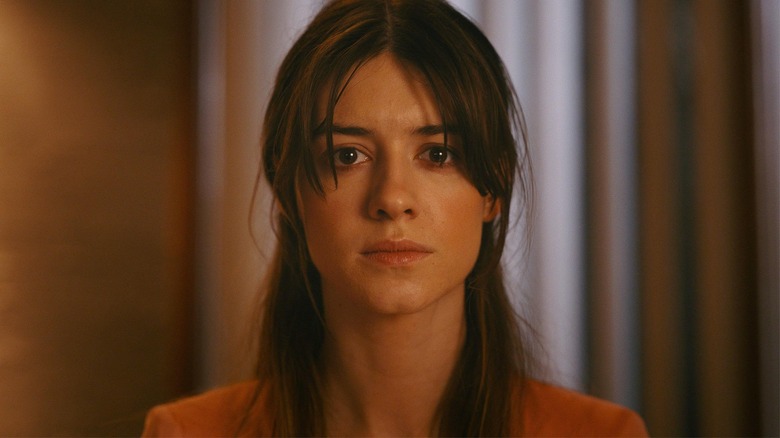 Hulu
Thank to the irresistibly steamy romance of "Normal People," Daisy Edgar-Jones became an overnight sensation as one half of the great romance that ushered audiences through the early days of quarantine isolation. After her career exploded in the Spring of 2020, Edgar-Jones got busy lining up her next few projects and films — many of which continue her trend of literary adaptations. We'll soon see her as the heroine of "Where The Crawdads Sing," then she'll share the screen with Andrew Garfield in the FX crime drama, "Under The Banner of Heaven." But before those arrive, her grand return is marked by Hulu's "Fresh," a thriller with no literary roots and a wholly original script from Lauryn Kahn ("Ibiza").
"Fresh" premiered to positive yet vague reviews at this year's Sundance Film Festival, because this is a movie best enjoyed with little to no idea of what's to come. Edgar Jones is once again a romantic lead, starring as 20-something Noa, a young woman who tires of the douchebags who court her on dating apps. It seems like luck is on her side when she has a meet-cute with a handsome doctor (as played by Sebastian Stan), but then things take a drastic turn in a completely different and shockingly brutal direction. "Fresh" is more interested in tantalizing twists than tender romance, so if you're hoping for a return to "Normal People," you'll certainly be caught off guard. This was a big draw for Daisy Edgar Jones, who was happy to embrace the deep dive into darkness.
This interview has been edited for clarity. Mild spoilers for "Fresh" follow. 
'It's such a clever use of dark comedy'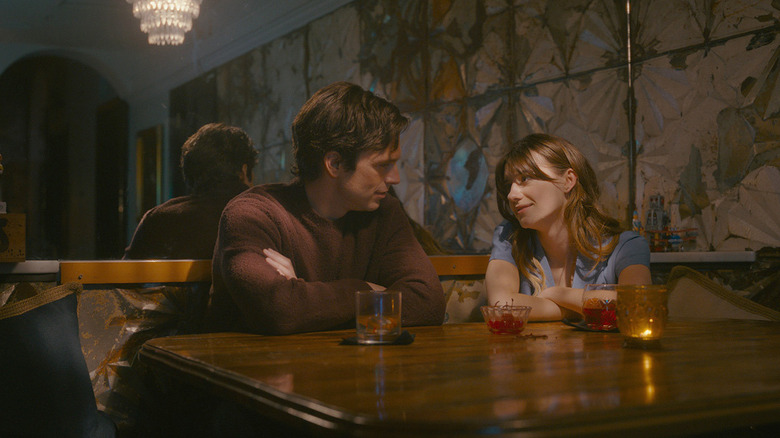 Hulu
It's pretty funny that your big follow-up to the really tender romance of "Normal People" is this, which starts as a romance and then goes to some pretty dark places. Was that part of what drew you to the role?
I love that you noticed that. Yeah, it definitely was. I was really intrigued by the script and it felt like something very different and something I hadn't done before tonally. And the kind of genre aspect of it was definitely a new thing to explore. So I was very keen to dive in and find something. It definitely was an aspect that drew me to it.
"Fresh" has that genuine terror in it, but then also ... it's oddly funny at times. Did it feel like that when you were reading the script? Or was that something that came out on set?
I did actually feel that ... I thought that was so cool. The tone that Lauryn creates — the sort of juxtaposition between these really dark moments and then these sort of surreal moments of levity. It means that you never know where you're going. And I think that when I read the script, I didn't know what it really was about. I had an idea, but I didn't know much. So I experienced it the way I hope most people do when they watch the film, not quite knowing where it's going to take you. But I think it's such a clever use of dark comedy. It's so cool because you're not challenging an audience to stay in a dark place for too long. There's always a release from it, so that you can still enjoy the film and not be kept in this darkness for too long. And yeah, it was a really fun thing to play with.
There's been a lot of talk about how great the props department was and about the gruesome imagery that we see. So I have to ask — Noa eats a very special meal at the end of the movie. What was that like for you?
I think those eating scenes are always ones that people dread, because when you have to eat anything that many times for seven hours, take after take from different angles, it's hard to enjoy it after a while. But I was definitely curious as to how they were going to create the meal that I had read, and it was so vividly described in the script. So I was really curious to see what they were going to do. And we had an onsite chef who was designing the dishes, and to be honest [laughs] they were tasty enough. I mean, they weren't inedible, but again after you've eaten them for too long and also the thought of it too, because obviously, I was imagining it to be something that made it very difficult to eat, and I felt ... It was not the most pleasant day at work.
'As an actor, you're only really as good as the actor in the scene with you'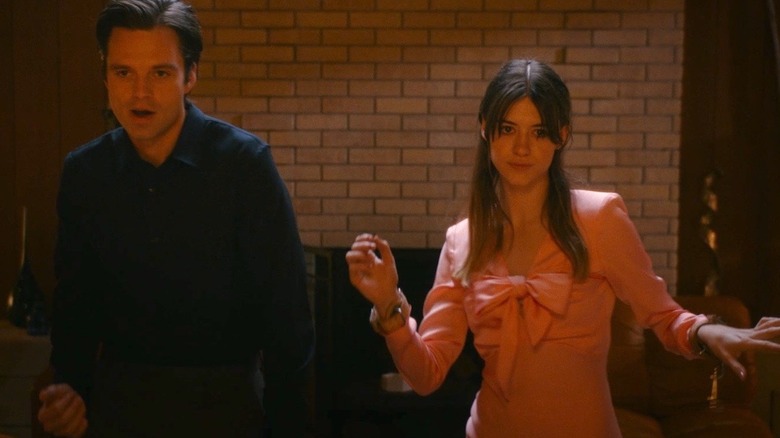 Hulu
So once Noa is trapped with Sebastian's character and the movie goes to those intense places ... I was thinking about this in terms of in "Normal People" where you and Paul Mescal have these really intense, intimate scenes. And I imagine that in your upcoming project, "Under the Banner of Heaven," you and Andrew Garfield handle heavy content. Is there something that you look for in your on-screen collaborator when there's a lot of heavy material? Or did it vary between those projects?
I feel like I've been very lucky. The more I work, the more I realize that as an actor, you're only really as good as the actor in the scene with you. It's such a team effort, really. And I feel so lucky that, when I worked with Paul, we just had that brilliant ... We were so in sync and he's such a generous actor and I've really lucked out because so is Sebastian, so is Andrew. I've always worked with actors who give as much as they can, even when it's not on them. And I find that very helpful because I guess I'm a far more instinctive actor than I realize.
Because I do a lot of prep, I used to think that I had a really clear idea of how I wanted to do things and that was always going to be solid. But actually, I really realized that so much of what I find fun is when I can react off of what I'm being given, and when someone throws you something you didn't realize, but they're very generous and they'll take what you throw at them. And I feel very lucky that everyone I've worked with so far, I think that the common theme is just everyone's been so generous. And, Sebastian, I just had such fun working with him. He's such a brilliant actor and very funny too, we have a shared sense of humor. And I think that also helps, even if you're doing more heavy scenes. If you have a shared sense of humor, I think that's always a helpful thing for creating chemistry. Maybe that's the key to it.
You've talked in other interviews about the pressure of bringing literary characters to screen, and the appeal of "Fresh" as something that was more original. Plus, as you said, you do a lot of research. So did it feel more challenging to not have that second source material?
There definitely was a challenge in that. The joy of coming to a script that's based on a book [is] that you have your character's entire inner life mapped out for you, so getting into their mindset and empathizing with them is a little easier because you have that. You have their thoughts. And so definitely with "Fresh," there was an element of going, okay, I've got to find this for myself. I've got to fill in the blanks myself.
But then at the same time, it's quite liberating in a way too, because you're going, well, I can bring what I want to this, because if I don't do exactly what's written, no one will know that I'm not doing the character right, because they haven't read the script. But I did find it a fun challenge to go at a character without knowing that much about them before tackling it.
'She has this inner strength within herself that she perhaps never knew she had'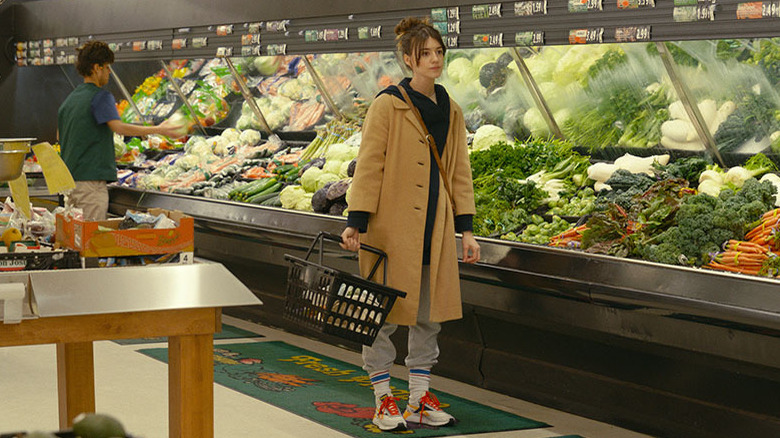 Hulu
As you are filling in those blanks, what were the defining characteristics of Noa?
I think with Noa — it's something that I kind of discovered as I went along — but what I found quite cool about her arc throughout the film is that she has this inner strength within herself that she perhaps never knew she had. I think she underestimated herself. And I like the idea of finding her at a place where she's a bit unlucky in love and she's quite passive. She has this awful first date, and he's horrible to her, and she sort of takes it, but she doesn't have the strength in herself to give it to him.
She's just quite passive in everything. And so I found it fun, the finding of that strength within her. Once she's in this situation, through the shared experience with the other women in the house, she finds the strength to overcome him, which she perhaps never knew she had. So yeah, this kind of coming of age thing was something I didn't see initially when I read the script and sort of found as I went.
I don't want to spoil the ending, but did that then make those last couple of scenes very therapeutic? Like a big release?
Yes. Very much so. Especially ... there is this brilliant scene and it's hard to talk about without spoiling it, but there's a scene where all the women fight and I loved it because it was so scrappy and it's so accurate to how it would be. And it's quite visceral almost, especially because there's a moment where ... Hard to talk about it without spoiling, but there's a moment where Steve finally gets his comeuppance you could say, and it's really visceral, this almost carnal need... It was interesting to find that for sure.
"Fresh" is now streaming on Hulu.