The Batman Hot Toys Figure Is Vengeance, And There's A Bat Signal Too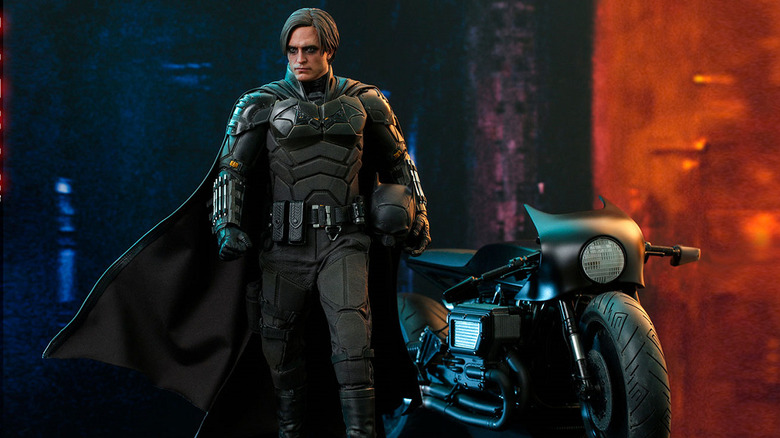 Hot Toys
As Matt Reeves' "The Batman" enjoys a warm reception from critics and fans alike, Robert Pattinson's Bat has become a miniature Caped Crusader. Hot Toys has two Batman collectible figures and a bonus Bat-Signal for avid collectors (via Sideshow). The sixth-scale figure stands at 12.2 inches tall — a full five inches taller than NECA's "Freddy vs. Jason" Jason Voorhees, finally making for an interesting fight. Do what you will with that information. 
This Batman figure is based on Robert Pattinson's appearance, so in addition to having a small version of the "Tenet" star on your bookshelf, you get the added creepy bonus of re-enacting John Woo's "Face/Off" via the "interchangeable lower faces" included with the figure. Yes, you can unhinge R-Batz' jaw and make his face match the vibes, ranging from "grimace" to "pout."
Other features include some tantalizing "separate rolling eyeballs features," as well as a screen-accurate Batsuit displaying the hero's sculpted pectorals — and a detachable Batarang and grappling hooks? Now we're cooking with peanut oil. Further accessories include the Riddler's envelope, handcuffs, a special figure stand, and different set of hands ranging from Relaxed to Come Get Some. This baby's got over 30 points of articulation, the seller promises, making this pint-sized showdown between the Batman and Voorhees is looking more and more tempting with every minute.
"Where does he get those wonderful toys?!"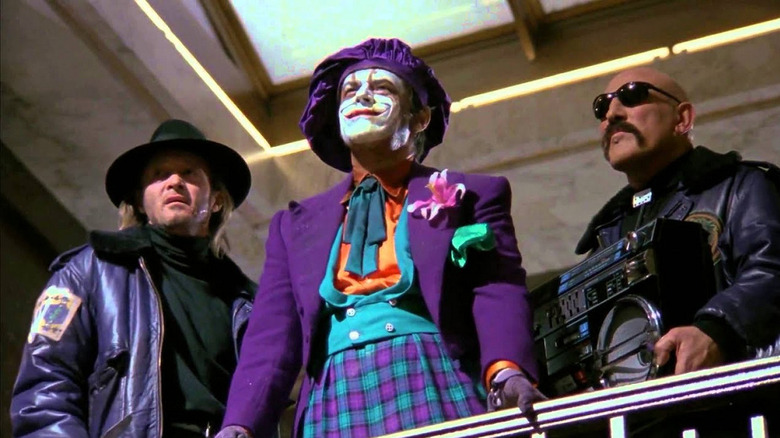 Warner Bros. Entertainment
Those with dumb money can splurge on the Deluxe Batman who, for a mere $75 more, comes with "the wingsuit, sticky bomb gun with insertable bullet, LED light-up staircase and building décor as diorama accessories, and also includes a character backdrop."
This is clearly the perfect chance to recreate the Wile E. Coyote attempt at Batman in Chuck Avery's 1956 Looney Tunes classic "Gee Whiz-z-z-z-z-z-z," in which the predator orders a similar wingsuit but, as always, fails to catch the elusive Roadrunner. That said, the Acme manufacturer probably didn't have Bruce Wayne's bank account, so you get what you pay for.
Finally, we arrive at the beloved Bat-Signal. Standing at 23 centimeters and powerable by USB, this pop culture gem is modeled after that of Matt Reeves' latest "Batman." But as someone who played out the 1989 "Batman" VHS as a kid, I'll always hear that sweet, sweet Danny Elfman fanfare kick in whenever I see the summoning device blazing in the night sky.
"The Batman" figures from Hot Toys are currently available for pre-order, and are expected to ship in the second or third quarter of 2023. The movie itself is in theaters now.