The Batman Gives A Quick Nod To One Of Robert Pattinson's Best Films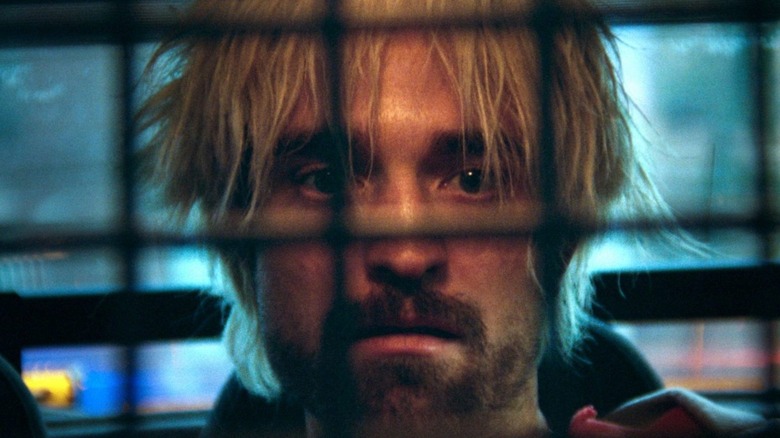 A24
"The Batman" is a rich text. With its nearly three-hour runtime and a plot that draws influence from horror, noir, and superhero genres alike, it's the rare blockbuster with enough going on to actually merit moviegoers' close scrutiny. The film is also chock-full of references and homages. One of the best blink-and-you'll miss it nods comes early on, in a scene establishing just how dark Gotham has gotten.
As our new caped crusader, played with restrained intensity by Robert Pattinson, talks in voiceover about his recent pastime as a masked vigilante, we see a robbery going down. This is part of a sequence of events showing the rampant violent crime in Gotham, and Batman notes that he has to decide how to prioritize all the baddies and sickos he faces off with each night. As he muses, we see a masked man — his head fully eclipsed by a grotesque green mask — holding up a convenience store called Good Times Grocery.
In lesser hands, I'd assume the convenience store name was a coincidence, but Reeves doesn't seem to do anything by accident. More likely, it's a reference to "Good Time," a phenomenal, kinetic movie from 2017. Robert Pattinson starred in the film, which was directed by Josh and Benny Safdie. "Good Time" is a crackling, unpredictable roller coaster ride of a film that kicks off its plot with a robbery gone wrong.
Reeves is gaga for Good Time (and so are we)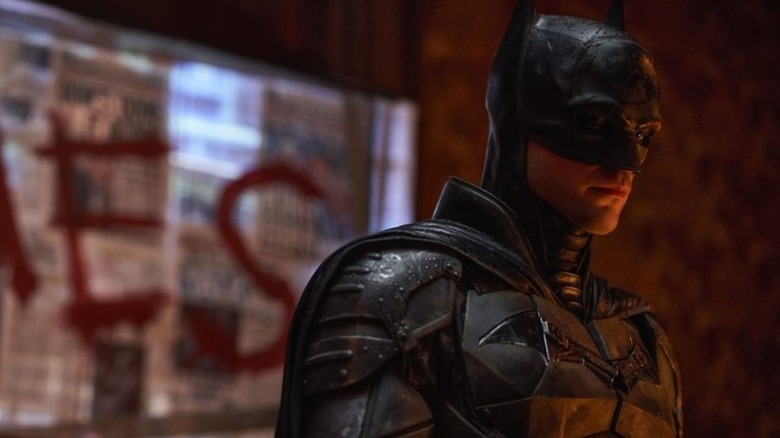 Warner Bros.
The world of "Good Time" doesn't actually feel that far from the world of "The Batman." Sure, there are differences — "The Batman" unfolds slowly and steadily while "Good Time" runs at a breakneck pace — but both take place largely in a seedy cityscape rife with desperate, small-time criminals. "Good Time" follows Connie (Pattinson) as he tries to come up with $10,000 to get his disabled younger brother, Nick (Safdie) out of jail. The movie takes place across one night, with Connie and Nick coming up against every possible obstacle on their path towards a better future. "Good Time" is a relentless, fantastic thriller that's propelled by its live-wire performances and a pounding electronic score.
It makes sense for Reeves to reference "Good Time," because, despite Pattinson's decade of great work beforehand, it's his powerhouse turn in this A24 movie that finally proved beyond a reasonable doubt that the actor was capable of overcoming his teen vampire roots. The film landed Pattinson both a Gotham Awards nomination and an Independent Spirit Awards nomination, and according to IndieWire, it may have helped Pattinson land the Batman role. Reeves even told Little White Lies he started to write the script for "The Batman" with Pattinson in mind after seeing "Good Time":
"When I saw Good Time, there was something in that story where you could feel he had an explosiveness, but also a vulnerability, and I think that's what I was looking for."
The director admitted he had no idea whether Pattinson would even want to return to big-budget filmmaking after his successful turn in the indie scene, but luckily, Pattinson ended up donning the black cowl after all.
"Good Time" is a movie that turns its fans into evangelists — just ask Pete Davidson, who loved the movie so much that he once memorably replaced his own promo clip with a clip from that film (which he isn't in) during an appearance on "The Tonight Show." Despite not breaking through as an award season contender, "Good Time" developed a devoted fan base that ushered in the era of outright Pattinson worship. Reeves even confirmed Pattinson's casting in 2019 by sharing a gif of the actor in "Good Time" on Twitter, along with three bat emojis. It's a movie that's so good, you can't help but talk about it all the time — and, apparently, give it a shout-out in your own movie.