Movies Like Belfast That Cinema Fans Need To See
Focus Features
"Belfast" is a lot of things, though not necessarily any of the ones its holiday season marketing led audiences to believe. There's no doubt that it's good — very good, in fact — and it's clear that it's a movie filmmaker Kenneth Branagh has wanted to make for quite some time. When juxtaposed with "Death on the Nile," his other recent release, it's a reminder of how intimacy, sincerity, and a smaller-scale can bring the largest stories to life.
Jude Hill stars as Buddy, a nine-year-old from a working-class Protestant family in Belfast during the Troubles — an irregular war between Irish unionists and nationalists or, in other words, Protestants and Catholics. An unconventional coming-of-age saga filmed in black and white, "Belfast" is tender but never saccharine. Branagh relies on the sheer weight of his script and cast, including Judi Dench and Ciarán Hinds, both of whom were nominated for Academy Awards, to drive his point home. It's a deeply personal yet universal story that was tailor-made for its well-deserved best picture nomination. Below are 14 other coming-of-age sagas that, in one way or another, have the beguiling, triumphant force of "Belfast."
An Education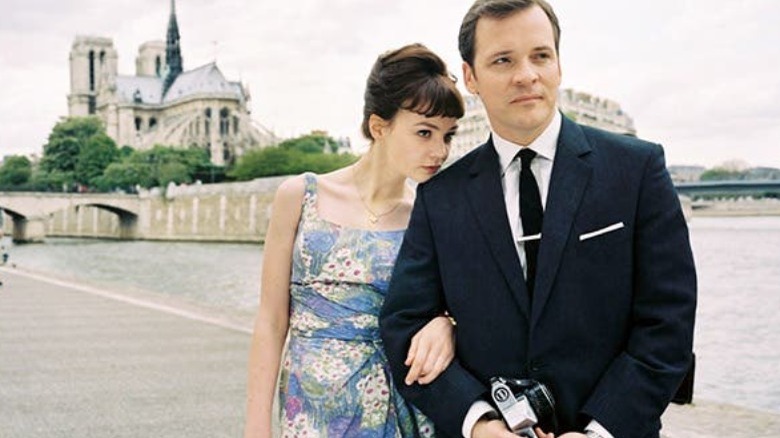 Sony Pictures Classics
Lone Scherfig's "An Education," adapted by Nick Hornby from Lynn Barber's memoir of the same name, is unmatched in its period detail and first-love naiveté. A radiant Carey Mulligan, in the role that nabbed her the first of two Oscar nominations, stars as Jenny Mellor, a bright schoolgirl eager to attend Oxford. That is, of course, until she meets David Goldman (Peter Sarsgaard), an older man she is immediately smitten with. David takes Jenny to art exhibitions, private clubs, concerts, and introduces her to his group of older friends.
His lifestyle is intoxicating — the swinging '60s incarnate. Without a care in the world, he drinks, smokes, listens to jazz, and reads good books. However, Jenny isn't the only one taken in by his charms. Soon enough, her strict parents (Alfred Molina and Cara Seymour) are similarly wrapped around his finger. They allow David to take Jenny to Paris and, shortly thereafter, propose. All of this comes at the expense of her education, with Jenny increasingly dismayed by its purpose. From her perspective as a woman, she would be working hard for a life of boredom. With expertly calibrated performances, genuine heartbreak, and prescient insight into the pressures of adolescence, "An Education" soars.
Lady Bird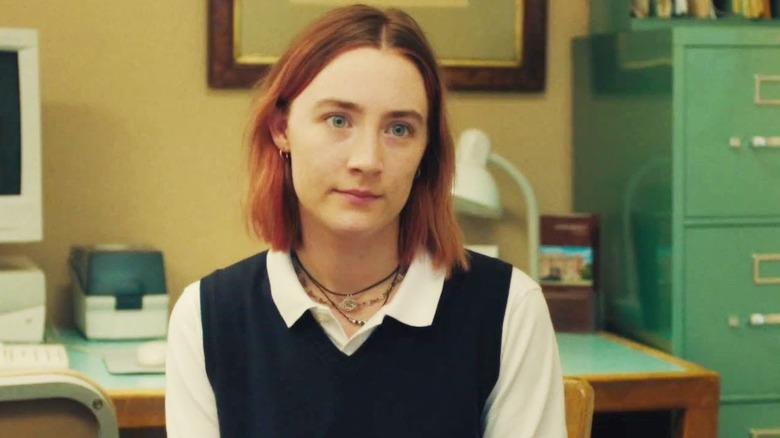 A24
In temporal structure, "Lady Bird" was an early progenitor for Branagh's work on "Belfast." Greta Gerwig's coming-of-age saga is loose in structure with the strongest ongoing thread being Christine MacPherson's (Saoirse Ronan) contentious relationship with her mother, Marion (a sensational, Oscar-nominated Laurie Metcalf). Gerwig frames the movie around Christine "Lady Bird" MacPherson more than she does distinct moments. There's prom, Thanksgiving, first love, and first jobs, though the relationships signpost shifts in the movie's trajectory more than events themselves, an uncommon framework for coming-of-age movies.
The writing is exceptional as are the performances. Gerwig, a familiar face on the indie mumblecore scene, stands on her own, delivering an adolescent classic abounding with wit and sincerity. It's reasonable to say that no movie has captured the ennui and sheer promise of adolescence in the early aughts as well as "Lady Bird" has. At times, it feels less like a movie and more like a documentary reel of one's own life. That's what cinema should be.
Brooklyn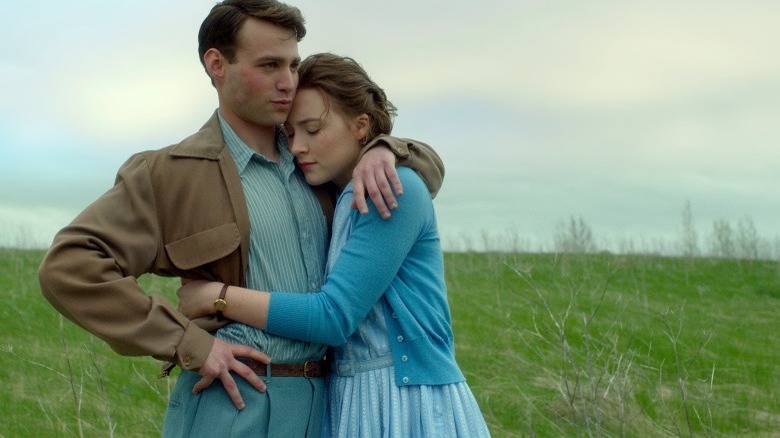 Lionsgate
Saoirse Ronan figures in for the second time (and she's got two more performances coming). An iconic actor of her generation, she possesses an inimitable range, shifting from surly teen to homesick immigrant with ease. John Crowley's "Brooklyn," adapted by "An Education's" Nick Hornby from Colm Tóibín's 2009 novel of the same name, stars Ronan as Eilis Lacey, an Irish immigrant who moves to Brooklyn in the early 1950s. With no prospects back home, she intends to start a new life overseas as she grapples with aching homesickness and longing for family.
After a rough acclimation, Eilis meets Emory Cohen's charming Tony Fiorello, and the two are quick to fall in love. When personal tragedy strikes, Eilis is forced to choose between her new life and the one she left behind. While it might sound pat, "Brooklyn" is arguably one of this century's saddest movies. Its hurt lingers long after the credits as a stark reminder that even the best lives are born of tragedy and impossible choices.
A Monster Calls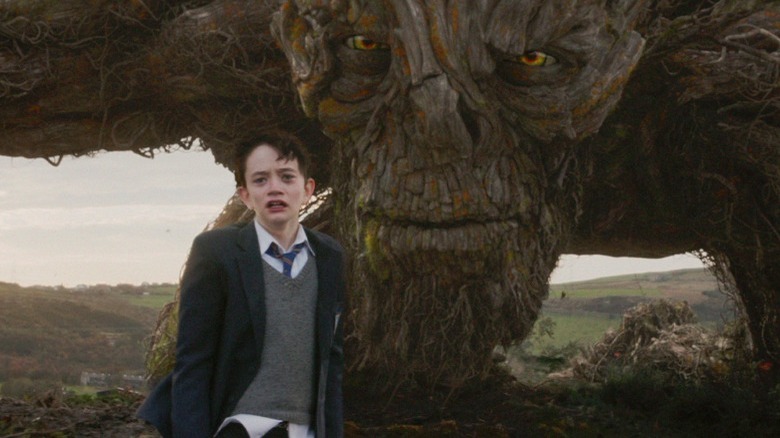 Focus Features
Juan Antonio Bayona's "A Monster Calls" is considerably more saccharine than "Belfast," and it's also more calculated. Bayona wants his audience to cry, and through a combination of fantasy visuals, touching performances from stars Lewis MacDougall and Liam Neeson, and Fernando Velázquez's stirring soundtrack, he succeeds in his intent. Picture the Brachiosaurus scene from "Jurassic World: Fallen Kingdom" stretched to feature-length. As in "The Orphanage" or his stint with dinosaurs, Bayona adds his distinct touch to ostensibly familiar material.
MacDougall stars as Conor O'Malley, a young boy whose mother (Felicity Jones) is terminally ill. One evening, Conor is visited by the titular monster, a giant, gnarled yew tree with the form of a man (voiced by Neeson). To assist Conor with his grief, the monster promises to tell him three stories if Conor can promise a fourth of his own. Rendered in stunning animation, the stories — all morality plays — excel, though it's Bayona's matter-of-fact approach to grief that lingers. The source material is fertile ground for pathos. Writer Siobhan Dowd conceived of the idea before her death, with Patrick Ness finishing the work for her. Like "Belfast," "A Monster Calls" is a coming-of-age saga that refuses to pull its punches.
Call Me by Your Name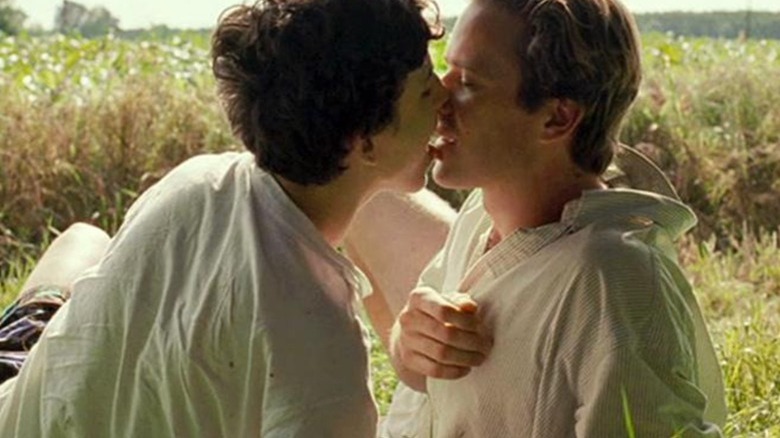 Sony Pictures Classics
"Call Me by Your Name" was marred with controversy upon its release. Although it was a critical darling, the central age gap between its couple attracted ire. In the film, 17-year-old Elio (Timothée Chalamet) has a passionate affair with 24-year-old Oliver (Armie Hammer). Adapted from the novel of the same name by author André Aciman, "Call Me by Your Name" might be less beloved than its four Academy Award nominations (including best picture) suggest. Like "Belfast," it's a coming-of-age saga grounded in a distinct identity, and that's nothing to scoff at. Principally, the central gay romance is unconventional, and director Luca Guadagnino tenderly frames queer love no differently than Barry Jenkins did with "Moonlight."
Elio is living with his parents in Italy when Oliver arrives. Elio's parents habitually invite graduate students for extended stays. Elio is immediately smitten with Oliver and grapples with his burgeoning feelings and the fear that the older man can't possibly reciprocate. Though set in Italy, the year is 1983, and queer love was still considerably more hush-hush than it is today. Hammer is fine, but Chalamet is exceptional, anchoring the minutiae of Elio's life with the same verve and guileless intensity as Jude Hill in "Belfast." As representation increases, "Call Me by Your Name" might remain as little more than a relic of diversity shifts, but for now, it's a beloved coming-of-age feature for an entire community.
Stand by Me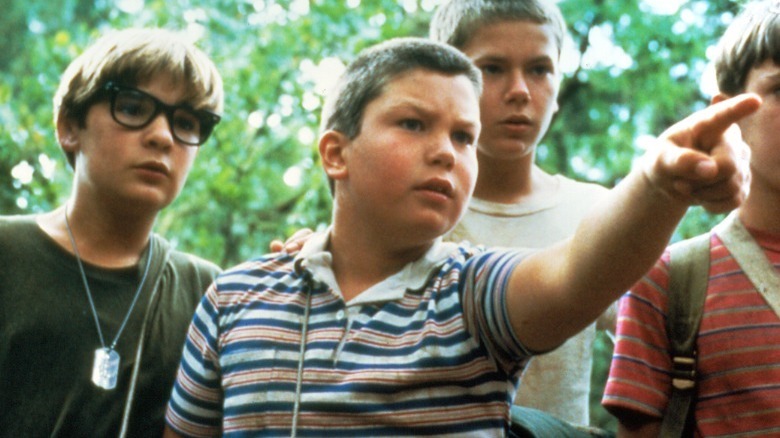 Columbia Pictures
Like "Brooklyn," "Stand by Me" is deceptively sad. Rob Reiner's 1986 coming-of-age story, adapted from a novella by Stephen King, looks to be little more than four kids shooting the breeze on a summertime quest to find a rumored dead body hidden in the woods. The boys, including Wil Wheaton, River Phoenix, Corey Feldman, and Jerry O'Connell, are a grabbag of familiar '80s faces, and each yields his own hidden depth, imbuing "Stand by Me" with the kind of enduring sadness that defines the best coming-of-age stories.
Phoenix, in particular, is sensational. His character's arc is tragically solidified in a last act epilogue, though beautifully explored as the boys search the woods. Misperceived and treated poorly by those around him, he at one point breaks down, thoroughly destroyed by how those around him perceive him. He isn't a bad kid, but no one will let him think otherwise. "Stand by Me" is the de facto coming-of-age movie for a reason. It's universal, timeless, and profoundly curative.
Atonement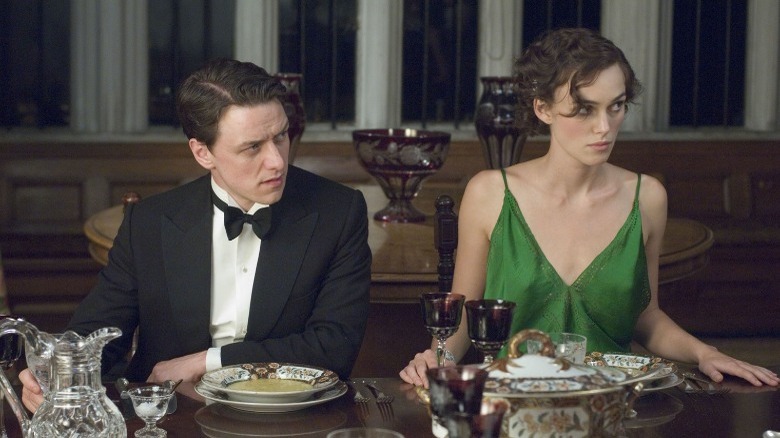 StudioCanal
Saoirse Ronan returns in a story that bears more in common with "Belfast" than audiences might think. Split into three distinct parts that represent timelines from Briony Tallis' life (Ronan at age 13, Romola Garai at 18, and Vanessa Redgrave in maturity), "Atonement" follows the fallout from Briony's allegation of sexual assault against Robbie Turner (James McAvoy), her older sister Cecelia's (Keira Knightley) lover. Briony, harboring a crush on Robbie and envious of her sister, claims to have seen him assault her cousin, Lola (Juno Temple), one summer evening. Consequently, he and Cecelia are torn apart, and Robbie is forced into military service in World War II as punishment.
Ronan's incredible performance nabbed her the first of many Academy Award nominations. "Atonement," much like "Belfast," is principally concerned with love in times of violence. Just as the central players in "Belfast" grapple with the decision to leave or stay behind, Briony is desperate to atone for her lie, though uncertain of how to go about doing it. Conventional on the surface (war, love, Keira Knightley!) "Atonement" is layered and powerful. While certainly grimmer than "Belfast," both are period pieces with contemporary appeal.
Byzantium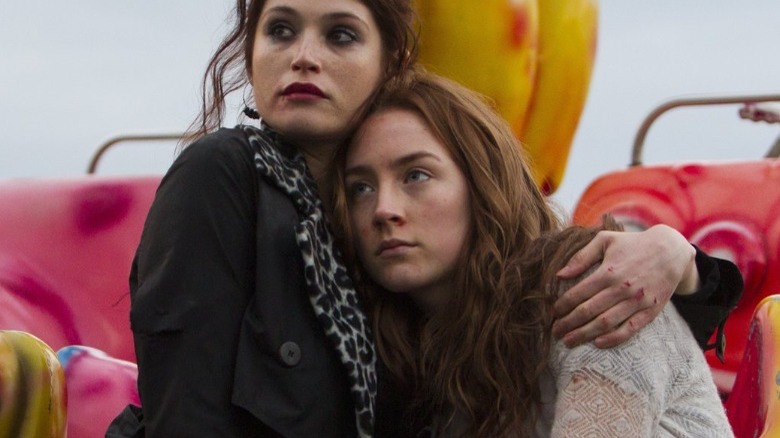 IFC Films
Kenneth Branagh accomplishes a lot in "Belfast," but its most poignant thematic underpinning might be how core one's home is to their identity. Although plagued by violence and conflict, Belfast was Branagh's home, and it's clear that he fondly remembers his time there. "Byzantium" might seem an unconventional choice, but in terms of offerings outside Branagh's own filmography, audiences might be surprised to find that the films have more in common than they may initially realize.
Jordan directs a blood-tinged, contemporary yarn that merges horror beats with a coming-of-age sensibility. Saoirse Ronan (I did say she'd be back) and Gemma Arterton star as Eleanor and Clara Webb, the only two female vampires in existence. Told in a series of flashbacks as Eleanor and Clara acclimate to life in a coastal town, "Byzantium" is a profoundly humanistic take on the vampire mythos. Eleanor is desperate for a home. Centuries-old and moving from town to town, she longs for grounding and seeks it wherever she can, much to the chagrin of Clara, who is certain that secrecy is the key to their survival. Yet, as "Byzantium" poses throughout, what good is immortality without love?
Inside Llewyn Davis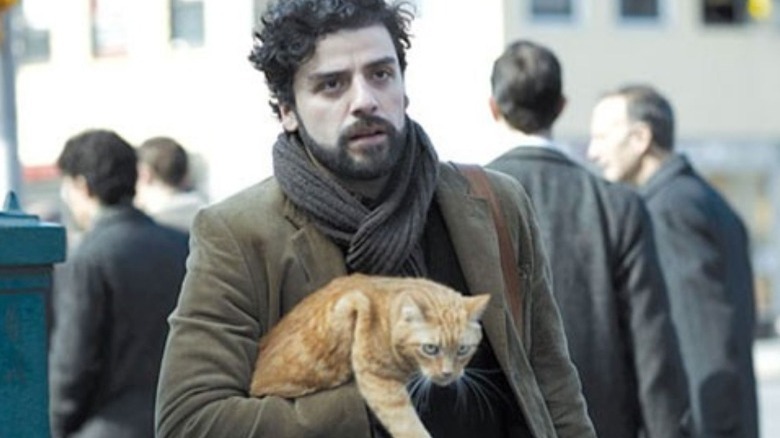 CBS Films
Joel and Ethan Coen's "Inside Llewyn Davis" is a grown-up coming-of-age musical. Abounding with endearing folk jangles, an incredible performance from Oscar Isaac, and painful interrogations of enduring dreams, "Inside Llewyn Davis" soars. Isaac stars as the titular Llewyn Davis, a folk singer struggling in 1961 Greenwich Village. His music isn't selling, he has no money, and he's consigned to couch surfing just to have a place to sleep.
Performing café gigs and recording novelty songs, Davis is a man with a dream that is just out of reach. The film is a gut punch to creatives, adroitly exploiting a feeling many know all too well. Yet, it's grounded with Davis' feel-good attitude. He's an acerbic yet good-hearted dreamer who can't see how he is consistently in his own way. It's all much grimmer than I'm making it sound, but like "Belfast," it's an inimitable, dazzling recreation of a specific time, a specific scene, and specific people.
Billy Elliot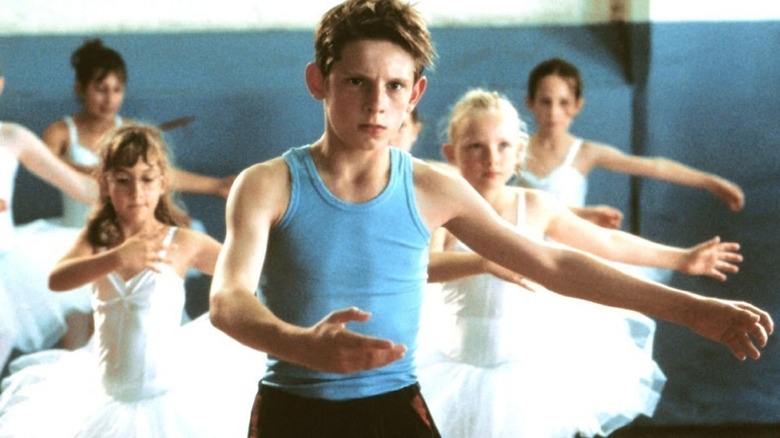 Universal Pictures
Alongside Rob Reiner's "Stand by Me," "Billy Elliot" is a preeminent coming-of-age film. Directed by Stephen Daldry, "Billy Elliot" stars Jamie Bell as an 11-year-old who is passionate about ballet, much to the chagrin of his traditional father, Jackie (Gary Lewis). Set against the backdrop of working-class families enduring a miners' strike in 1984 County Durham, England, it's both an effervescent and deeply moving film that is crafted with jolly good spirit and considerable pathos.
In an Academy Award-nominated performance, Julie Waters plays Sandra Wilkinson, Billy's ballet teacher. Bell also excels with a spirited though no less grounded performance. As in Kenneth Branagh's "Belfast," style is as much a character in "Billy Elliot" as the living, breathing players. The addictive soundtrack doesn't hurt matters, either. It's moving, exceptionally engaging, and crescendos in exactly the kind of feel-good climax audiences expect. "Billy Elliot" is a classic for good reason.
Into the Wild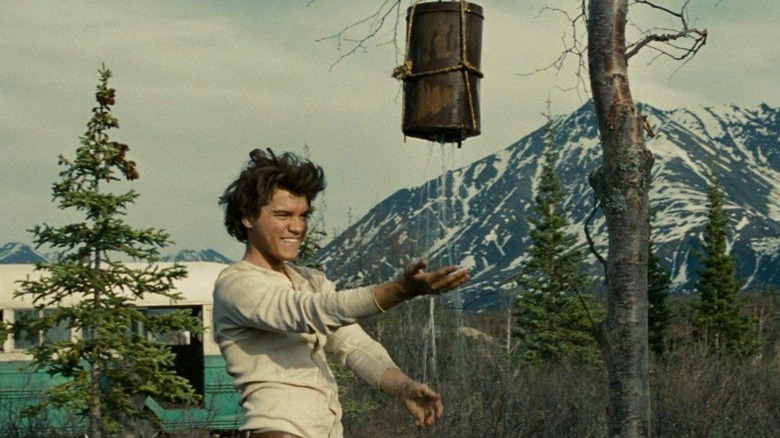 Paramount Vantage
"Into the Wild" is a grim story. As much as Sean Penn's adaptation of Jon Krakauer's biography of Christopher McCandless, a man who hiked the Alaskan wilderness in the 1990s, commits to biopic convention, Hollywood gleam isn't enough to conceal its dark heart. Much like "Belfast," this quasi-coming-of-age tale is moving, profound, and deeply felt, though it remains a stark reminder of how tragedy reverberates.
Controversial actor Emile Hirsch stars as McCandless, an Emory University graduate who grows increasingly disillusioned with modern society. Consequently, he hikes to Alaska, intending to live off the land. He hunts, forages, and does his best to survive in an abandoned bus. After months away, he decides to return. However, the stream he intends to cross to make it back proves to be too dangerous. After mistakenly eating a poisonous plant, he slowly dies, imagining what life might have been had he made it home. Though "Belfast" never gets quite so grim, both films highlight the importance of family in even the most adverse circumstances.
C'mon, C'mon
A24
Speaking with Vanity Fair, "C'mon C'mon" director Mike Mills, addressing his decision to film in black and white, remarked, "This film is a drawing, not a painting ... It has the immediacy and the quickness of a drawing, as opposed to the formality and the thickness of a painting." Similar to "Belfast," "C'mon C'mon" harkens back to the cinema of yore, eschewing color for a preeminent focus on character immediacy and empathy. Also like "Belfast," it's one of 2021's best and most criminally underseen films.
Oscar-winner Joaquin Phoenix sheds the trappings of his last Oscar-winning role to play Johnny, a radio journalist traveling the United States to interview children about their thoughts on the future. While traveling, Johnny receives a call from his sister asking him to watch her son (Woody Norman) while she travels to Oakland. Johnny agrees, and the two quickly form a strong bond. They travel together, interviewing other children while discussing the nuances of their respective lives. "C'mon C'mon" is a tender, naturalistic film. It's not simply one of 2021's best, but one of the best the coming-of-age subgenre has seen in years.
Summer of '42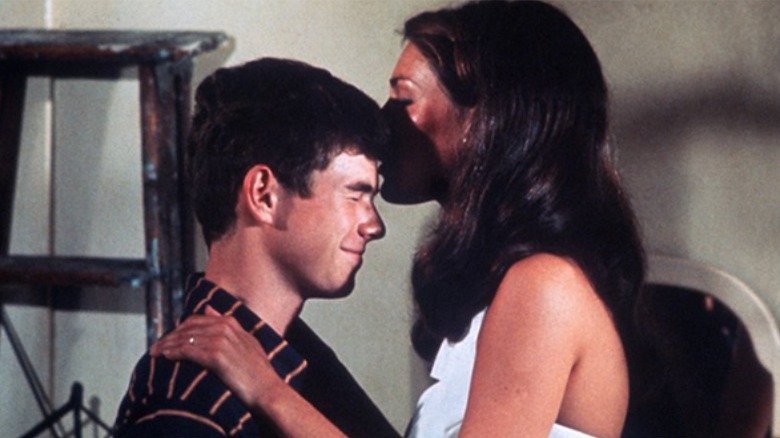 Warner Bros.
"Summer of '42" is very, very good. Nevertheless, its brilliance has been somewhat lost to time. Directed by Robert Mulligan of "To Kill a Mockingbird" fame, it was adapted from the memoirs of writer Herman Raucher and his recollections of — you guessed it — the summer of 1942 spent on Nantucket Island. As a teen, he develops an infatuation with Dorothy, a young woman whose husband is off fighting in World War II.
Gary Grimes stars as Hermie. A radiant Jennifer O'Neill co-stars as Dorothy. Enormously successful, screenwriter and author Herman Raucher has remarked that "Summer of '42" has paid his bills ever since it was released. It's a tender, slice-of-life exploration of love, tragedy, and the carefree minutiae of adolescent summers, all set against the gorgeous backdrop of Nantucket (though "Summer of '42" was actually filmed in Mendocino, California). Like "Belfast," "Summer of '42" has a cinema-verité quality and deeply moving performances. It's a classic of its era that deserves another look.
Bonjour Tristesse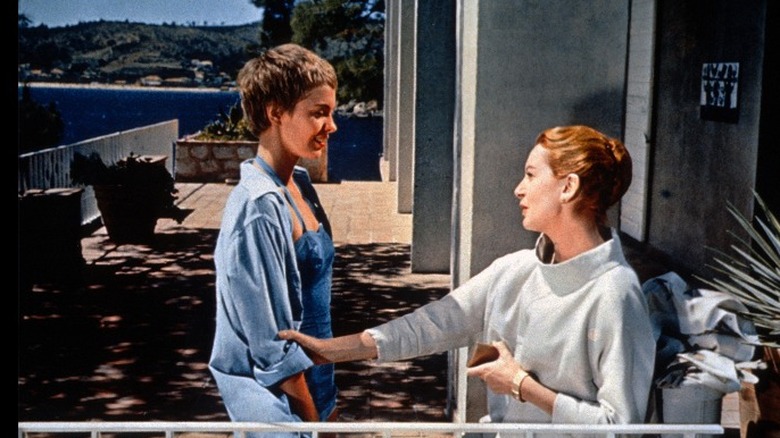 Columbia Pictures
Even more than "Byzantium," "Bonjour Tristesse" might appear to be the movie on this list least related to "Belfast." In some sense, that's correct. Still, I'd argue that, on closer examination, the two bear more in common than might be apparent. Otto Preminger's adaptation of Françoise Sagan's novel of the same name is sterling, troubling, and subversive in its treatment of coming-of-age tropes. Plus, key segments are shot in black and white, an uncommon technique for 1958. Need I say more?
Cécile (Jean Seaberg) lives with her playboy father, Raymond (David Niven). One summer, they stay at Raymond's villa along the Riviera. Soon, their tranquility is shattered by the arrival of Anne (Deborah Kerr), a friend of Cécile's late mother. Anne and Raymond hit it off immediately, but Cécile sees her as a threat to the carefree, guileless lifestyle she's enjoyed with her father. Variables compound in a tragic end for Anne, as neither Raymond nor Cécile are capable of truly and unequivocally giving up their lifestyles. Sort of an anti-"Belfast," "Bonjour Tristesse" is stylistically similar though thematically juxtaposed. With rich performances, lush settings, and grounded intensity, "Bonjour Tristesse" doesn't just introduce sadness — it introduces the power of cinema.