We Don't Talk About Rue, No, No, No: Dominic Fike's Euphoria Song Hits This Week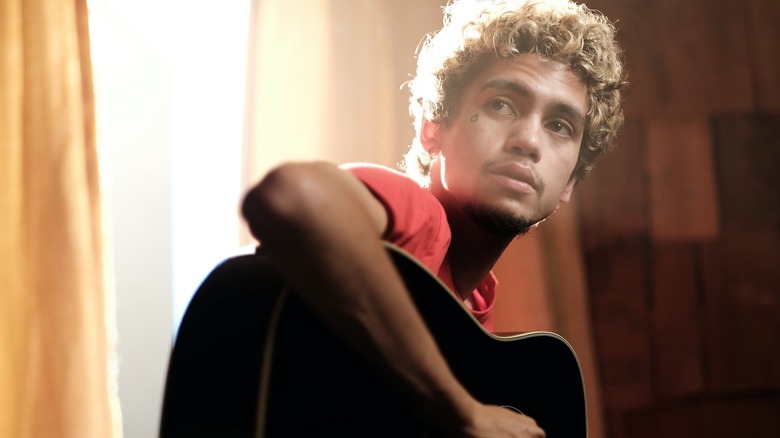 HBO
Everyone's favorite part of the season 2 finale of "Euphoria" is getting an official release! That's right, "Elliot's Song" AKA the song Elliot (played by actor/musician Dominic Fike) plays for Rue about their friend breakup (AKA the longest scene in the finale for some reason) will be officially released by Columbia Records on March 4, 2022. Throw it on your gym playlist, put it on your road trip playlist, and add it to your breakup playlist. You know you've been waiting for it.
Now that I've gotten all of that snark out of the way, it's important to note that this is a legitimately amusing slice of news, considering the fan reaction to "Elliot's Song" was not especially positive. Not that there's anything specifically wrong with the song mind you, but for "Euphoria" fans, it's more about how much damn time the song took up in a finale that left more than a few storylines unresolved. Unsurprisingly, there were a lot of jokes about it.
'I think you may be my only friend'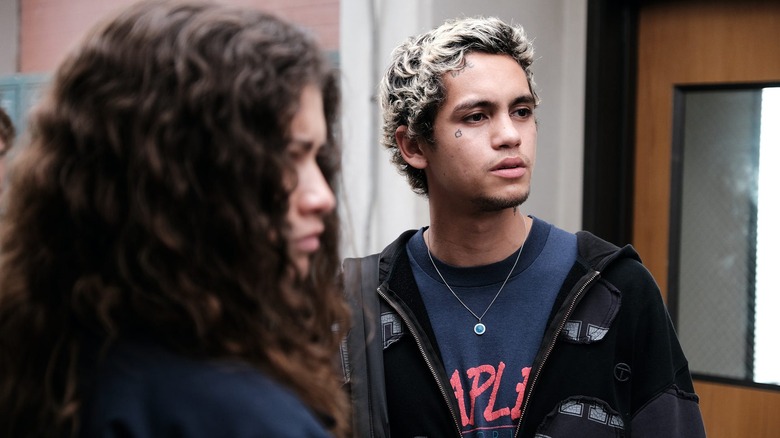 HBO
But, "Euphoria" has always been a show that's taken its soundtrack very seriously. Say what you want about the uneven storytelling, "Euphoria" doesn't play when it comes to its aesthetics. Everything from the makeup, costuming, set design, sound, and the sumptuous cinematography is top notch. Season 2 was filled with a mix of killer '70s tracks (like Gerry Rafferty's "Right Down the Line" and Albert Hammond's "It Never Rains In Southern California"), combined with some more modern selections (like Orville Peck's "Dead of Night" and Baby Keem's "trademark usa"), all mixed up with tracks from the show's in-house composer Labrinth.
And while Fike sweetly played guitar and sang "Eliott's Song" with quite a bit of heart (no matter how you felt about the finale, you have to admit that Fike sounded pretty lovely), the music was actually collaboration between Labrinth and Zendaya. As Zendaya explains in an interview about the season finale:
I'll go over and I'll shoot some stuff, and then when I have a break, I'll go over and hang out with Lab because he has a studio now on the lot. So I'm hanging out with him and he's finding new sounds to compliment every emotion that we go through in the show.
Outside of his foray into acting with "Euphoria," Fike is an actual musician who is working on new album, so throwing a guitar into his hands certainly tracks. And despite how fans felt about the scene, who hasn't had a friend play you a weirdly personal acoustic song before? Isn't that a high school rite of passage anyway?