Infinite Storm Trailer: Naomi Watts Battles A Blizzard With A Complete Stranger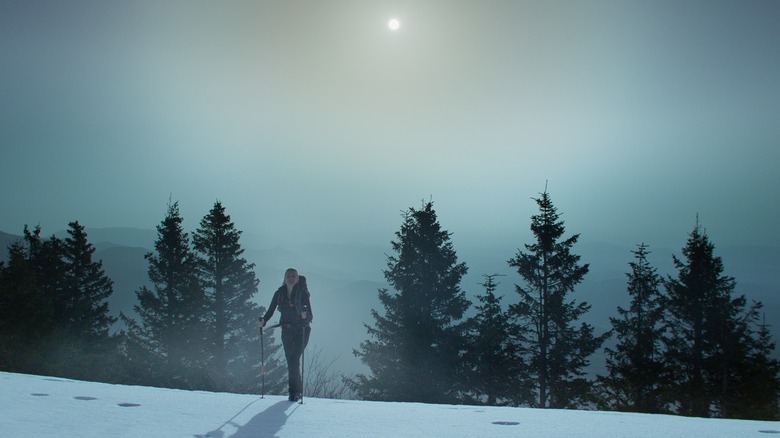 Bleecker Street
Caught in a blizzard with a stranger almost sounds like the perfect plot for a slapstick romantic comedy, but unfortunately for the characters at the center of "Infinite Storm," their windy adventures are neither light nor quirky. Instead, it errs on the side of life-changing near-death experiences — not a bad scenario for making a new connection, but certainly not ideal. 
Academy Award nominee Naomi Watts and Billy Howle are the stars of this rescue thriller, which promises more than a few death-defying feats as an experienced climber (Watts) tries to keep herself and a stranded stranger (Howle) from being swallowed by the storm. 
"Infinite Storm" is a stacked project, produced by Naomi Watts herself, featuring acclaimed (and also Oscar-nominated) actress Sophie Okonedo and helmed by Małgorzata Szumowska, the celebrated Polish director behind 2013's "In The Name Of" and 2015's "Body." The film also stars Denis O'Hare and Parker Sawyers. You can check out the first trailer below!
Watch the Infinite Storm trailer
Besides having a concept fit for an action-comedy, "Infinite Storm" also has the perfect title for a disaster film. Although it isn't depicting a post-apocalyptic land of endless winds and snow, it certainly looks that way for Naomi Watts and Billy Howle, whose characters are slowly descending a mountain as a huge blizzard threatens to overtake them. 
Written by Josh Rollins, the film takes its story from Ty Gagne's article "High Places: Footprints in the Snow Lead to an Emotional Rescue." It tells the story of Pam Bales, a mother, nurse, and mountain guide who embarked on a solitary trek up Mount Washington when she got caught in a blizzard and happened across a stranded stranger. This leads to a daring rescue and spirited survival story, which Rollins and director Małgorzata Szumowska have transformed into a nail-biting thriller. 
Time is the enemy for these two, desperate to reach the bottom before the storm reaches its peak and makes movement impossible. Once nightfall hits, they'll not only be stranded but likely to freeze to death. After one look at the winds they're facing and the deadly obstacles that lay in their path, it'll probably distress you to know this but "Infinite Storm" is actually based on a true story.
"Infinite Storm" opens in theaters on March 25, 2022. You can check out the new poster for the film, along with the official synopsis, below:
As an experienced climber (Naomi Watts) ascends Mt. Washington, she turns back before she reaches the summit as a huge blizzard approaches. But on her way down, she encounters a lone, stranded man, and takes it upon herself to get them both down the mountain before nightfall arrives and they succumb to the storm. Infinite Storm is based on a true story.