The Daily Stream: Factory Girl Is An Engrossing Watch With Stellar Performances On Display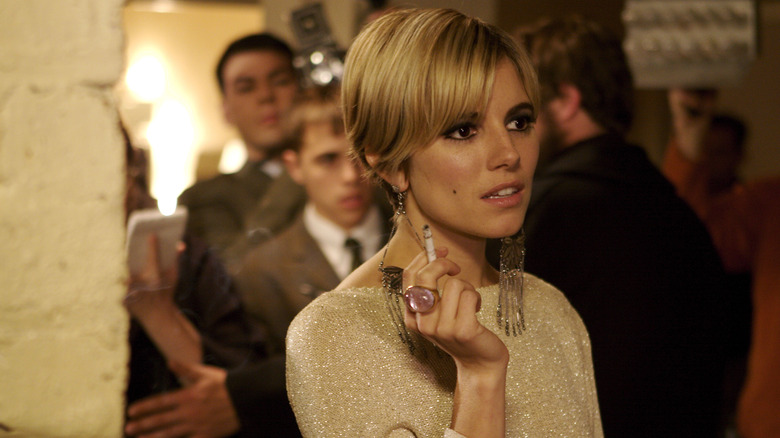 MGM
(Welcome to The Daily Stream, an ongoing series in which the /Film team shares what they've been watching, why it's worth checking out, and where you can stream it.)
The Movie: "Factory Girl"
Where You Can Stream It: Tubi, Vudu, Pluto, Kanopy
The Pitch: If you're looking for a bit of escapism right now — as I think most of us are in light of, well, a lot of things — allow yourself to take a step back into the swinging '60s and the legendary lore of Andy Warhol's (Guy Pearce) factory. "Factory Girl" follows the artist's biggest muse, Edie Sedgwick (Sienna Miller), a dreamy artist who hailed from a prominent yet troubled American dynasty. She goes from timid student to prolific underground film femme fatale terrifyingly quickly, and she learns just as fast how fame and fortune can become the most complicated aspect of one's life. As if that wasn't enough to manage, Edie also has to come to grips with the life she built under Warhol's thumb, as the focal point of his art — and in that struggle, she meets a charismatic folk singer who challenges her to free herself from the filmmaker's shackles.
Why It's Essential Viewing
MGM
No matter how you may feel about biopics in general, or even how this one particularly is handled, there's one element of this movie that is simply undeniably on fire: the acting.
Sienna Miller stars as Edie Sedgwick, and yes, the resemblance is there. But that's not what sells you. In fact, Miller looks enough like herself and not Sedgwick for it to take you out of the moment, with harsher features and a different facial shape. But her mannerisms are a dead ringer for Sedgwick's, the way she dances with her arms and the little squished-face smiles she would make. Add the pitch-perfect voice Miller puts on and you've got yourself immersed in the story of the model's rise. Her lilt is nearly identical, and it only takes about 15 seconds of watching Warhol and Sedgwick appear on "The Merv Griffin Show" in 1965 to prove it.
Miller isn't the only one who completely nails her character. The other crucial casting dilemma is, of course, picking your Warhol — and Guy Pierce is so spot-on it must have been eerie for anyone who knew him that watched. Pierce had one up on Miller in that he really did look so much like Warhol when given that blonde wig, but he doesn't skimp on the voice, which, again, is a crucial part in keeping viewers glued to the story. Tapping into the realities of that character — his voice, his mannerisms, his strange little impulses — is paramount to the audience's commitment to the story. Plus, Miller and Pierce are electric together, just like the real Sedgwick and Warhol were.
Equally as beautiful as their friendship was their downfall, and the film does a great job of showing that thanks to their dedication to these performances. It's certainly worth revisiting, if only for their adorable banter and wide-eyed wonder in each other.