The 15 Best Laurence Olivier Movies, Ranked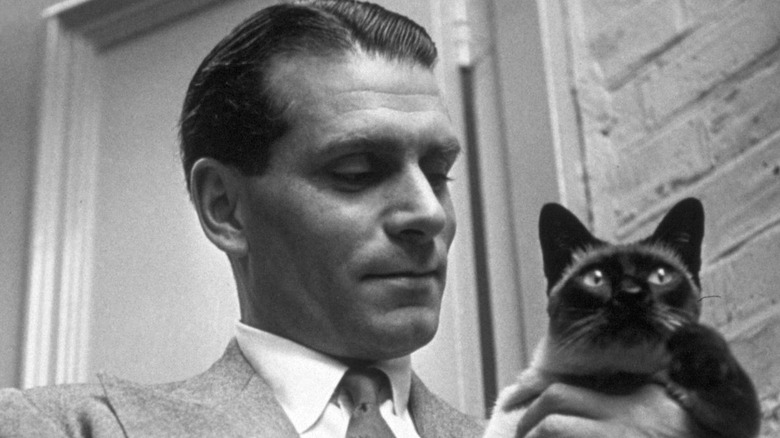 Keystone Features/Getty Images
There's a convincing argument to be made that Laurence Olivier is among the very best actors in the history of cinema. Handsome, debonair, and classically trained, he was a stalwart of both the screen and stage for several decades, from the golden age of Hollywood all the way through the 1980s. He was known best for his adaptations of Shakespeare, where he would bring the Bard to the screen in a way that made it more accessible to everyday filmgoers than ever before. But that's only a small part of his career. 
He was nominated for 11 competitive Academy Awards, winning just once, and was also the recipient of two honorary Oscars in recognition of his contributions to film as a whole. His significance to theater is so profound that there is an entire award ceremony named after him, the Olivier Awards, which honor productions performed on the West End in London, a British equivalent to the American Tonys. But whether on stage or in film, Olivier has long been regarded as one of the greats.
Here are his 15 greatest films, ranked.
15. Nicholas and Alexandra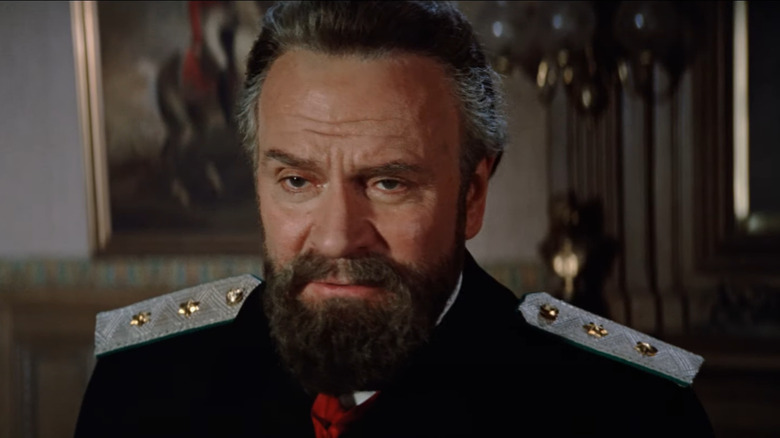 Columbia Pictures
The 1971 period drama "Nicholas and Alexandra" explores the final years of the Romanov dynasty, beginning in the early 1900s and extending through the Russian Revolution and their eventual execution. Like many of the roles from this portion of his career, in "Nicholas and Alexandra" Laurence Olivier plays not the male lead, but the elder statesman, leading a touch of gravitas to the proceedings. 
Here he takes on the role of Count Witte, Prime Minister to Michael Jayston's Tsar Nicholas II. As an advisor to the royal household, he begs the tsar to make certain decisions that will appease the common people, recognizing the danger in their growing discontent and attempting to avert disaster. Although "Nicholas and Alexandra" received mixed reviews, it was praised for some elements, with Alex von Tunzelmann from The Guardian saying that it "boasts terrific performances and gorgeous production design." And if nothing else, it features a delightfully off-kilter turn from "Doctor Who" star Tom Baker as Rasputin.
14. Oh! What a Lovely War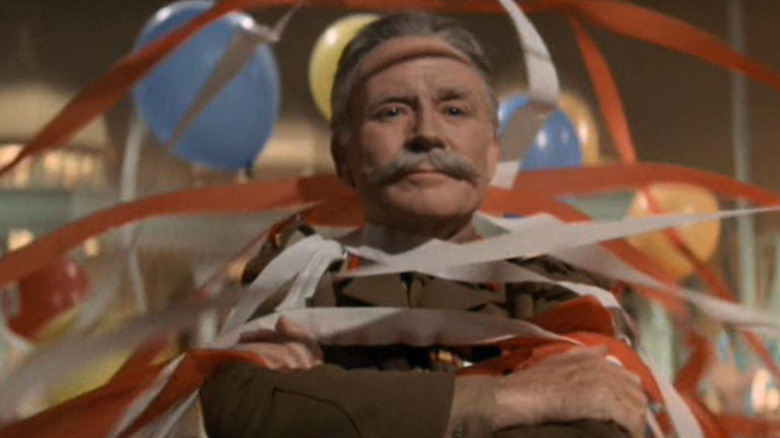 Paramount
The directorial debut of actor Richard Attenborough, "Oh! What a Lovely War" is a silly affair, a musical depiction of World War I filled with parodies of songs from the historical period. It certainly doesn't lack star power: Not only does it feature Laurence Olivier as Field Marshall Sir John French, leader of the British Forces, its cast also includes Ralph Richardson, Vanessa Redgrave, Ian Holm, Maggie Smith, and even Jane Seymour in her film debut. 
The production may be tonally jarring in a way that reminds one of a less effective "Dr. Strangelove," but it received high marks across the board upon its release. Gene Siskel of the Chicago Tribune said of "Oh! What a Lovely War," "You can sit back and enjoy this film on any one of many levels. The songs are good, the lyrics are biting; the staging and costuming blend with the story rather than overshadow it. The acting seems effortless."
13. Fire Over England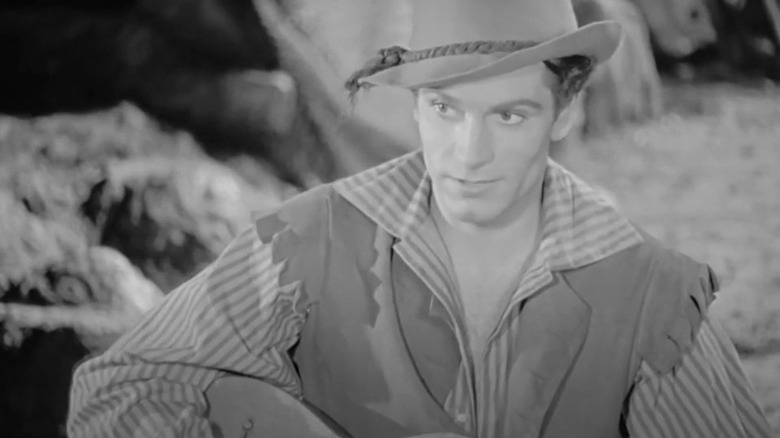 United Artists
The first collaboration between Vivien Leigh and Laurence Olivier, "Fire Over England" was a historical drama that unquestionably stirred up British pride in the brief years leading up to World War II. It focuses on the famous English defeat of the Spanish Armada in the Elizabethan era, allowing Britain to establish itself as the most significant naval power in Europe. 
Olivier stars as a young Englishman who manages to escape from the Spanish after being captured during a sea battle, before becoming embroiled in an espionage plot to root out the traitors at court who plan to assassinate the queen — all while wooing not one, but two lovely maidens (played by Tamara Desni and Vivien Leigh). In a review at Variety, "Fire Over England" was described as "a handsomely mounted and forcefully dramatic glorification of Queen Bess. It holds a succession of brilliantly played scenes, a wealth of choice diction, pointed excerpts from English history, and a series of impressive tableaux."
12. As You Like It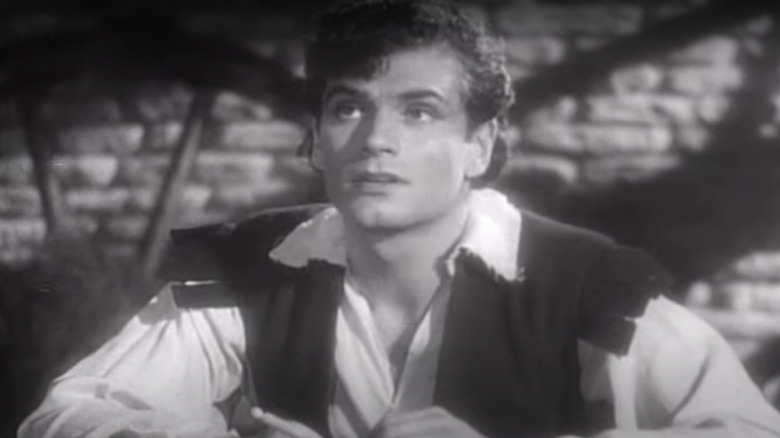 20th Century Fox
When it comes to Laurence Olivier and Shakespeare on screen, there are definitely movies more famous than this production of "As You Like It." But this adaptation feels worthy of inclusion, in part because it is Olivier's first time performing Shakespeare on film rather than on the stage. As a young actor, he would quickly make a name for himself during the late 1920s and early 1930s, with the cinematic release of "As You Like It" lining up almost perfectly with his legendary run at the Old Vic, where he would play nearly every Shakespearean hero known to man.
In "As You Like It," he takes on the role of Orlando, a young man of little fortune who has been exiled by his older brother, and falls in love with the beautiful Rosalind — even though she is in disguise as a man for her own protection. This production is a little stagey; it's clear that they were still figuring out the best way to adapt a play for the screen without simply filming it as one would a live show. But Olivier's talent is equally evident — a glimpse of things to come for the actor.
11. Bunny Lake is Missing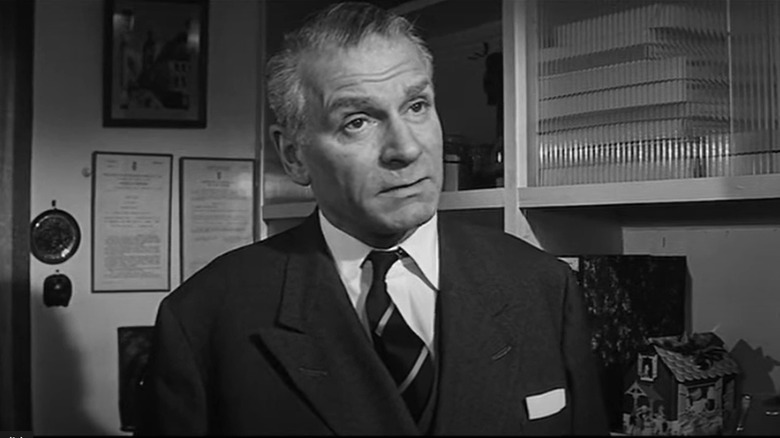 Columbia Pictures
In the early 1960s, Laurence Olivier began to take a step away from traditionally romantic leading man roles, and one of the highlights of this stage of his career is "Bunny Lake is Missing." Directed by Otto Preminger, the film is a mystery about Ann (Carol Lynley), a woman whose daughter Bunny has disappeared, and the efforts of a police officer (Olivier) to track her down. 
But as "Bunny Lake is Missing" goes on, and the officer is not only unable to find the girl, but any evidence that she ever existed, he begins to wonder if Bunny is even a real person. Although the psychological drama is interesting, the production has gone on to serve as a reflection of the famously unstable period in which it was created, with Richard Brody of the New Yorker explaining, "the film's real charge lies elsewhere — in Preminger's view of a jolting, disoriented age of rock and roll."
10. Spartacus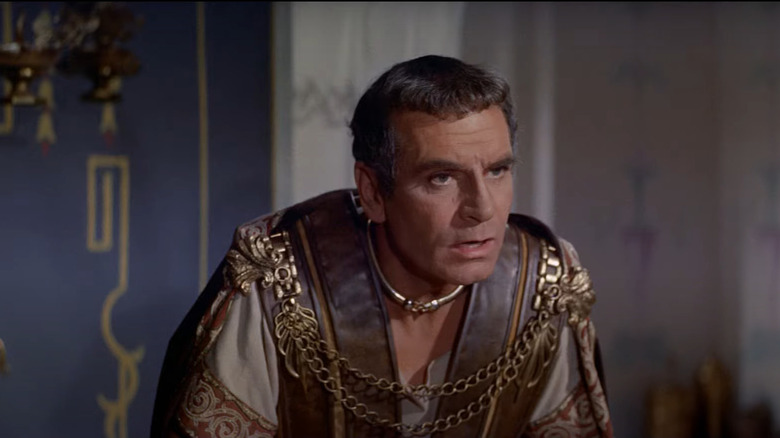 Universal
One of the biggest blockbusters of the early 1960s, "Spartacus" stars Kirk Douglas as a gladiator who fights for his freedom and ultimately ends up leading a slave revolt that would shake the Roman Republic to its core. Epic in every sense of the word, "Spartacus" was the highest-grossing film of 1960 and received six Academy Award nominations, winning four.
But Spartacus is nothing without his adversary, and that's where Laurence Olivier comes into the picture. He plays Crassus, a cruel, ambitious Roman senator who thinks nothing of sentencing dozens of men to die horrifically by crucifixion. He both fears and resents Spartacus, terrified by his ability to win men's allegiance and worried that he will lose his lofty position in society. Roger Ebert said of the film decades later, "Two things stand up best over the years: the power of the battle spectacles, and the strength of certain performances — especially Olivier's fire, Douglas' strength, and Laughton's mild amusement at the foibles of humankind."  
9. Clash of the Titans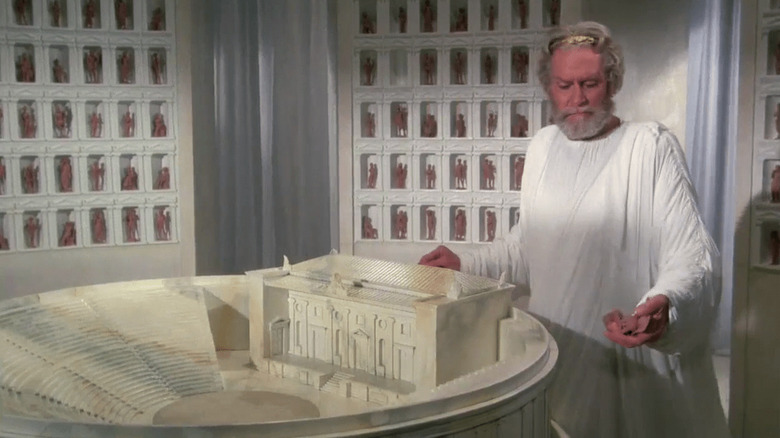 United Artists
With all the historical narratives in Laurence Olivier's filmography, it's sort of refreshing that in the latter days of his career, he would play a significant role in a film that is classical in the traditional meaning of the word: "Clash of the Titans." A goofy action epic (with a truly magnificent animatronic owl), "Clash of the Titans" follows the journey of Perseus (Harry Hamlin) on his quest to rescue Princess Andromeda (Judi Bowker) with the aid of the Olympian gods, led by his father Zeus (Olivier). 
Best known for its charming stop-motion effects that evoke memories of adventure films like "The 7th Voyage of Sinbad," "Clash of the Titans" remains for many a somewhat guilty pleasure. Ed Gonzalez of Slash Magazine said of it, "fantastical epics were common in the early '80s, and while Clash of the Titans remains one of the genre's homelier entries, there's no faulting a film this lovingly and aptly arcane."
8. Hamlet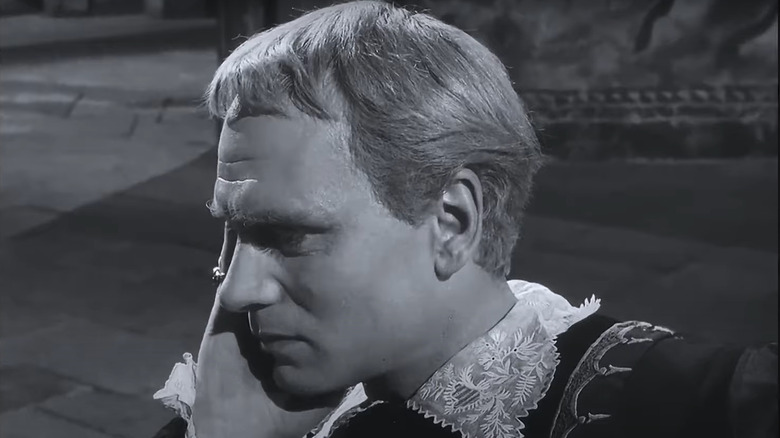 Universal
Never one to shy aware from good old William Shakespeare, in 1948 Laurence Olivier adapted arguably his most famous play for the big screen. And make no mistake: This is almost 100% exclusively an Olivier production. Not only did he play the title character of Hamlet, the anguished Danish prince, he also produced and directed the film. He even wrote the screenplay, which took a pair of scissors to the Bard's work in an effort to make it a more manageable cinematic enterprise (even cutting out the entire subplot of Rosencrantz and Guildenstern), a decision not without its detractors. 
Still, Olivier's "Hamlet" was undoubtedly a success: It earned seven Academy Award nominations, with Olivier taking home the Oscar for best actor, his sole competitive win as a performer. Olivier's "Hamlet" at the time was considered one of the definitive Shakespearean adaptations, with James Agee at Time commenting, "A man who can do what Laurence Olivier is doing for Shakespeare is certainly among the more valuable men of his time."
7. 49th Parallel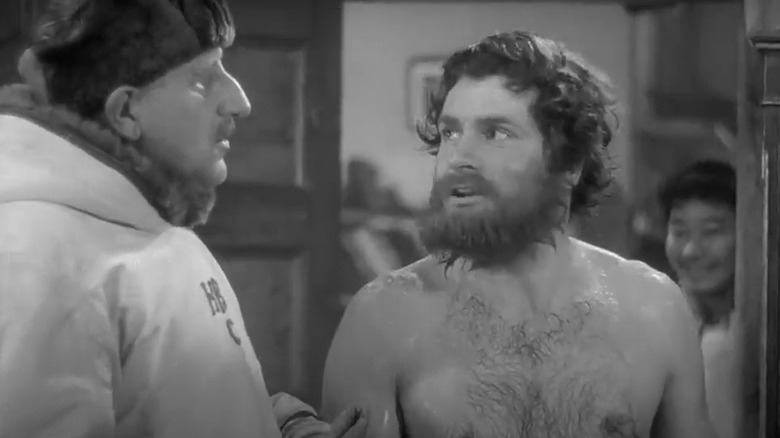 Columbia Pictures
Designed primarily as an effort to shore up support for World War II in the United States, "The 49th Parallel" is a pretty little piece of propaganda from the filmmaking duo of Powell and Pressburger. After a German U-boat sailing off the coast of Canada is sunk, the small band of survivors attempts to make their way to the United States which, at the time the film was being made, had yet to join the war. As they travel, they meet (and frequently butt heads with) various Canadians along the way, including Johnnie the Trapper, played by Laurence Olivier. 
Starring alongside Olivier were Leslie Howard and Austrian refugee Anton Walbrook, creating a trio of patriotic actors who agreed to appear in the film for a vastly reduced salary, so strongly did they believe in the purpose of "The 49th Parallel." The film received significant critical attention — it was nominated for best picture at the Academy Awards, and Pressburger took home the Oscar for best original story.
6. Marathon Man
Paramount
These days, "Marathon Man" is perhaps best known for the shade Laurence Olivier threw at his costar Dustin Hoffman while filming: After Hoffman described the extreme lengths he went to for the character as a proponent of Method acting, Olivier famously quipped, "My dear boy, why don't you just try acting?" But the film deserves praise well beyond just that single off-screen one-liner. Hoffman stars as "Baby" Levy, an unfortunate academic who, thanks to his brother's secret job in espionage, ends up involved in a Nazi plot to recover stolen jewels. 
Olivier plays the role of Christian Szell, the Nazi war criminal who spearheads this effort and serves as the film's main baddie. Despite some controversy around the violence depicted in "Marathon Man," with Pauline Kael referring to it as a "Jewish revenge fantasy," Olivier was nominated for an Oscar for best supporting actor, the only nod the film would receive.
5. Wuthering Heights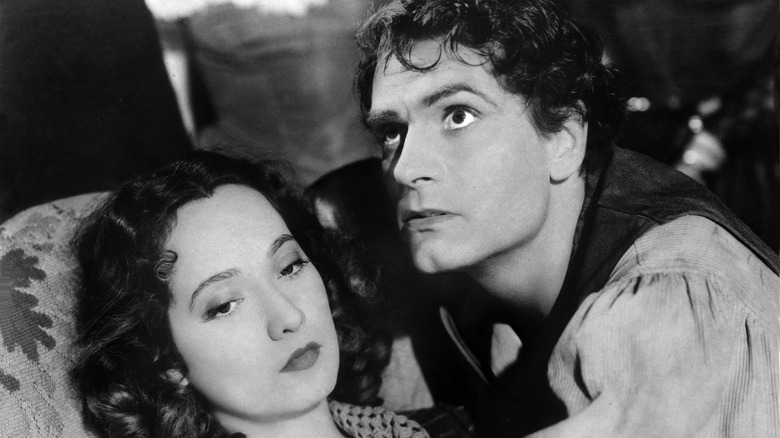 United Archives/Getty Images
In the late 1930s and early 1940s, if you were looking for a brooding leading man, Laurence Olivier was your first choice. He puts his classical theater training to good use by appearing in a number of period costume dramas at this time, with the moody drama "Wuthering Heights" chief among them. He plays the mercurial Heathcliff, whose love for Cathy (Merle Oberon) is so raw and passionate that it destroys them both. 
This iteration of the classic Bronte novel deviates significantly from the source material, removing the framing structure that shows the damage of their toxic relationship to the next generation. And while this robs the story of narrative closure, it allows it to devote all its attention to the main event — the dynamic between Cathy and Heathcliff. "Wuthering Heights" was a massive success, earning eight Academy Award nominations, including one for Olivier as best actor (his first of an impressive 11 competitive Oscar nominations).
4. Pride and Prejudice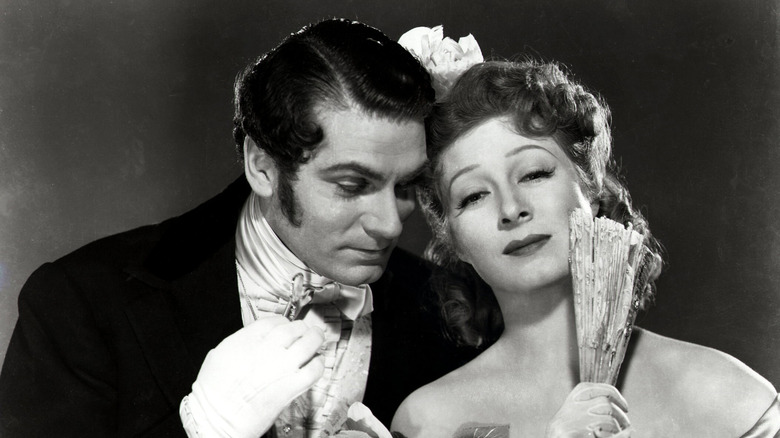 United Archives/Getty Images
In the first of many cinematic adaptations of Jane Austen's "Pride & Prejudice," Laurence Olivier cuts an impressive figure as the male lead, the arrogant Mr. Fitzwilliam Darcy. Elizabeth Bennet (Greer Garson), a young woman from a respectable but impoverished and frequently embarrassing family, finds herself falling in love entirely against her will with Darcy, a wealthy gentleman whose snobbery is known far and wide. 
The film itself suffers slightly from a narrative that feels slightly over-compressed, as well as Production Code restraints that would, amongst other things, see the ridiculous Mr. Collins turned from a country preacher with airs to a goofy librarian. It rushes through elements of the story, dedicating less time than one might hope to properly establish the romance that develops between Elizabeth and Darcy. Still, Olivier puts in an empathetic performance, despite the fact in the eyes of many Austen fans, he has been supplanted as the supreme Darcy by either Colin Firth or Matthew Macfadyen.
3. That Hamilton Woman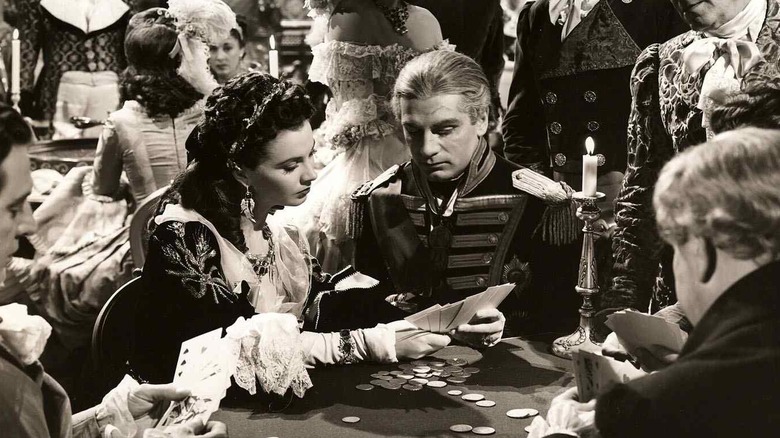 United Archives/Getty Images
As we see throughout Laurence Olivier's career, he has plenty of films where he is the unequivocal star of the show, but he was also perfectly content to play the generous supporting act to a powerful woman's story. That much is evident in "Pride & Prejudice" to some extent, but especially so in "That Hamilton Woman." Vivien Leigh stars as Emma Hamilton, a notorious early 19th-century courtesan who famously romanced the British ambassador to Naples during the Napoleonic Wars as well as Admiral Horatio Nelson (played by Olivier, who was then married to Leigh). 
Newlyweds at the time, their chemistry is off the charts, although this would mark their final on-screen collaboration. Bosley Crowther of the New York Times gave it mixed reviews, praising the two leads but saying, " the little drama in the picture is dissipated over many expansive scenes; compassion is lost in marble halls." Still, "That Hamilton Woman" was not without its admirers — it was said to be one of Winston Churchill's favorite films.
2. Rebecca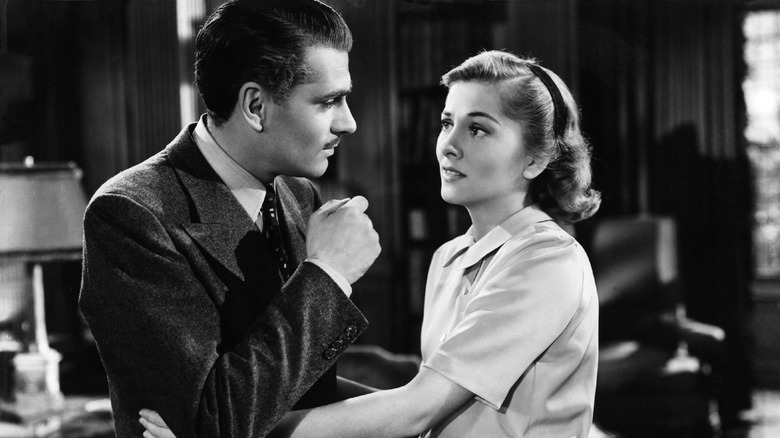 United Archives/Getty Images
"Last night I dreamt I went to Manderley again," the second Mrs. De Winter intones, and with that, we are introduced to the atmospheric estate in Cornwall that will provide so much of the character of "Rebecca." Based on the novel by Daphne du Maurier, "Rebecca" stars Joan Fontaine as a young, naïve woman who falls in love with the moody but handsome Maxim De Winter (Laurence Olivier) while working as a companion to an elderly lady on vacation in Monte Carlo. They marry, and are briefly happy together — but the specter of the former Mrs. De Winter is not so easily forgotten. 
Olivier puts in a brooding, emotionally restrained performance, somehow reconciling his cold treatment of his new bride with the fact that really does love her, allowing us to believe both at the same time. "Rebecca" won the Academy Award for best picture in 1941, and Oliver was given his second Oscar nomination for best actor in two years.
1. Henry V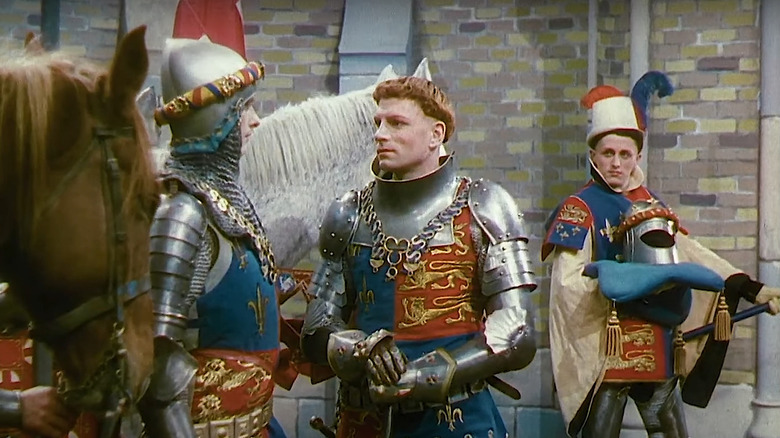 United Archives/Getty Images
The greatest of all his Shakespearean performances, Laurence Olivier would take on the lead role in "Henry V." The young Henry (then called Hal) must take on the responsibility of becoming the king of England, a duty that sees all the way to Agincourt in France, where he will lead a vastly outnumbered army against their Gallic adversaries. Known for its famous "St. Crispin's Day" speech, in which Henry V rouses his troops by reminding them of what great honor awaits them in fighting such a historic battle, "Henry V" was produced with the intention of lifting the spirits of a British populace beleaguered by several long years of war.
Olivier is every inch a heroic monarch, exuding such pride and confidence that it's easy to imagine an entire army riding into battle behind him. Even more impressive, he directed himself in the film, making a directorial debut where he, in the words of New York Times critic Bosley Crowther, "concocted a stunningly brilliant and intriguing screen spectacle, rich in theatrical invention, in heroic imagery and also gracefully regardful of the conventions of the Elizabethan stage."