Woman On Fire Movie Will Star Sharon Stone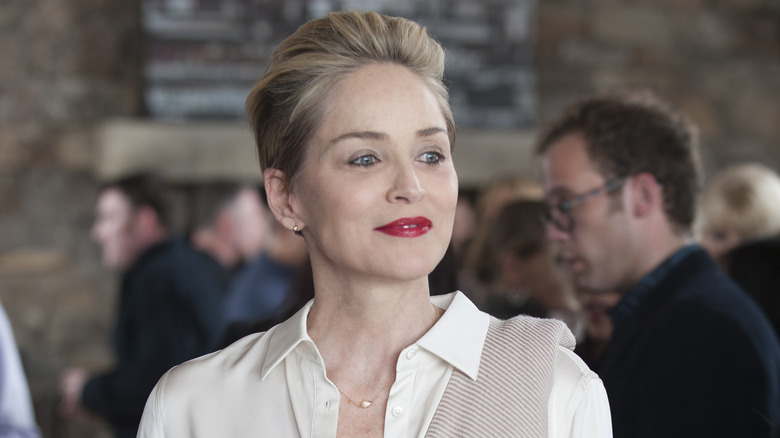 HBO
Emmy and Golden Globe winner Sharon Stone is slated to produce and star in the film adaptation of Lisa Barr's upcoming novel, "Woman on Fire" (per Deadline). The thriller is set to hit shelves in just a few days, on March 1, 2022, telling the story of a savvy young journalist who finds herself embroiled in a major international art scandal involving a stolen painting. While a film centered around a long-lost expressionist painting may not sound especially thrilling, something tells me Sharon Stone's involvement will take the drama to the next level.
Best known for roles in "Total Recall," "Basic Instinct" and "Casino," Stone has recently taken to producing both the series and films that she stars in, including, "Running Wild," "All I Wish" and "Agent X." She'll next appear in the second season of HBO Max's "The Flight Attendant" as the mother of its lead characters, Kaley Cuoco's Cassie Bowden. Stone is also slated for roles in Klaus Menzel's romantic drama "What About Love," and Andrew Dosunmu's "Beauty." As for author Lisa Barr, you may recognize the award-winning author, journalist, and blogger from previous works including "Fugitive Colors" and "The Unbreakables." Her latest story sees an ambitious journalist and international art collector embroiled in a showdown for a long-lost masterpiece.
Who is the Woman on Fire?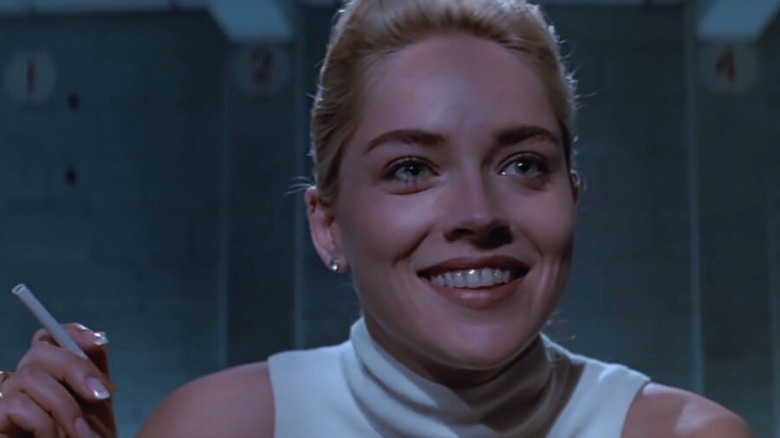 TriStar Pictures
Sharon Stone is well-known for her femme-fatales, among other mysterious and dangerous roles she's taken on, so "Woman on Fire" should fit right into her lineup. The announcement of Stone's involvement doesn't reveal her role, though an educated guess goes a long way. The story follows two women going to great lengths to achieve their goals and from the descriptions, it seems likely that Stone will take on a villainous demeanor. Leading the story is young journalist Jules Roth, a new investigative reporter who's given an unusual assignment — tracking down a painting stolen by the Nazis over 75 years ago. The painting is the titular Woman on Fire and Jules isn't the only one hunting it down. Heir to a family fortune, art collector Margaux de Laurent is powerful, provocative, and determined to get everything she wants, no matter the cost. In the spirit of her storied career playing dangerous women, this seems like the perfect role for Stone.
Though the story isn't exactly an action-packed caper, it has all the makings of a hard-boiled drama with sharp twists and big revelations. Plus, being set in the art world means plenty of potential for showing off the absolute villainy of wealth. The book's synopsis dubs the story a "thrilling tale of secrets, love, and sacrifice that illuminate the destructive cruelty of war and greed and the triumphant power of beauty and love." You can read the full synopsis below:
After talking her way into a job with Dan Mansfield, the leading investigative reporter in Chicago, rising young journalist Jules Roth is given an unusual—and very secret—assignment. Dan needs her to locate a painting stolen by the Nazis more than 75 years earlier: legendary Expressionist artist Ernst Engel's most famous work, Woman on Fire. World-renowned shoe designer Ellis Baum wants this portrait of a beautiful, mysterious woman for deeply personal reasons, and has enlisted Dan's help to find it. But Jules doesn't have much time; the famous designer is dying.

Meanwhile, in Europe, provocative and powerful Margaux de Laurent also searches for the painting. Heir to her art collector family's millions, Margaux is a cunning gallerist who gets everything she wants. The only thing standing in her way is Jules. Yet the passionate and determined Jules has unexpected resources of her own, including Adam Baum, Ellis's grandson. A recovering addict and brilliant artist in his own right, Adam was once in Margaux's clutches. He knows how ruthless she is, and he'll do anything to help Jules locate the painting before Margaux gets to it first.

A thrilling tale of secrets, love, and sacrifice that illuminates the destructive cruelty of war and greed and the triumphant power of beauty and love, Woman on Fire tells the story of a remarkable woman and an exquisite work of art that burns bright, moving through hands, hearts, and history.