This Underrated Horror Movie Was Elizabeth Olsen's Big Break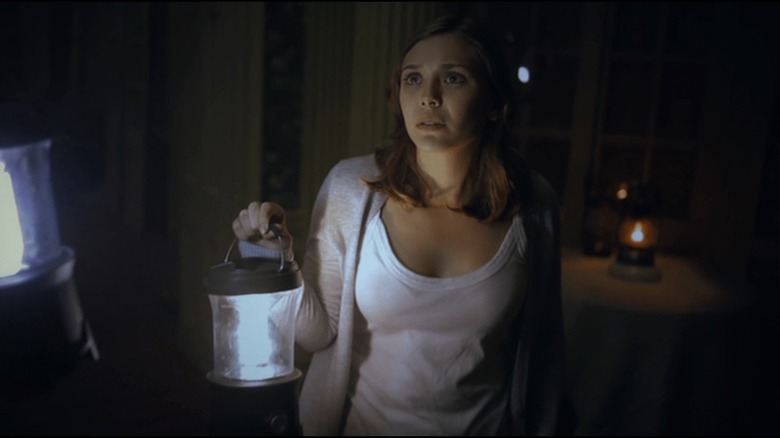 Universal Pictures
When "WandaVision" dropped on Disney+ last year, it turned one of Marvel's lesser-known Avengers into a sitcom-hopping star. It also made its own star, Elizabeth Olsen, a household name thanks to her poignant performance as the grieving hero. Olsen joined the Marvel Cinematic Universe in 2014, but her breakout role came two years earlier, in the form of a polarizing horror movie with an impressive visual gimmick.
"Silent House" is a twisted home invasion movie directed by Chris Kentis and Laura Lau. The movie premiered at the 2011 Sundance Film Festival alongside another Olsen-led film, the cult-set thriller "Martha Marcy May Marlene." Together, the two films proved an impressive showcase for the young actress, but when they hit theaters following the festival, only one garnered responses, and it wasn't "Silent House." While critics praised Olsen's performance and the film's technical ambition, many simply thought its story execution fell short. The movie also received a rare "F" rating from audiences on CinemaScore. But was it ever really that bad?
Silent House is a twisted real-time thriller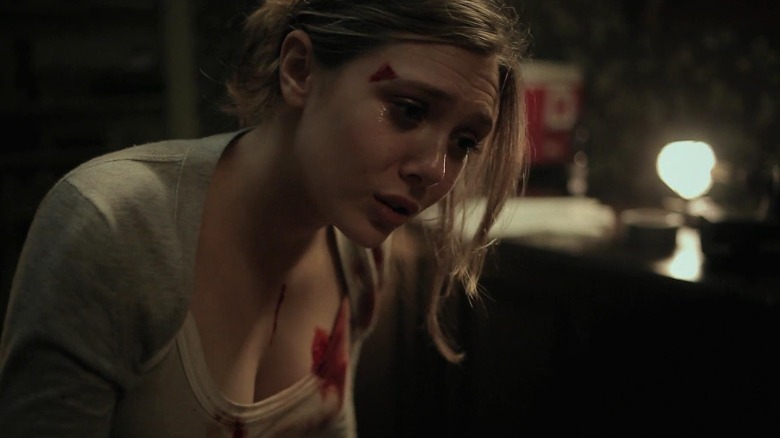 Universal Pictures
"Silent House" follows a young woman named Sarah who's helping her father John (Adam Trese) and uncle Peter (Eric Sheffer Stevens) fix up her former family home. The house is creepy from the start, with plenty of darkened hallways and dusty spaces, but it gets even weirder when a stranger shows up at the family's door. The visitor is a woman named Sophia (Julia Taylor Ross), who claims to know Sarah from childhood, though our protagonist can't seem to remember her.
As the movie unfolds, "Silent House" morphs from a cleverly constructed, claustrophobic home invasion story into a disturbing psychological thriller. By the end of its 88 minute run-time, the movie has gone to some dark and triggering places, delivering a twist ending that's as emotionally heavy as it is surprising. The movie takes audiences not only to the deepest crevices of this rickety old house, but also to the deepest crevices of Sarah's mind, some of which are a secret even to her.
The film unfolds in real time, with what appears to be one continuous take. This artistic device allows "Silent House" to steadily build dread and suspense, but it also leaves room for some narrative dead air as Sarah hyperventilates in the dark. Still, it's a bold filmmaking decision that calls to mind a beloved movie from the Master of Suspense himself. Alfred Hitchock's 1948 drawing room murder movie "Rope" employed a similar technique, seamlessly editing together extremely long takes to give the appearance of a single, continuous shot. Olsen confirmed that "Silent House" used the same method: she told interviewers that making the movie involved filming 11 to 12 minute takes, many of which would have to be scrapped and restarted when small imperfections arose.
A bad case of misleading marketing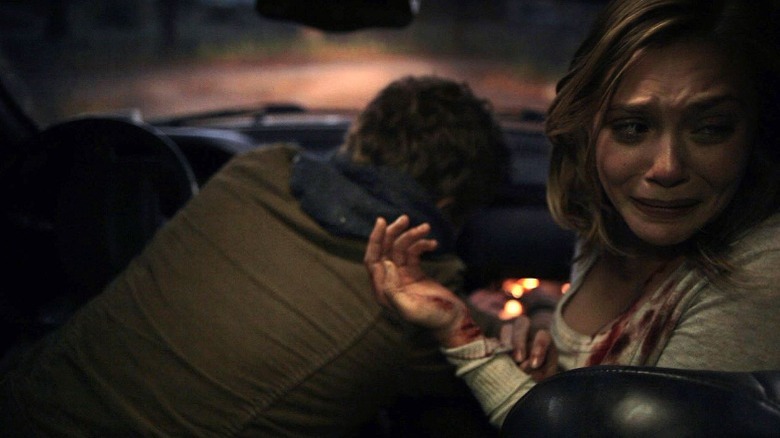 Universal Pictures
Critics and audiences may have had a hard time connecting to "Silent House" because its advertising was markedly different from the actual movie. The film's trailer played up the continuous shot gimmick without revealing that the effect was manufactured. The tagline for the film was "Real Fear In Real Time." The trailer also proudly boasts that the film is based on a true story, a seemingly sourceless claim carried over from the movie that directly inspired "Silent House," the Uruguayan horror flick "La Casa Muda."
Above all else, it's likely viewers who were stoked to see an action-packed home invasion movie were disappointed that the film spent so much of its runtime wandering dark hallways, only to morph into a troubling psychological thriller at the last minute. The overblown response to "Silent House" seems to be a result of misleading advertising, but that doesn't mean the movie itself is a bust.
As one of the only on-screen actors, Olsen carries the entire movie with a budding star power that's easy to recognize. Sarah stumbles her way through her own personal house of horrors, and Olsen is so good at bringing her fear to life, it makes me wish she'd take some time off from Marvel to work on becoming a certified scream queen. By virtue of its visual design, "Silent House" doesn't allow for edits that flatter the performances, so what we see here is exactly what Olsen delivered on the day — and it's incredibly impressive for a new performer. Despite garnering a deeply mixed response, "Silent House" got people talking about Olsen's acting chops, which paved the way for her mainstream success today.