Director Joe Wright Transformed Cyrano From Period Piece To Musical Fantasy [Interview]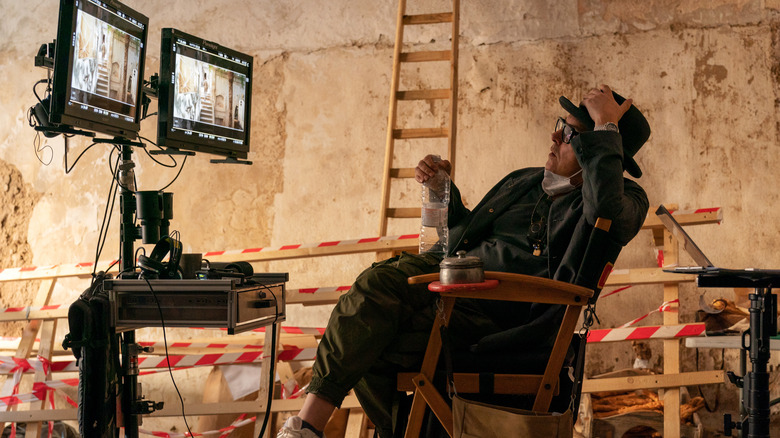 MGM
Joe Wright has a certain sense of style. You'll realize this just moments into one of his films, when transported to the lavish English countryside of "Pride and Prejudice" or even the smoky chambers of "The Darkest Hour." But it's especially clear throughout the musical fantasy of "Cyrano," which sheds the 17th-century Parisian sensibilities of its source material for a dazzling prestige period piece that Wright dubs his "love letter to love." The musical adaptation from MGM centers on Cyrano de Bergerac (Peter Dinklage), a famed swordsman and whip-smart wordsmith who falls in love with a woman named Roxanne (Haley Bennett), but finds himself too self-conscious to actively pursue her. He settles instead for friendship; worse yet, when he discovers she has feelings for another man, he helps her inarticulate new suitor pursue the woman they both love by writing love letters in his place. This tragic tale has been told and retold many times before, giving Wright ample room to get creative — and he does.
While the story takes much from the 1897 Edmond Rostand classic, Wright took a special interest in any opportunity for transformation — whether in his casting choices or visual style. "Cyrano" goes all in on cinematic flourishes, with dazzling set design, swooping cameras, and elaborate musical numbers. To bring his fantasy to life, Wright told us that he pulled from any and everything wondrous, including memories of childhood puppetry and even youthful days spent at London raves.
This interview has been lightly edited for clarity.
'The film isn't really a period movie, right? It's like a fantasy of a period'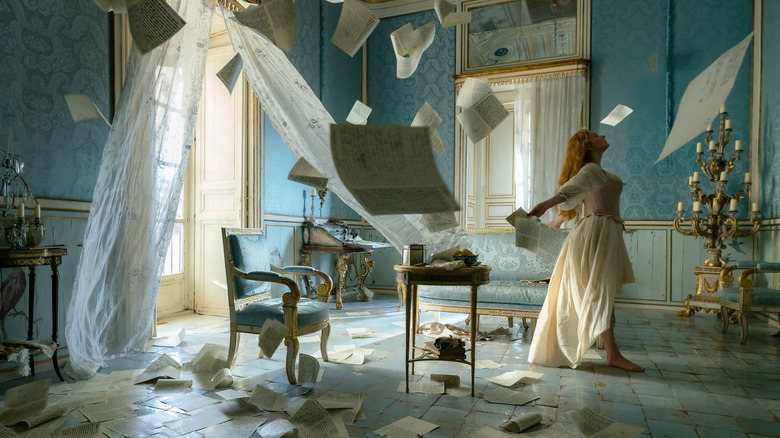 MGM
You've said a few times now that you came to this story because we were in the middle of the pandemic and you wanted to make something beautiful. Why was this the story to do that with?
I came to it before the pandemic, actually. I saw the workshop production of the theater version a couple of years before the pandemic, and I was very moved by what I saw. Trump was still in the White House and it seemed like the rise of populism was happening all over the world and people were focusing on each other's differences rather than similarities. I wanted to make a film that had an urgent acceptance of our differences, to see beyond our differences and think more about our similarities. The casting of Peter Dinklage spoke to that theme for me.
So we were developing it for a couple of years and then the pandemic happened. Having spent four or five months in lockdown, starved of human connection, suddenly the film felt more prescient than ever. And, personally, it felt important to make a film about the importance of human connection and our difficulty in doing that and our fear of intimacy and our fear of allowing ourselves to be seen for whoever we are. That became a mission for us in the making of the movie.
Was there ever a version that wasn't Peter Dinklage or wasn't Haley Bennett or was that cast always it for you?
No. They were both part of the workshop production I saw, and it was particularly that casting that seemed to bring very close this idea of looking for the similarities rather than the differences.
What about casting Kelvin Harrison Jr? And Ben Mendelsohn?
For a start, the film isn't really a period movie, right? It's like a fantasy of a period. Therefore, the rules of period moviemaking don't really apply. I wanted the cast to be representative of the community in which I live, but when casting the role of Christian, I kept an open mind and looked for someone with the right level of kindness and open heartedness and trust and innocence. I had seen Kelvin in "Waves" and thought he was spectacular in that movie. And then when I met him, he had all of those qualities. So that was a very clear opportunity. I think he's an extraordinary actor, and I think certainly an actor to watch.
Ben Mendelsohn, I'd worked with him in "Darkest Hour," so that was a phone call. I called him up — he was in lockdown in L.A. — and I called him up and I said, "Ben, I've got this film, I've got this role, I really think you might be right for it, but can you sing?" And he said, "can I sing?" and he hung up. Ten minutes later, I received a text of a video of him singing, improvising a song — like a Tom Jones big voice song and I was really shocked. And I text back, "You got it." And that was that.
'The original Rostand play is very specifically in Paris in 1640 ... but I wanted to make the film more universal'
MGM
I like how you described "Cyrano" a while ago: Not a period piece, but a fantasy of a period piece. Is that what you had in mind for the visual style of the film?
Very much so. I mean, as I'm sure you know, the original Rostand play is very specifically in Paris in 1640 and even mentioned certain historic battles and so on. But really I wanted to make the film more universal. And I was thinking a lot about my parents' puppet theater. My parents founded and ran a puppet theater in London and their shows were these strange dreamlike fairy tales. And I wanted to bring an element of that to the movie — which is why there are two marionettes at the beginning of the film, which were actually made by my dad in 1948.
We decided to set the film somewhere between 1640 and 1720; [those] were our main historical references. We went that late because the women's hair in the 1700s is dreadful, they look like poodles. So I wanted to avoid that. But also the costumes are as referenced from Alexander McQueen as they are from the period dresses. We looked at painters like Watteau and Fragonard. Fragonard did that famous painting of the girl on the swing with the shoe flying off into the air. And certainly, the costumes are also influenced by those works, especially the lightness. There's this kind of airiness to those paintings and so we tried to work with very, very, very light fabrics. So there was always a sense of air and movement, not least because of the amount of dancing required.
That fantasy approach also feels very much like what we expect of movie musicals — big spectacle and fantasy-like, and always walking that line. Someone actually pointed out to me that the film has '90s music energy, and I'm curious about if that was intentional.
It has '90s music energy?
[Laughs] Yeah.
I'm giving my age away, aren't I? Because that wasn't an intentional reference. However, I spent most of the '90s with my head in a bass spin at raves in London and around the UK, and I used to work with a light show company and we'd do light shows at these events. So yeah, I guess I am really influenced by that aesthetic and subculture. I really like bass, so I'm always pushing with all my films in the sound mix to turn up the bass. It's one of the great things for me about the cinematic experience as well. People talk about the big screen experience, but really for me going to a cinema — certainly, it's the big screen, and it's the community experience of being in an audience — but it's also the big sound experience that I really love.
'The film I'm making is always the film that happens in my head as I read the book'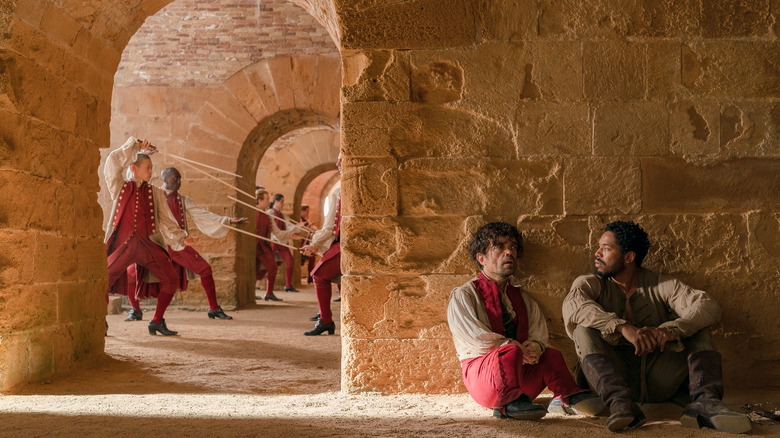 MGM
Do any of the musical sequences stand out to you as being particularly tricky to film or to plot out?
The interesting thing is using that word, "plot out." Cause the interesting thing about musical numbers is they have to be planned like an action sequence, and even more so than an action sequence because you're working with very specific blocks of time. "Okay, I've got to have a shot for this bar and it goes from this bar to that bar." So it's tricky. I think probably the most complicated one was the "Every Letter" song because it involves three singers, three characters singing together but in different locations. It was conceived as a ménage à trois for three people who are never in the same room. So making sure that somehow all of their choreography was fluidly working together and that felt exciting was certainly challenging. Also, all of the actors are singing live. So yeah. They're performing those songs live on camera, which I did to try and achieve a level of intimacy to the songs. I wanted the faults in the voices and I wanted to hear the breaths in between lyrics to bring us closer so that it's not this declamatory musical style.
And "Every Letter" was originally a solo?
It was originally a solo and then in a completely different part of the movie. It actually came during the war scene and was sung by Roxanne as a fantasy. But I felt that it didn't work for me cinematically in the film. It didn't work for me there. And really, it's the same song only in name, but it became completely retooled and we wrote new lyrics.
You're obviously no stranger to adapting classics or even adapting works in general and "Cyrano" being this story that's retold and revamped, I'm curious about your approach when it comes to something like this or like "Pride and Prejudice." How are you balancing the weight of everything that came before with your own vision?
I don't usually carry the weight of previous adaptations on my shoulders. I'm dyslexic and that wasn't diagnosed until I was about 18, 19. Before that, I was just told I was stupid and lazy. So I came to reading quite late. And when I finally — the first book I read was a book called "Laughter and Forgetting," by Milan Kundera. Suddenly I understood that there was this wealth of human experience available to me through literature and that I had some catching up to do. So I make films not of what I know, but of what I want to know. I use the movies as a tool for learning and I get to study these great works of literature, and I get to study often with very, very smart people like Tom Stoppard or Christopher Hampton or Ian McEwan.
So it's really just a process of my education. The film I'm making is always the film that happens in my head as I read the book ... or is the book that happens in my head as I read the book. And I believe that there are as many different versions of that book as there are readers. So all I'm trying to do is express what happened to me when I read the book and hopefully, if it's specific enough to me, then hopefully it'll be universal and therefore specific to others.
"Cyrano" opens in theaters on February 25, 2022.