The Real-Life Inspiration Behind Tom Cruise's Character In Magnolia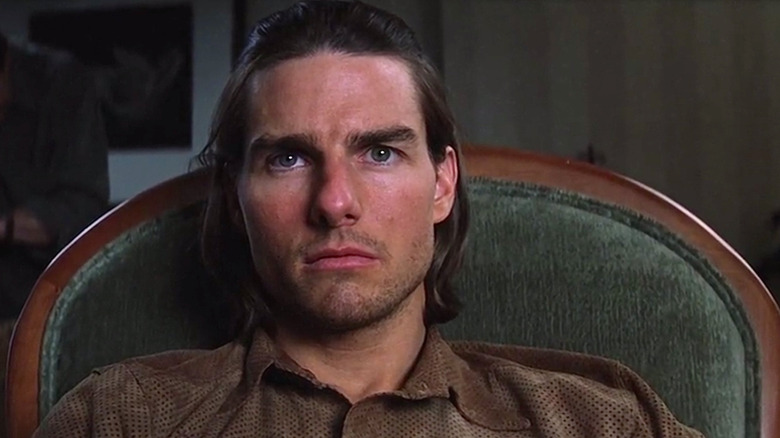 New Line
Tom Cruise has quite an impressive body of work and while it's difficult for some to pick a career-best performance from the actor, I would choose one without hesitation: Frank T.J. Mackey in "Magnolia." Paul Thomas Anderson's magnum opus released in 1999 and follows a tapestry of interwoven characters as they struggle through their lives in the San Fernando Valley. At over three hours long, the film certainly isn't for everyone, but I think it's a masterpiece. Parts of it were written around the incredible music of Aimee Mann, who soundtracked much of the film, along with composer extraordinaire Jon Brion.
In "Magnolia," Cruise plays a motivational speaker of sorts, Frank T.J. Mackey, whose main objective is "Seduce and Destroy." Mackey is an unrepentant misogynist preaching his seduction skills to a room full of men all too eager to listen. He's a charismatic jerk teaching seminars on how to get laid, mainly through subterfuge, all while treating women as objects to be conquered. In other words, this is not an easy guy to root for. The most fascinating thing about the actor's performance isn't how good he is at inhabiting the role, but rather the humanity he brings to a character who, at first glance, seems to have none. Mackey is unlike any character Cruise has played before or since.
According to Grantland, the role was actually written for Cruise, who became a fan of Anderson after watching "Boogie Nights." While he might seem like he sprang directly from the director's imagination, this seemingly over-the-top character was actually inspired by a real person. So, who served as the spark for Frank T.J. Mackey?
Art imitates life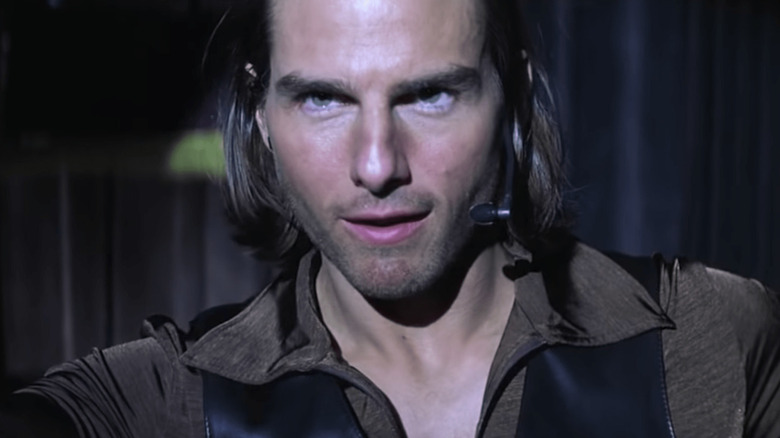 New Line
On the WTF with Marc Maron Podcast (via Uproxx) Paul Thomas Anderson revealed that the inspiration behind Frank T.J. Mackey was real-life pickup artist, Ross Jeffries. I can't possibly do justice to all the details contained therein, but you can (but probably shouldn't) visit Jeffries' website at seduction.com. The site has a description of him that reads:
"Ross Jeffries™ is the founder, creator and Master Teacher of the worldwide seduction community. Featured as the mentor to Neil Strauss in the best-selling book, "The Game", RJ has taught, coached, and mentored thousands of men around the world, since 1991, guiding them to the success with women they truly desire and deserve."
One of his recent blog posts is called "Are You The Money Man Or The Honey Man?" and explains how you can be "The Vaginal Victor On V-Day!" Jeffries uses a system he's aptly titled Speed Seduction and his website has quite an extensive sales pitch for his online program, which includes a (what's the opposite of the phrase "treasure trove"?) plethora of lines like "How to use 'weasel phrases' to open her mind for instant and total sexual acceptance!" I have yet to look into what a weasel phrase is.
Despite this still seemingly active website, a man identifying himself as Paul Ross told Uproxx in 2015, "Ross Jeffries doesn't exist." He continued:
"Ross Jeffries was a character I created, a loudmouth, obnoxious, larger than life, sort of a bit of a showman to get the message out there, to be a loud mouthpiece. That character doesn't really meld with who I am today."
In regard to the movie, he stated:
"Here's the interesting thing: Paul Thomas Anderson thought that they were going to portray a real person. They didn't realize they were portraying a character created by an actor. Tom Cruise didn't realize that he was studying a character. He thought he was studying a person. He created a character based on a character."
As for Tom Cruise's performance:
"Mackey is more manic. Mackey is far more misogynistic. He's basically taking stuff from where I was in 1998. He's also much shorter than I am. Remember when Mackey had the audience take out their calendars? I didn't actually give them physical calendars, but I did have them say 'By the 5th of May I'll be having my way. By the 8th of June I'll have their poon.' That kind of rhyming stuff I got from Muhammed Ali."
He has indeed expanded his work into other areas, releasing a sales training book under the name Paul Ross. Ross, now a practicing Buddhist, says he still uses the name Ross Jeffries because it's "a brand," but that the work no longer reflects who he is.
According to Grantland, Jeffries is a former paralegal and brought a trademark attorney to see "Magnolia." Though he protested that Anderson "lifted some stuff almost word for word," Jeffries chose not to attempt a lawsuit because he liked the movie.
An actor playing an actor playing a role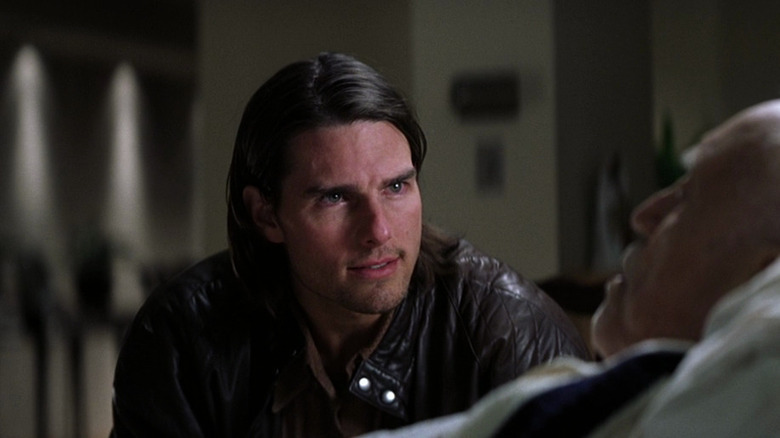 New Line
As Mackey gives his ridiculous stage performance to an audience of men listening with rapt attention, it's impossible for the viewer to take their eyes off him, even as they are disgusted by what he is saying. Cruise is positively magnetic in the role, especially as his layers begin to fall away during his filmed interview with Gwenovier (April Grace). In a span of minutes, Frank goes from flexing in his tighty-whities to staring at Gwenovier like a caged animal: angry, frightened, and trapped. We don't immediately know why Frank is lying about his family trauma, but we do know he is no longer in control — though, perhaps he never was. It is Cruise's nuanced performance during this interview that allows his later breakdown to truly resonate.
Paul Ross considers Ross Jeffries a role he played that he's largely outgrown and feels as though Cruise didn't understand that he was a character playing a character. However, I would argue that's exactly how Cruise portrayed Frank Mackey, as someone hiding under a facade — albeit a convincing one. His final lecture sees him unravel, though his audience seems none the wiser. However, it's the reunion with his long estranged father (Jason Robards) that causes Frank to truly fall apart. Frank's emotional collapse at his father's deathbed is one of the film's most poignant moments. According to Grantland, Cruise was largely drawing on the experience of losing his own father. Much like Mackey, Cruise didn't get to spend much time with his dad. This storyline also proved cathartic for Anderson, who'd lost his father as well.
In what begins with a single take, viewers watch Mackey's face run the gamut of human emotion. He hates his father for leaving them and forcing him to take care of his dying mother as a teenager, but at the same time he's already mourning the life they never had together now that it's gone forever. The scene actually played out a bit differently in the script, with Frank immediately breaking down upon arrival, but Cruise thought it didn't feel quite right and made some changes. At this point, fans are more used to seeing Cruise perform increasingly wild stunts for his action movies. However, for me, there was no greater stunt than the one he pulled in making me cry right along with someone as evidently awful as Frank Mackey. Which I do. Every single time.