We're Glad We Never Had To See Fox's Version Of Clueless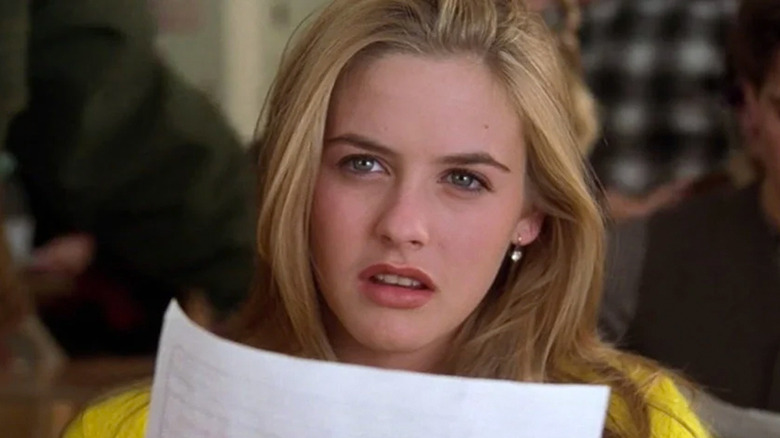 Paramount Pictures
It's been almost 30 years since its release, but "Clueless" is still considered to be one of the best Jane Austen adaptations out there, if not the most accessible. Austen's tongue-in-cheek novel "Emma" served as loose (and I mean loose) framework for director/writer Amy Heckerling's own comedy of manners. It turns out that a story of wealth, privilege and naivete works as seamlessly in 19th-century England as it does in mid-90s Beverly Hills; even Austen's titular heroine seems perfectly suited to the lifestyle of Cher Horowitz.
"Clueless" is more than a cult classic. In fact, it was an almost-instant success when it premiered in 1995, a certified sleeper that eventually bagged $56.6 million in the U.S. and Canada. It was a high school rom com that completely resurrected the genre, and was the first to revamp a piece of classic literature for a modern, younger audience — films like "10 Things I Hate About You," "She's the Man" and "Easy A" would help carry that trend into the early aughts.
But before "Clueless" became a cultural phenomenon and a box office win for Paramount, the film and its director were trapped in development purgatory at another familiar studio, and their vision for the film had Heckerling, like, totally buggin'.
Let's NOT do a makeover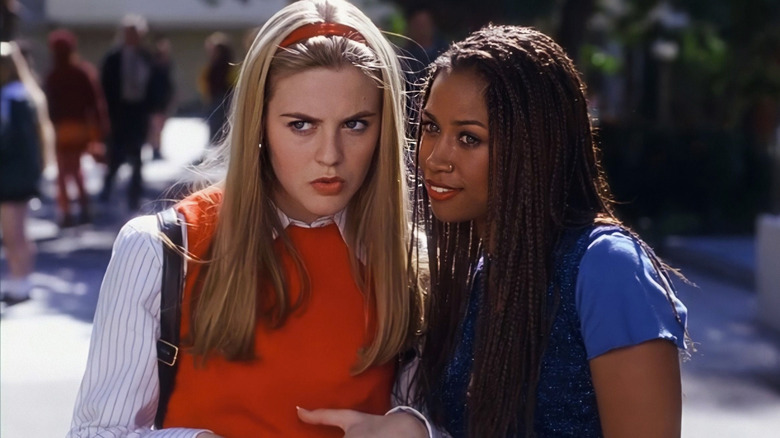 Paramount
As the story goes, "Clueless" was initially pitched as a TV show for Fox. Heckerling had found major success with films like "Look Who's Talking" and "Fast Times at Ridgemont High," but even as an established director and writer, she still struggled to get "Clueless" off the ground. It was Heckerling's agent, Ken Stovitz, who first suggested that the pilot be fleshed out to become a feature film. "When you get into business with someone, you find out what really is the home run, dream come true," said Stovitz to Vanity Fair. For him, that dream come true was "Clueless," and he was determined to make it a reality.
The project transitioned pretty seamlessly from TV to movies, but Fox still had issues with the story. "They were worried about something that was so female-oriented," Heckerling told the Baltimore Sun. "They kept pressuring me to create more of a life for the boys in the film, to create more of an ensemble piece, which didn't make sense to me at all." This note, while frustrating, made perfect sense at the time. Films about teenagers — and teenage girls in general — seemed to die out with the John Hughes films of the '80s. Ensemble films in the vein of "Dazed and Confused" typically couldn't lose.
It was producer Scott Rudin who kept the film true to Heckerling's vision — and got the project out of Fox's hands. "When Scott read [the script], his notes were pretty much what brought it back to the way it was," said Heckerling. Rudin had signed on as a producer while "Clueless" was still with Fox. He helped it transition to Paramount by orchestrating a deal between Fox President Robert Lawrence and Sherry Lansing, the chairman of Paramount's Motion Picture Group. After the transition, casting fell into place, and production went just as smoothly. Then came the box office success, which eclipsed the film's budget four times over.
That "Clueless" was so "female-oriented" actually became its strongest asset. Not only did it revive and later revolutionize a then-defunct sub-genre; its influence trickled into fashion and music, and even helped coin a few choice slang terms. It gave a voice to so many young girls who were discovering exactly who they were in the most formative years of their lives. "Clueless" taught them — and the generations since — that it's okay to be silly, and to make mistakes, too. Will this film ever lose its timelessness, or (more importantly) its status as the quintessential chick flick? As if!