Ryan Reynolds On The Adam Project's 'High-Concept, Wish-Fulfillment Engine' And Nostalgic Kids Movies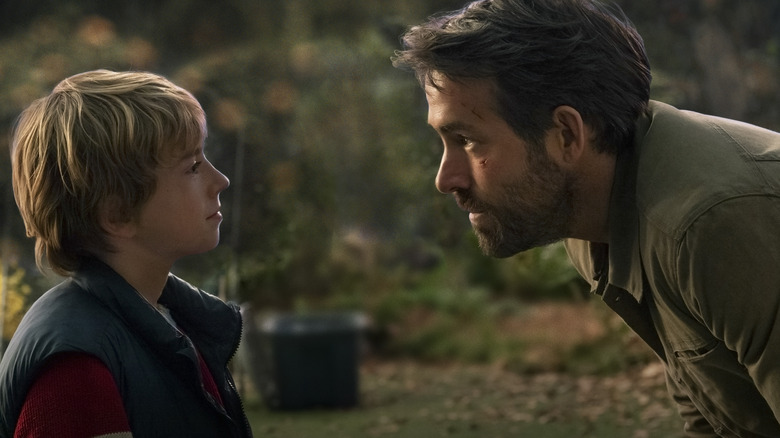 Netflix
Ryan Reynolds is back on his usual beat: running his motor mouth with endless snark and the usual level of cynicism, sans the superhero landings and fourth-wall-breaking. Instead of suiting up for another round at "Deadpool," the actor is tossing on his best, um, fighter pilot outfit, and strapping in for some time travel. As one does. Thanks to his upcoming role in Netflix's sci-fi epic "The Adam Project," Reynolds has reunited with "Free Guy" director Shawn Levy to play time-traveling fighter pilot Adam Reed, who accidentally crash-lands in 2022 and teams up with his adolescent self to save the future.
Reynolds has already taken to Twitter to express his excitement over the film, tweeting out the first trailer last week with the note, "To say I had the time of my life making this film would be an understatement. And a misleading reference to 'Dirty Dancing.'" Already asked about the filming experience by THR, Reynolds has hyped up the film by explaining its connection to his childhood favorites, including titles like "E.T.," and "Back to the Future."
"That was more of my way of working in a 'Dirty Dancing' joke, but I really, genuinely did have the time of my life because it was that exact kind of movie. Shawn is in Budapest right now, and he would love nothing more than to be sitting here doing this interview as well, but I speak for him when I say that [The Adam Project] is the type of movie we were weaned on.

Movies like 'E.T.', 'Back to the Future,' 'Stand by Me' and 'Goonies' all appealed to kids as if they were adults. Now, in the modern age of entertainment, we tend to bifurcate those by saying that kids' movies are really kids' movies, and grown-up movies are grown-up movies, while we're being blasted with a fire hose of content 24 hours a day, seven days a week."
From the sound of it, "The Adam Project" shares a few things in common with the films Reynolds mentions: a sci-fi-tinged coming-of-age tale that takes its lead on a life-changing journey. But what of the tone? Beyond just his fast-talking snark, Reynolds brings a certain jokey tone to his films that are fun and clearly beloved, but not quite in the vein of a "Stand By Me." Well, according to the actor, blending lightness with the personal aspects was crucial.
Mixing the cynical with the personal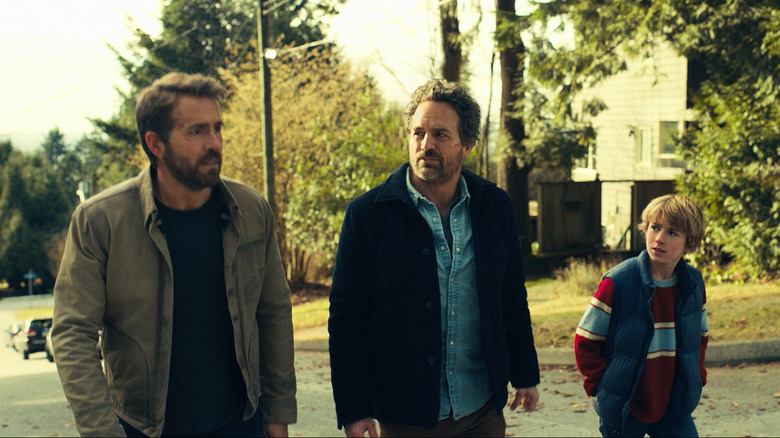 Netflix
Reynolds' version of Adam Reed comes from the year 2050 and ends up face-to-face with his 12-year-old self, as played by newcomer Walker Scobell. But his story truly begins when the love of his life, Laura (Zoe Saldana), ends up mysteriously lost in the time-space continuum, and in trying to rescue her, his time-traveling ship is damaged. Though he has only his pre-teen self around to help him recover from the crash landing, fix his ship, and continue his search, none of those mark the biggest challenge for adult Adam — because most of all, he struggles to make himself emotionally vulnerable, in a way that plagues his relationship and adult life. Reynolds added:
"[The Adam Project] has a storytelling device that doesn't feel slow, so it's the same pace that we watch movies these days, but it also has this high-concept, wish-fulfillment engine behind it. And, at the end of the day, it's a very personal story, a story about something that I think every single person can relate to. That's magic, man. That's what I love about movies, and it's what I've always loved about movies."
The story doubles as a very personal look at a deeply cynical guy learning to open himself up, and a bats**t crazy sci-fi saga with spaceships and wicked gadgets. It does indeed sound like the ultimate mix of what we too often dub "adult" and kids" movies, maybe even in the same vein as Levy's silly-yet-sincere "Real Steel," a movie about father-son bonding and fighting robots. "The Adam Project" also stars Mark Ruffalo and Jennifer Garner as the 2022 version of Adam's parents, leaving plenty of room to explore the adult Adam's unresolved mommy and daddy issues.
"The Adam Project" hits Netflix on March 11, 2022.