Jurassic World Dominion LEGO Sets Are Packed With Dino Action And Maybe Chicken Legs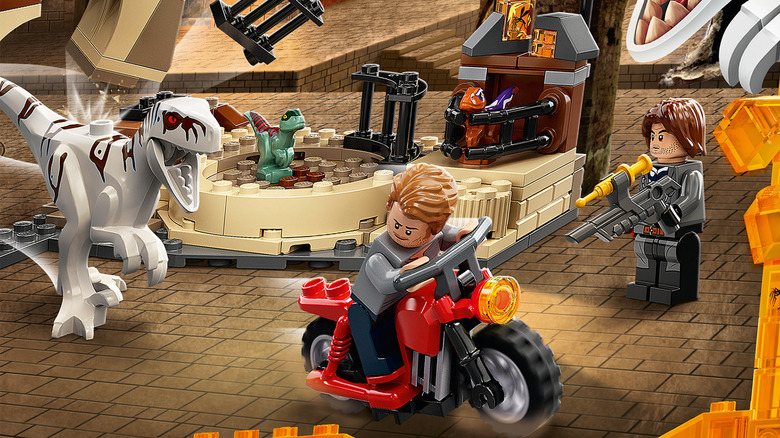 LEGO
"Jurassic World Dominion" is set to hit theaters on June 10, 2022. Despite my fear that some rogue scientist will actually try this, and despite the lessons we learned from the films, as long as we stay in the fictional world I'm all about that dino life. In the new film, we're four years in since Isla Nublar was destroyed, and dinosaurs are living among us. It's maybe not the best idea to be hanging out with creatures who want to turn you into a tasty snack, but here we are. 
The LEGO Group and Universal Brand Development have six new LEGO sets based on "Jurassic World Dominion" on the way, and now I'm going to have to dig through couch cushions or sell a kidney or something. I want to have all of them in my house right now! Let's do a deep dive into what's coming while you decide whether or not to mortgage your house, or at the very least, build a new shelf or six. 
These new sets will be widely available starting April 17, 2022, on LEGO.com, in LEGO Retail Stores, and at major retailers worldwide.
You put out the fishies and the Pteranodon will come for lunch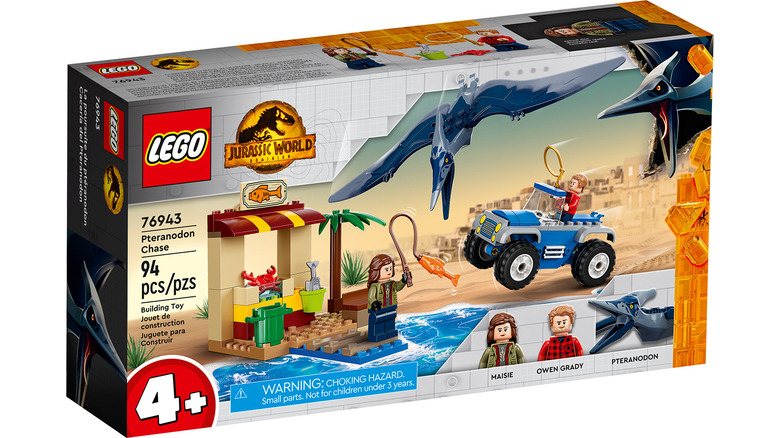 LEGO
The word "dominion" is in the title of the film, and it definitely isn't human dominion. Dinosaurs rule the Earth once again, and we humans look like walking cheeseburgers. This set is the LEGO Jurassic World Pteranodon Chase, set number 76943, which retails for $19.99 EUR/USD. There are 91 pieces and it's for ages four and up. It's over 3.5 inches high, 4.5 inches wide, and 5 inches deep. 
The set includes Owen Grady and Maisie minifigs, and a very large Pteranodon, which I now know how to spell. After building this one, you can play as Maisie and Owen, who are both clearly insane, waving fishies around in the air when a Pteranodon is nearby. Seriously, are they yelling, "Here, Ptery Ptery!" or what? 
This set comes with a brick-built dock, fish stall (for easy dino snacking), and a buggy. There is a fishing rod and a lasso. As you can see in the pics, the sign is a picture of a fish, which makes it so much easier for the giant bird monster to see where the snack bar is. There are buckets, a crab, and a second fish, so Ptery has a nicely sized menu to order from. 
Yes, there is a Pteranodon in the film. In fact, we have a great breakdown of every dinosaur in "Jurassic World Dominion" for your reference from our own Deshawn "Dela Doll" Thomas.
It may not be Star Trek, but they seem to have included a red shirt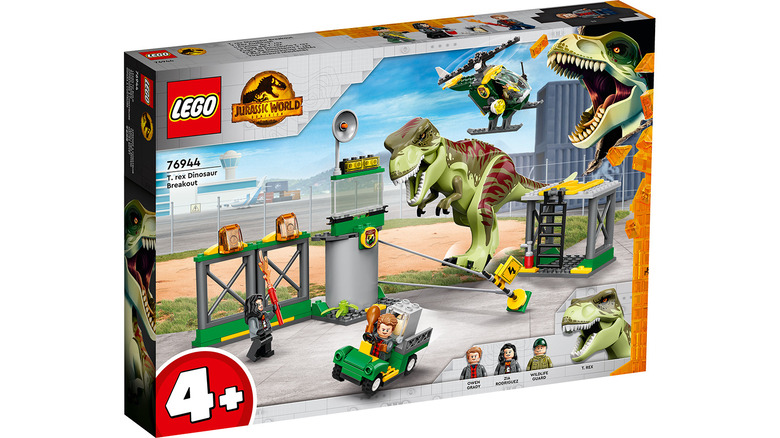 LEGO
Everyone wants a Tyrannosaurus Rex as a pet, but what would you feed them? Wait! LEGO has an answer for you! You feed him a wildlife guard! Ooh, delicious!
This is the LEGO Jurassic World T. rex Dinosaur Breakout. It's for ages four and up, and retails for $49.99 EUR/USD. It's over 6 inches high, 6 inches wide, and 2.5 inches deep. The T. rex is over 4 inches tall. There are 140 pieces in the set — 139 if your dino eats that guy for lunch. 
The set has an airport you can build, a helipad, a helicopter, and a fence that absolutely won't hold back a very large and very hungry T. rex (There is no way you could do a Jurassic Park story without this dude). There are minifigs of Owen Grady, Zia Rodriguez, and that redshirt wildlife guard tasty snack as well. You even get a dinosaur egg, a walkie-talkie, and a tranquilizer gun "to play out your own story." Huh. You don't read the words "tranquilizer" and "play" in the same sentence very often outside of a horror film.  And oh yeah, Owen seems to be holding a chicken leg. For some reason. And this won't be the last time we see it, either. 
Electrified fence or not, no one is stopping the T. rex! Did no one learn any lessons from "Jurassic Park"? I bet you anything that snack guy will fit in the T. rex's mouth. You should definitely try that and tweet me pictures.
Oh, look at the widdle baby dinosa ... AAAAARGH!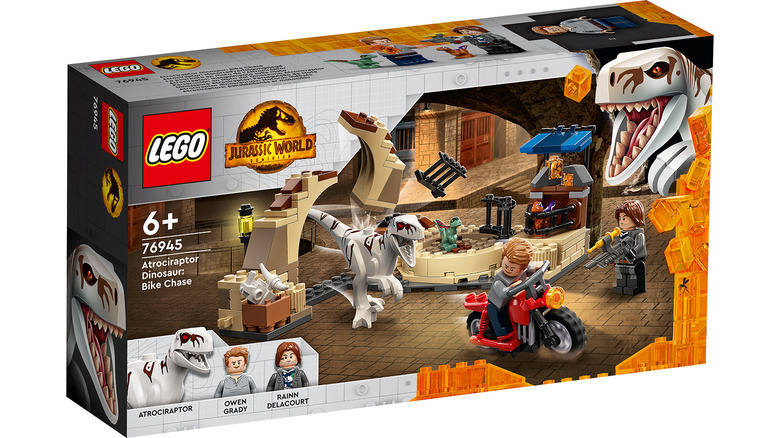 LEGO
Next up we have the LEGO Jurassic World Atrociraptor Dinosaur: Bike Chase set (number 76945) for ages six and up. It's got 167 pieces and retails for $19.99 EUR/USD. It's over 2.5 inches high, 7 inches wide, and 5 inches deep. You can combine this one with the T. rex & Atrociraptor Dinosaur Breakout set (see below). 
Here we have a market set with a wall for the Atrociraptor and/or the motorcycle to smash through, a battle pit for two small dinosaur figures, the Atrociraptor, and minifigs of Owen Grady and Rainn Delacourt. In the pen for one of the little guys, we have what appears to be a dragonfly in amber brick. There are dino bones in a box, a tranq gun, and the rails on the fighting pit seem rather flimsy.
The little baby dinos look too cute to fight with their little smiles and yes, I'd absolutely get eaten by a cute dinosaur because I'd want to pet it. But ... look at the little girl in the pic! She isn't afraid of them. Plus, she can't run as fast as I can. Atrociraptors are in the trailer, and I hope they're in the film a lot because I love saying their name. I'll try not to yell it out when I see them on the screen. I make no promises though. 
Maybe mid-dino attack isn't the best time for a heart to heart, Owen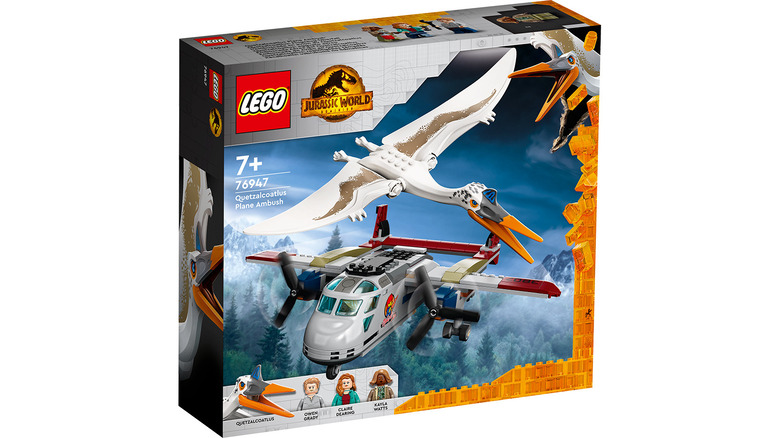 LEGO
Next up is a flying dinosaur with the coolest name that you'll have to practice saying out loud. It's the LEGO Jurassic World Quetzalcoatlus Plane Ambush, set number 76947. It's for ages seven and up, and retails for 49.99 EUR/$39.99 USD. There are 293 pieces in this set. 
The Quetzalcoatlus dino figure is over 11.5 inches wide and has poseable wings and a snapping beak. Oh good. I'm sure one of these flying around in the real world (and yes, this one is in the trailer) would be no issue at all for planes. The airplane in the set measures over 3.5 inches high, 8.5 inches long, and 11.5 inches wide. Owen's motorcycle from the Atrociraptor set fits inside the cargo hold. I mean, if Owen and/or his bike survive whatever sick games you're playing with that set. I think the Atrociraptor should eat Owen, and the little dinos should steal his bike and give it to the Quetzalcoatlus. 
The set comes with minifigs of Owen Grady (RIP), Claire Dearing, and Kayla Watts. (I've zoomed into the pic above where it looks like Owen and Claire are about to have smoochy time while Kayla looks concerned about the GIANT FLYING DINOSAUR! 
The plane propellers spin, the cargo hold opens, and the engines break off when the Quetzalcoatlus attacks. Heck, RIP to all of them! Dinosaurs rule the Earth now, friends. We are powerless against them.
What the hell kind of giant chicken is that leg from?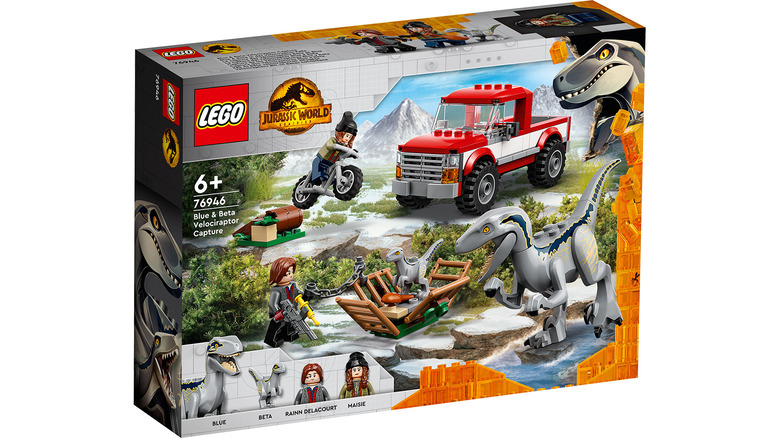 LEGO
Next up we have the LEGO Jurassic World Blue & Beta Velociraptor Capture set, number 76946. It's for ages six and up, and has 173 pieces, including one chicken drumstick (again?) to lure little Beta into a trap. It retails for $29.99 EUR/USD. The set is over 2.5 inches high, 5.5 inches long, and 2.5 inches wide. It can be combined with other LEGO Jurassic World playsets. 
By the way, this is the first time we've learned the name of Blue's baby! Aw, you want to chew my arm off, don't you, little Beta? Fun fact pointed out by our own Jeff Ewing: In "Jurassic World," Chris Pratt's Owen says of his raptor buddy, "This one's called Blue. She's the beta." He would probably name his dog, Dog.
The set comes with minifigs of Rainn Delacourt and Maisie, as well as Blue and little Beta. There is a truck, a bike with something to leap over, a trap for Beta, and a tranquilizer gun in case a chicken drumstick wasn't what Beta was in the mood for. Did you even bother asking her? Maybe she likes goat like her buddy T. rex. Maybe she wanted fried chicken and not roasted chicken. Have you tried bacon? Everyone likes bacon.
By the way, what the hell kind of chicken has a leg that big? Look at it! It's bigger than Rainn's head! What sort of monster chickens are you feeding Beta? I know the press release says "chicken," but that thing is an emu at least!
The tranquilizers aren't for the dinosaurs — they're for us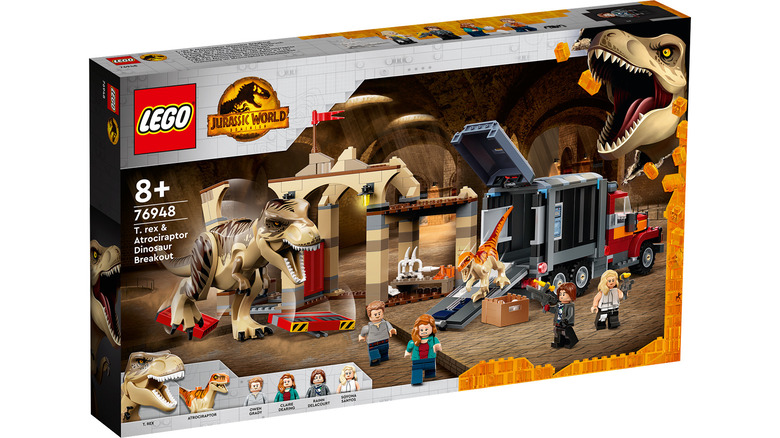 LEGO
Finally, the pièce de résistance! Here we have the LEGO Jurassic World T. rex & Atrociraptor Dinosaur Breakout (set 76948), which combines with the LEGO Jurassic World Atrociraptor Dinosaur: Bike Chase (76945) set. It's for ages eight and up, has 461 pieces, and retails for 89.99 EUR/$79.99 USD. The market in the set is over 7 inches high, 10 inches wide, and 3.5 inches deep.
I'm just going to give you the official description here:
Get ready for dinosaur drama with this playset inspired by the upcoming Jurassic World Dominion movie. Build a market with an enclosure for the T. rex and a big rig truck with a cage to transport the Atrociraptor. Then play out your own exciting stories with Owen Grady, Claire Dearing, Rainn Delacourt and Soyona Santos minifigures, plus 2 tranquilizers to calm those dinosaurs down!
I'm not sure why "dinosaur drama" and "2 tranquilizers to calm those dinosaurs down" strike me as hysterical, but they do. The dinosaurs aren't the ones with drama. They're not the ones running around, screaming about being eaten. Maybe we need the tranqs instead? 
The set comes with dinosaur bones, boxes (I guess for holding the body parts you lose?), the Atrociraptor and the T. rex, the minifigs, the truck, and the cage the T. rex can break out of. Look, if you're only going to give weird emu/chicken legs to dinosaurs or make them hunt for your fish catch, they're going to be hungry. You look delicious.
RUN!
"Jurassic World: Dominion" arrives in theaters on June 10, 2022.