The Best Movies Streaming Right Now: Spencer, Kimi, And More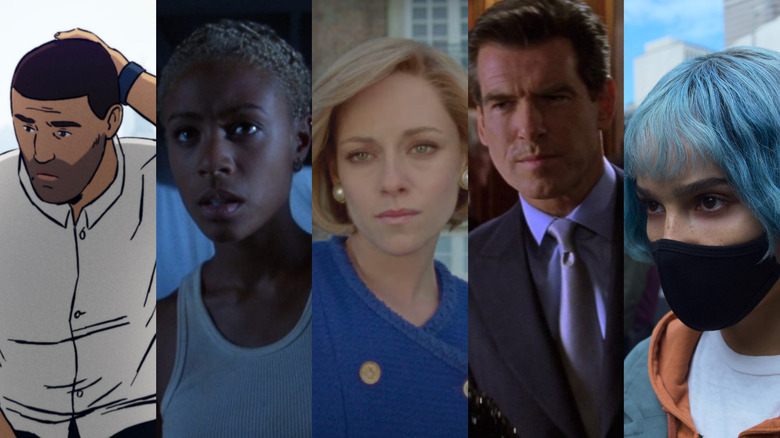 Neon, Universal, Neon, MGM, Warner Bros.
(Welcome to Now Stream This, a weekly column dedicated to the best movies streaming on Netflix, Amazon, Hulu, and every other streaming service out there.)
I don't know about you, reader, but I've had a rough week. And when a rough week comes to its merciful end, I like to sit the hell down and watch some movies. We live in a wonderful age where there are approximately ten billion streaming services, and this is both a blessing and a curse. While numerous services offer us numerous options, it can be hard to sift through all that content. That's where Now Stream This comes in. I'm here to round up five titles that (hopefully) won't steer you wrong. So let's get streaming. 
Spencer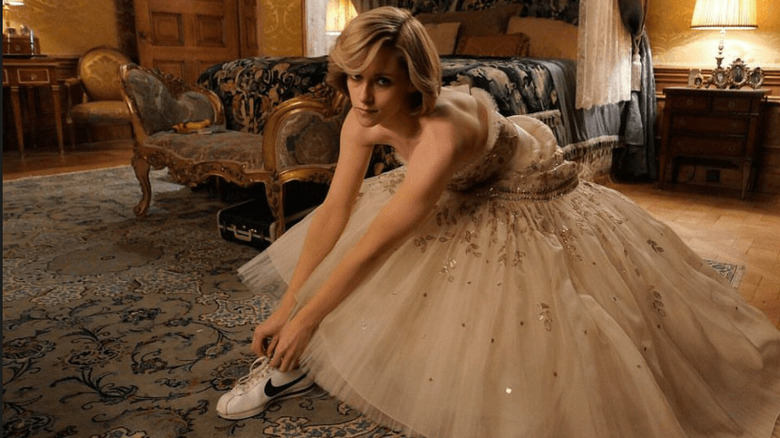 Neon
Now Streaming on Hulu.
Kristen Stewart has come a long way. For a huge chunk of time, folks considered Stewart to be bad at her job, basing this opinion solely off her admittedly stiff work in the "Twilight" movies. But "Twilight" was a long time ago, kids. And since then, Stewart has built up an impressive resume full of fascinating performances. I honestly think she's one of the most interesting actors working today, and with "Spencer," she gives her best performance to date — a performance that earned her a Best Actress Oscar nomination to boot. 
In "Spencer," Stewart played the doomed Princess Diana, who has to spend a dreaded three-day holiday weekend with her in-laws. A weekend with the in-laws is often cause for frustration, but at least when we commonfolk have to deal with such a matter we're not hanging around with the Royal Family. The royals are cold and silent, observing Diana almost the way someone might observe a strange lab specimen. Can Diana break away from these awful ghouls firmly stuck in their old-time traditions? Or will she have a complete mental breakdown? Stewart is front and center here, giving a complex, distressing performance that carries nearly the entire film. 
Kimi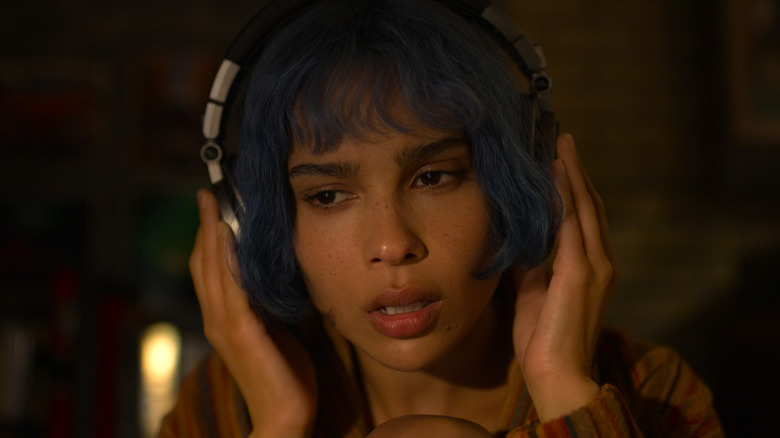 Warner Bros.
Now Streaming on HBO Max.
Steven Soderbergh is back with "Kimi," his fast-paced thriller that riffs on "Rear Window" for the modern pandemic era. Zoe Kravitz works for an Amazon-like company, monitoring the requests that consumers throw out at Kimi, the Alexa-like device that seemingly everyone in the film has in their homes. When Kravitz's character hears what she thinks is a murder recorded by someone's Kimi device, she has to scramble to get to the truth. There's a big problem, though: she suffers from agoraphobia, and leaving her apartment to get help isn't going to be easy. 
Throw in some corporate espionage mixed with a heavy dose of paranoia and you've got yourself a heck of a movie; the type of sturdy little flick that, once upon a time, would've blown up in theaters but is now relegated to arriving solely on HBO Max. Clocking in at a brisk 90 minutes, "Kimi" unfolds like an old-school thriller dressed up in modern-day clothes. Or, as I said in my review, "a slick, quick thriller that goes down smooth, like top-shelf bourbon at a discount price." Don't sleep on this one, folks. It kind of rocks. 
Flee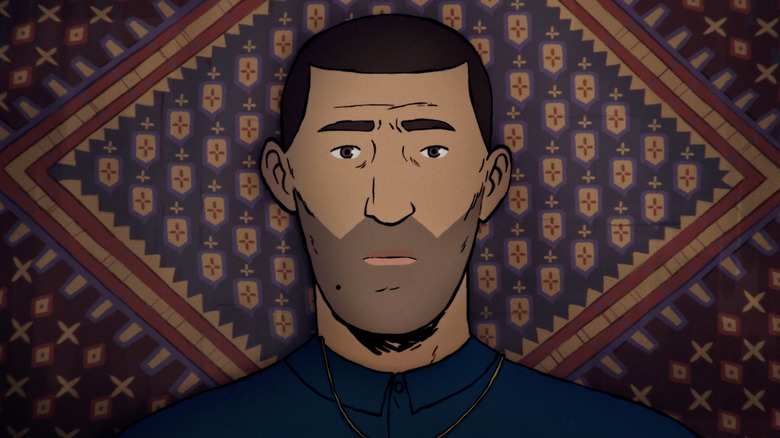 Neon
Now Streaming on Hulu.
Jonas Poher Rasmussen's "Flee" is an animated documentary, and while it's not the first doc to take this approach, the illustrated storytelling on display here feels far more alive than the standard talking-head documentaries we usually get these days. "Flee" follows Amin Nawabi, who tells the story of how he and his family fled Afghanistan and how he eventually ended up in Denmark. Both Rasmussen and Nawabi, who narrates the film, play things close to the vest — at least at first. But little by little, the truth surrounding Amin's story comes to life, and things we thought we already knew are shattered or reshaped into new forms. And that's all I'm going to tell you about the plot. But "Flee" is often harrowing and emotional, but also full of moments of hope. This is one of the best movies of last year, and now it's on Hulu. Seek it out. 
The Thomas Crown Affair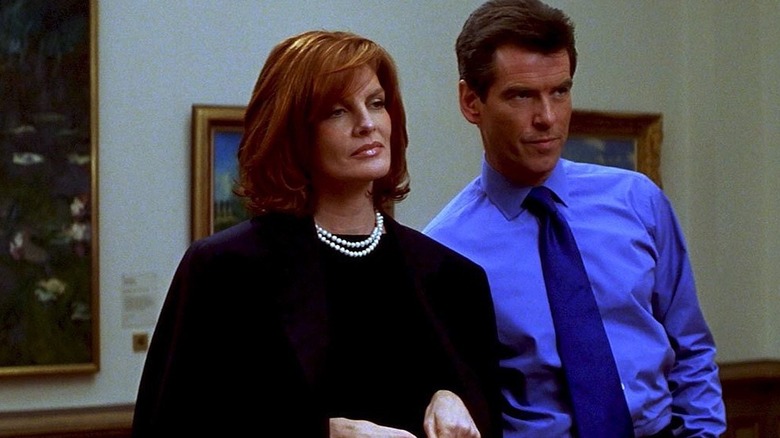 MGM
Now Streaming on Amazon Prime Video and Tubi.
The 1999 remake of "The Thomas Crown Affair" may not be a great movie. But gosh, it sure is refreshing watching it here in the weird world of 2022. Hollywood pumps out so much shallow, kid-centric junk that it can make a perfectly fine film like this seem like a dang masterpiece. Here, Pierce Brosnan plays a gentleman thief who steals art, while Rene Russo is the insurance investigator trying to catch him. Since they're both very attractive adults, it's only a matter of time before they fall into bed together. And that's really part of what makes "Thomas Crown" feel so special. It's a movie about adults doing adult things. There's a wealth of unapologetic sexuality on display here, and it's hard to imagine a movie like this being released today. The stakes are low, and that's fine! Director John McTiernan ramps up the style while Bill Conti turns in a killer jazzy score that makes great use of Nina Simone's "Sinnerman." 
Tales from the Crypt Presents: Demon Knight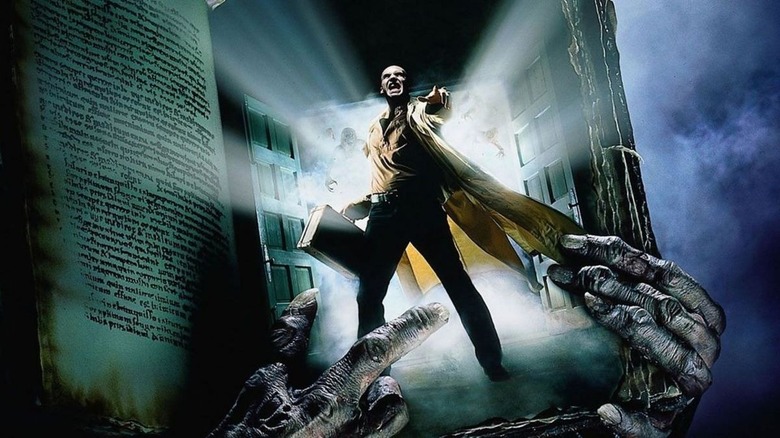 Universal Pictures
Now Streaming on Shudder.
If I were President of the Entire World (and god willing, I will be ... one day), I would ensure that a new "Tales From the Crypt" movie would be released every year. Sadly, the "Tales From the Crypt" movie experiment crapped out with the rather lousy "Bordello of Blood," starring Lord of the Hacks Dennis Miller as a guy with a beard. Whatever. But before that, we were treated to the absolutely delightful "Demon Knight," a gooey monster movie that features Billy Zane, Jada Pinkett, and Jesus Christ himself (in flashback form). The story involves a bunch of demons laying waste to a church converted into a hotel. And oh yeah, the Crypt Keeper shows up at the beginning and end of the movie to say stuff like "Hello, boils and ghouls!" while laughing his puppet head off. It rules!