Watch: Zendaya Stars In A Squarespace Super Bowl Commercial Directed By Edgar Wright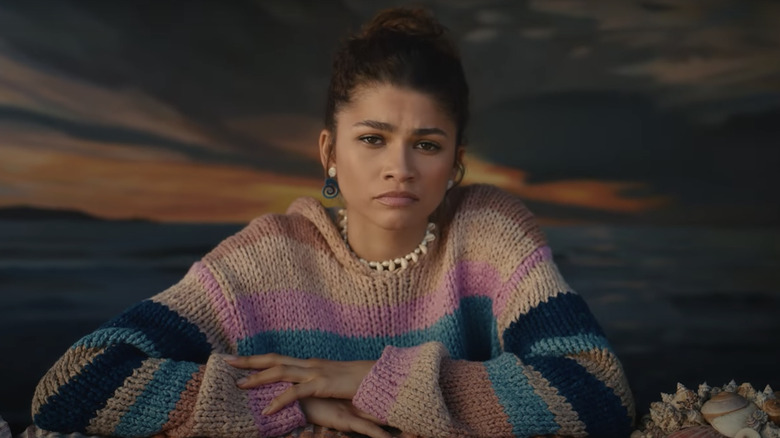 SquareSpace
When she's not sprinting through ongoing traffic on HBO or saving the world from multiversal destruction with Spider-Man, Zendaya is casually selling seas shells down by the seashore. And the tongue twisters don't end there.
The "Euphoria" star continues to rise, and she's set to cross off her latest milestone this coming Sunday, with her very first Super Bowl ad. Following in the footsteps of Winona Ryder, Keanu Reeves, and Dolly Parton, the actress has an incoming commercial for Squarespace. And in a nice change of pace from her recent roles, this time we get to see her dazzle with various costume changes on a sun-soaked beachside, bathed in vibrant colors. Because lest I forget to mention, this commercial comes curtesy of immaculate vibes extraordinaire, Edgar Wright!
Don't get me wrong, "Euphoria" has its fair share of colorful interludes and lots of memorable looks for its star but uh, they usually come with a lot more baggage and an undertone of complete and utter despair. And despair also happens to be an accurate description of how I felt at the end of the latest Spider-Man movie, so I'm gonna go ahead and embrace this apparently rare opportunity to see one of Zendaya's characters achieve some happiness. Plus it has the very welcome bonus of her teaming up with Wright. As much as I wish their first collaboration lasted longer than a minute, I'll take whatever I can get. You can check out the ad below!
Sally's Seashells Super Bowl Ad
Would ya look at that, Edgar Wright directed a colorful kaleidoscopic '80s dream starring one of Hollywood's biggest up-and-comers. For the second time in a row. If this is Wright's new niche, I have absolutely zero complaints except that this one could be a lot longer and also debut in theaters, please and thank you. I've decided to just cross my fingers and hope there's a feature film on the way starring Zendaya and her seashell-clad co-star André 3000, also directed by Edgar Wright. I don't even care if they spend the whole runtime speaking in tongue twisters — whatever it takes to get this collaboration back on track. Is it weird to get this excited about a commercial? Perhaps. But with these names involved, I have no regrets.
If you've ever doubted Zendaya's star power, then shame on you. Clearly, you didn't grow up during her magical Disney Channel days on "Shake It Up" and "KC Undercover," but with her many more recent roles, you've got no excuses. Here she goes all mythical couture on us with seas-inspired jewelry and lots of winks to the camera. And though she only has like two lines in the entire commercial, she's as magnetic as always. This may not be as instantly meme-able as the time she played MeeChee, but there's something oh-so-delightful about watching Zendaya go Full Sea Goddess in a seashell dress. Even though I'm probably gonna skip the big game this weekend, I look forward to the part where Zendaya twirls in her seashell dress and Twitter goes absolutely wild.
The 2022 Super Bowl, which will have the Los Angeles Rams facng the Cincinnati Bengals, airs on February 13.