Cheaper By The Dozen Trailer: Brady Bunch Vibes With Way More Kids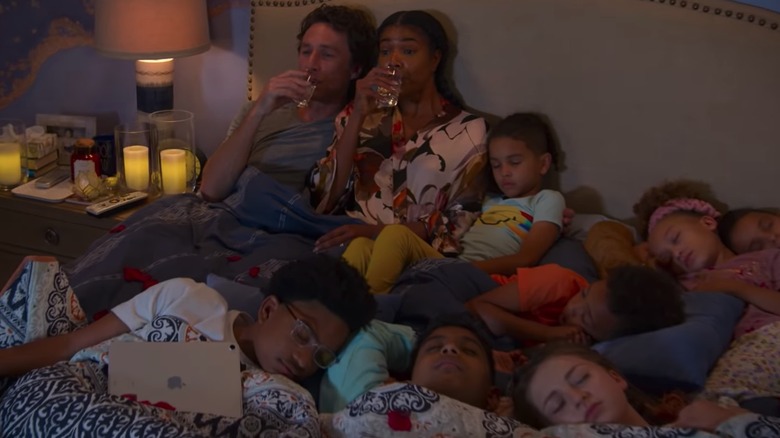 Disney+
We have a new trailer for the latest remake of "Cheaper By the Dozen." Though I've never seen the Steve Martin version, this one looks pretty darn cute. In a very "Brady Bunch" way, this is the story of a blended family that involves a marriage and a group of 10 adorable rugrats, and I'm tired just looking at it. Tired in the sweetest way though. I can see my entire family on the floor watching this and laughing, and really what else could you want? What can I say? I'm a sucker for feel-good movies these days. 
The Disney+ "Cheaper by the Dozen" is the second remake of the 1950 film of the same name, itself based on the the autobiographical book by Frank Bunker Gilbreth Jr. and Ernestine Gilbreth Carey. But the 2003 film starring Steve Martin and Bonnie Hunt is probably the best known version. This time around, our couple is Zach Braff and Gabrielle Union. They've blended in all the kids, and they seem to approach discipline with humor. I'm not sure how realistic that is with 10 children, but then again, I have three cats. I'm not qualified to weigh in. The thing that really sticks out in this trailer though, is a little scene where Union's Zoe is in a salon saying that she really likes spending time with her children. It's almost treated like a joke, or a quaint thing by the other characters. Again, I have cats, but liking your children is supposed to be a good thing, right? It's nice to see that addressed. 
Cheaper by the Dozen Trailer
"Cheaper By the Dozen" is directed by Gail Lerner with a screenplay from Kenya Barris and Jenifer Rice-Genzuk. It's based on the novel by Frank Bunker Gilbreth Jr., and Ernestine Gilbreth Carey. Barris will produce, and Shawn Levy, Union, Brian Dobbins, and Donald J. Lee Jr. will executive produce. The cast includes Union, Braff, Erika Christensen, Timon Kyle Durrett, Journee Brown, Kylie Rogers, Andre Robinson, Caylee Blosenski, Aryan Simhadri, Leo Abelo Perry, Mykal-Michelle Harris, Christian Cote, Sebastian Cote, and Luke Prael.
Here is the official synopsis for "Cheaper By the Dozen:"
The Disney+ Original movie "Cheaper by the Dozen," which is a fresh take on the 2003 hit family comedy starring Gabrielle Union and Zach Braff, will premiere March 18, 2022, exclusively on Disney+. Check out the trailer for a glimpse at the funny and heartwarming story of the raucous exploits of a blended family of 12, the Bakers, as they navigate a hectic home life while simultaneously managing their family business.
"Cheaper by the Dozen" premieres on Disney+ on March 18, 2022.