Is David Lynch Playing Famed Western Director John Ford In Steven Spielberg's The Fabelmans?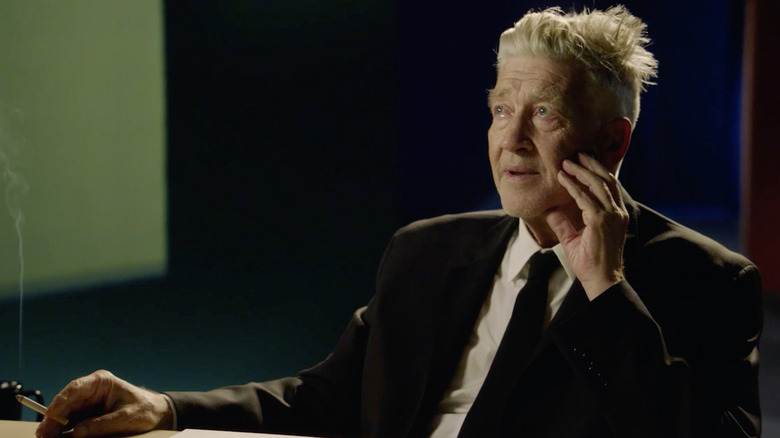 Master Class
"West Side Story" (and every other movie you've ever loved) director Steven Spielberg is gathering a pretty impressive cast for his upcoming film "The Fabelmans." The latest to join — and this is a really big one, folks — is director David Lynch. You know his work from "Dune" (no, not this one, the other one), "Twin Peaks," and "Mulholland Drive." He's joining a cast that includes Michelle Williams, Seth Rogen, Paul Dano, Judd Hirsch, Julia Butters, Oakes Fegley, Nicolas Cantu, Isabelle Kusman, and Robin Bartlett. Newcomer Gabriel LaBelle will play Sammy Fabelman, a young aspiring filmmaker and a fictionalized version of the teenaged Steven Spielberg himself.
"The Fabelmans" is based around Spielberg's own life and family, with Williams and Dano playing fictional versions of his parents. Spielberg has cast directors in his movies before (François Truffaut in "Close Encounters of the Third Kind" and Cameron Crowe in "Minority Report"), and Lynch has also acted before, including playing FBI Regional Bureau Chief Gordon Cole in "Twin Peaks."  Though the role Lynch is playing isn't officially known, there's already speculation that he'll play legendary director John Ford, someone whom Spielberg met at the age of 15 and who had a major impact on him as a young filmmaker.
Where's the Horizon?
If you aren't familiar with Academy Award-winning director John Ford, he was famous for his Westerns like "Stagecoach" (1939), " The Man Who Shot Liberty Valance" (1962), and "The Grapes of Wrath" (1940). Spielberg met him as a 15-year-old kid, and spoke to him about filmmaking. He tells the story in the video above; Ford asked him to look at art in his office and tell him where the horizon was. When Spielberg told him it was at the top of one painting and the bottom of the other (as opposed to in the middle, where it naturally sits from a neutral standing point-of-view and where you'll find it in most movie landscape shots), Ford called him back over and said:
"When you can come to the conclusion that putting the horizon at the bottom of the frame or the top of the frame is a lot better than putting the horizon right in the middle of the frame, then you may some day make a good picture-maker. Now get out of here."
If David Lynch is indeed playing John Ford in "The Fabelmans," then it's exactly the type of casting you'd hope for. It's a cameo moment where having a director in the role is pretty much perfect, and it's very easy to picture Lynch playing Ford around the time that the teenage Spielberg met him (see the photo below for reference). If this is a movie about Spielberg's formative years as a young filmmaker, then it would be very surprising if it didn't include the Ford meeting, or some variation of it.
Happy birthday John Ford, seen here in the greatest photo ever taken of a director. pic.twitter.com/sWJI6j12V4

— Nick Newman (@Nick_Newman) February 1, 2022
Ford directed over 140 films in his lifetime (some of them silent films), and though Spielberg isn't quite close to that number, films are a little more complicated these days to say the least. Since Ford himself passed away in 1973, before the release of Spielberg's breakout hit "Jaws," we'llsadly never know if he would have judged Spielberg to be a "good picture-maker" — but a lot of other people think he's pretty good.