The In Between Stars Joey King, Kyle Allen, And Celeste O'Connor On Life And Love After Death [Interview]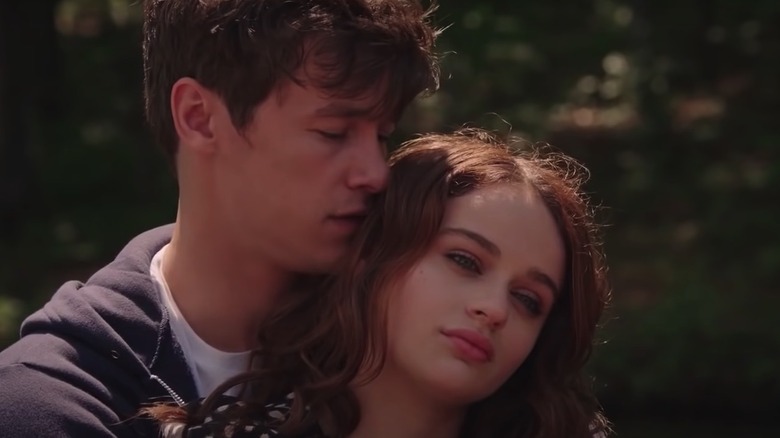 Paramount+
In the new Paramount+ film "The In Between," high school student Tessa (Joey King) keeps very much to herself after devastating family losses. One day she has a chance encounter with the gorgeous senior from another town, Skylar (Kyle Allen), and finally begins to let someone into her heart. The happiness she finds with him is stolen too soon when an accident takes his life. When Tessa begins to receive messages from the afterlife, she and her best friend Shannon (Celeste O'Connor) try to see if there can be a final goodbye between the pair, to see if love really does last forever. 
I spoke to King, Allen, and O'Connor about their thoughts on their characters, the film, and if there is anything like the "in between," the liminal space where the newly departed remain for a while. 
King talked about what drew her to Tessa as a character, a role that was written with her in mind. 
"I loved her personality. I loved her spirit. I loved her drive," King said. "But one thing I loved about her was the journey she went on from, healing from family trauma, being really closed off to love, having a lot in her past to go through and being scared initially of falling in love with this super amazing guy. And she knew he was amazing and she was still scared. And just watching her go through that journey of being able to open herself up and be vulnerable. It was a beautiful thing to see. And I loved how relatable it is for a lot of people."
What's Between Life and Death?
The production started during the pandemic, so the actors never got to meet in person before getting to the set. O'Connor (who uses they/them pronouns) said they did their audition digitally by sending in a tape, and it went from there. They explained, "I spoke with the director Arie [Posin] and that was just over a Zoom call, and we just like chatted about life for like two hours. And then I sent in another video tape and that was it."
For leads King and Allen, the chemistry had to be right, meaning that this was a big chance the production was taking. It paid off. King said that she only saw audition tapes for the character of Skylar.
"And just timing never worked out that I even got to read with him on Zoom. So when I first met Kyle, he was cast as Skylar and we had not even read one page of this movie together. Well, good thing that we just hit it off so well, because he is so talented and so incredible. He's the perfect Skylar."
They ended up having a lot of fun together on set with Allen teaching King martial arts. Allen described:
"There's about four things I'm interested in and one of them is martial arts. And so when I was just kind of practicing, she wanted to know about it, and then I started teaching her stuff and I was just thrilled and she learns so fast, it is unbelievable. Thing that took me months, she learned in like a couple hours and hopefully that's a testament to my teaching and not a testament to my stupidity, but it was astounding."
O'Connor said that there wasn't much need to bond with King because it was instantaneous. They explained, "Honestly, we just kind of clicked from the moment we met and it was a lot of fun to work together on set. Joey is so funny, so hilarious, and so we just had the best time."
Learning to See in a Different Way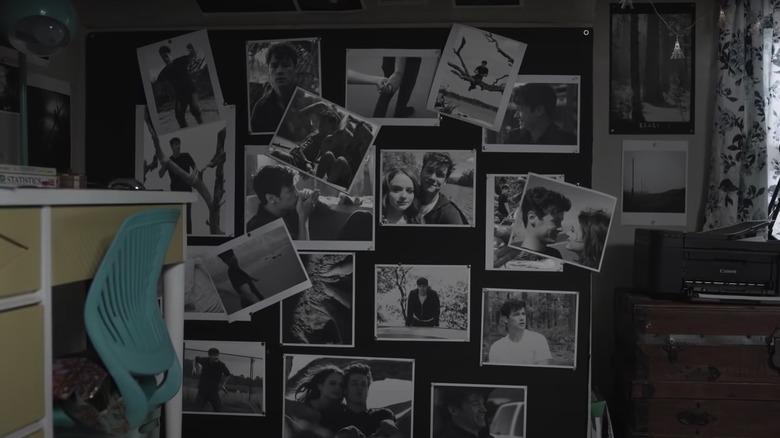 Paramount+
There was no shortage of things to learn on the set of "The In Between." Tessa is a photographer, and it's an integral part of who the character is. It's a huge story point, with Tessa hiding behind a camera, but also using it to connect with Skylar. King talked all about what she learned about photography on set.
"It was amazing. I learned how to reload a film camera and how to use it. I had so much fun. A lot of our still photographers helped me a lot. Our camera department helped me a lot. And I took some really fun photos. I really loved that part of it. I feel like I learned a lot, and I just fell in love with capturing not only just what Tessa was capturing, but also capturing the behind the scenes of how much fun we had making this movie."
Allen on the other hand had to train for months to look just right for a scene where he's on a rowing team. Tessa takes a picture of the team's event, leading them to a second meeting. Allen said he had some incredible instructors and trained all over the place, " ...in Atlanta, the Atlanta Rowing Club, Long Beach Rowing Club, Marina Del Rey Rowing Club. I was on an erg in a martial arts studio at the very beginning. Iva, she's an ex-Olympic rower and an incredible rowing instructor and we would be on out on the water at like 6:00, 7:00 AM, which is because that's when the water's calm, which is where you need to learn how to do when it's not choppy. And then a river in Atlanta, incredibly challenging. I had no idea. I had no idea it'd be that difficult. I still have calluses."
What Do You Do When Friends are Grieving?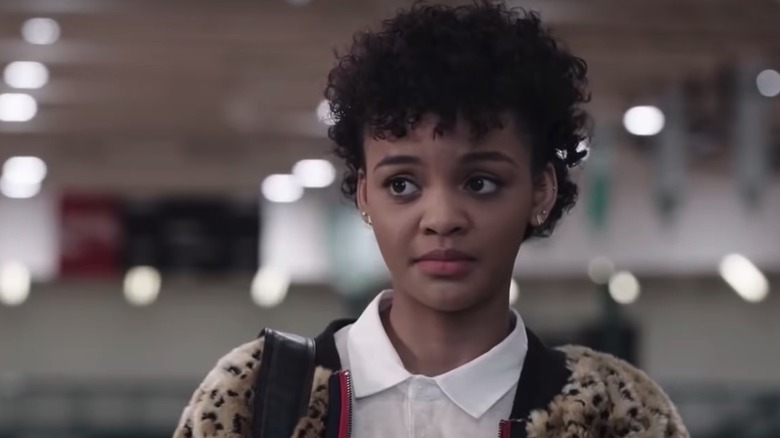 Paramount+
The supernatural is a big part of this film. Writer Marc Klein lost an ex-girlfriend at a very young age and wrote this story about his experiences feeling like she was reaching out from the afterlife. Tessa and Shannon explore what is called After Death Communication or ACD. They travel to places where Tessa and Skylar were in love, and even consult a Ouija board, something that O'Connor is a little freaked out by. They said, "I've actually never played with Ouija before. So yeah, I've never done it. I'm honestly scared because I'm like, I don't know what kind of spirits I'm going to invite."
On a more serious note, they spoke about seeing a friend grieving and how Shannon deals with that.
"I think from her perspective, she sees her friend who has like already gone through a lot of traumatic experiences in her life. And she sees her friend who was like pretty fragile to begin with going through something traumatic yet again. And I think that ultimately she is really concerned about Tess, and I think that her perspective allows the audience to see Tess as just a scared, grieving young girl."
Reaching Out to the World Beyond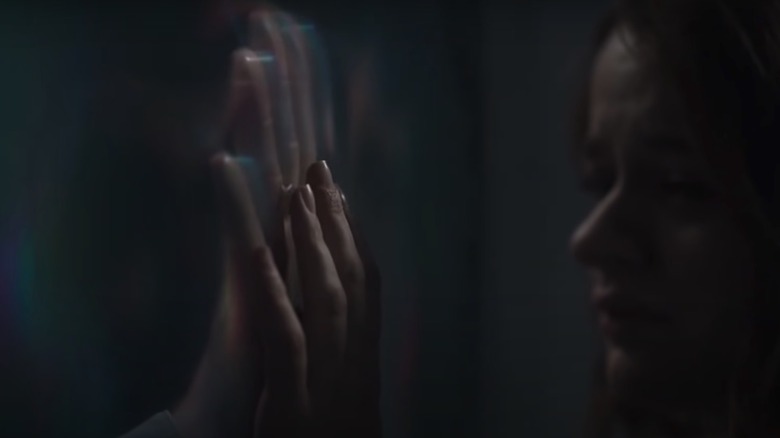 Paramount+
There is a moment in the trailer where you can see Tessa reaching out to Skylar through a mirror, which starts to bend as they make contact. We get a look in the film at the place between this life and the next, and King talked about filming the scene. She said, "That set was crazy because that particular scene we had to build that initial set all on its side, to replicate it, to make it look like I was falling out of this tub and walking on the ceiling. But this glass effect, we shot it so many different ways. Just seeing what was going to happen in the end and we weren't quite sure we shot it with this very rubbery material, another harder material, another opaque material, nothing at all. And it was kind of just this experiment and the final product was really, really cool. But that day on set, we were like, 'What's going to happen? We don't know.'"
Allen talked about it as well. 
"We had all these fascinating things using practical effects. They built a set and then they built another version of the set that was flipped on its side so that Joey could walk up the wall and we had different types of plastics and things that we wanted to use to create this barrier that we have in between the in between and the reality, in the between the two characters. And so that was really fascinating to watch. We had all sorts of different mechanical things that would turn and move and the lighting and all those designs, it was really fantastic to watch because you'd be in it and you'd be like, what is this? What's going on? And then you'd run around and you'd look at the playback on the screen and your mouth would hang open."
After Death Communication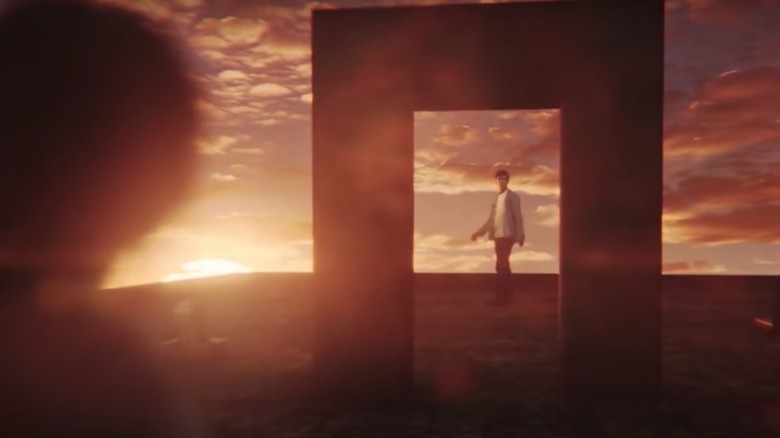 Paramount+
Personal thoughts on the afterlife came up during the interviews as well, and thoughts on ADCs. King has had one herself and had spoken to Klein about his. King said:
 "I love the way that we portrayed that in this movie, because it's a real thing. My grandmother had an ADC from my grandfather after he passed. And that was one of the reasons that I was so drawn to this story. Because I was like, wow, not only is this so beautiful, so personal to Marc, but I have a personal tie to this feeling, this is something that you can barely explain as well. And I thought it was so emotional, so beautiful. It's like uplifting and heartbreaking at the same time. So I'm excited for people to go on that emotional journey with us."
Allen was more hesitant to speak about it because it's so personal to each person. 
"It's a highly speculative world," Allen said. "I try not to talk too much on it because one thing that I do know about it is that it's deeply, deeply personal. Everyone has their own specific relation to it and everyone has their own specific journey with it and their thoughts on it and their experiences with it. And it's theirs, I think that's one thing that I've taken from it is that it's yours and don't let anyone else tell you what it is."
"The In Between" begins streaming on Paramount+ on February 11, 2022.