The Girl Before Review: A Study In Obsession That Mostly Avoids Familiar Mystery Beats
HBO Max/Amanda Searle
HBO Max's new psychological thriller "The Girl Before" begins with a housing offer that's too good to be true. A real estate agent proposes the deal to prospective tenants: you can live in an architectural marvel that's decked out with fantastic amenities, but only if you agree to the original designer's lifestyle rules. There are a lot of them. Tenants can't leave messes out or have kids over, and they'll only get one small storage space. Anyone who lives in the home will also need to agree to intensive, sometimes invasive data collection, described as the price to pay for a home on offer below market price.
The four-episode series based on J.P. Delaney's novel picks up when three people accept the offer. A tense young couple, Simon (Ben Hardy) and Emma (Jessica Plummer), are especially drawn to the sturdy gray house's sense of security. Three years later, a single woman named Jane (Gugu Mbatha-Raw) accepts the same offer, eager for a fresh start. When she speaks with the home's eccentric, perfectionist designer, Edward (David Oyelowo), he tells her that his houses "make demands of people." Soon, Jane learns that someone has died in the home before.
Minimalism Turns To Sinister Repetition
From here, "The Girl Before" unfolds like a slow-burn Hitchcock homage by way of "Black Mirror." Unlike most adaptations of buzzy mystery books, the series seems uninterested in hitting well-trod story beats. Instead, the psychodrama soaks its audience in heavy atmosphere, until we can feel the cold chill of the house for ourselves. The story contains significant shades of both "Vertigo" and "Rebecca." The home's history seems to echo itself, drawing in women who share common traits despite having different, equally distinctive personalities.
The mysteries of "The Girl Before" are more psychological than literal. It's clear almost immediately that Edward believes in minimalism to a disturbing degree. A split narrative that offers equal time to Emma and Jane also reveals that he approaches the women with an eerie sense of repetition — he offers the same monologues, gifts, and propositions to both blunt, headstrong Emma and clever, reserved Jane. The series works best if you don't hunt for clues, but instead sit back and let its building sense of alienation wash over you.
Bodies As Unwelcoming Homes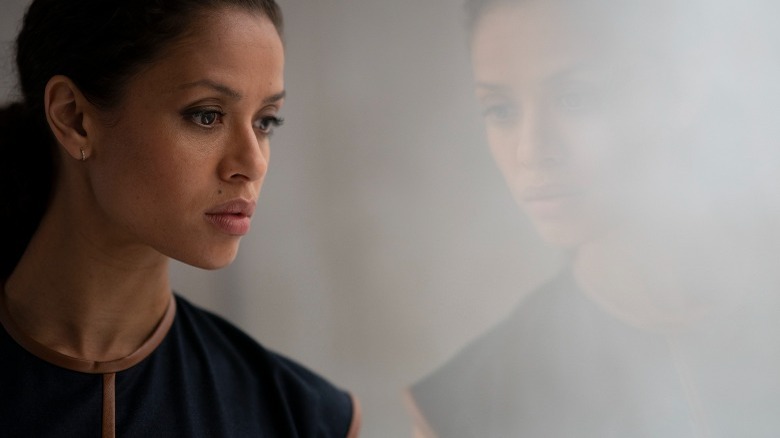 HBO Max/Amanda Searle
Though the women of "The Girl Before" at first feel inherently comfortable in their new home — they're less at peace with their bodies. The series speaks frankly and in specific detail about incidents that cause tremendous shame and bodily disconnect. One character survives a violent assault, the details of which seem to shift and grow more complex as the series unfolds. Another is plagued by the unexplainable death of a child. These are well-trod mystery backstories by this point, but "The Girl Before" is as much a character study as a whodunnit, so it plumbs the depths of its protagonists' traumas more than most shows of its kind.
"The Girl Before" approaches these situations delicately and honestly, but with a level of minutiae that makes the womens' bodily dissociations–and yearning for homes that are grounding in their simplicity–feel perfectly understandable. Doctors talk about placental health and CTG charts. An assault survivor demonstrates how the ripple effects of trauma impact a romantic relationship. All of this is conveyed in a straightforward way, with minimal dramatic flourishes. The drama belongs entirely to the house, a building that grows sinister as its creator is drawn further into the lives of its tenants.
Mbatha-Raw, Plummer, and Oyelowo are all excellent as leads who refuse to fall into familiar archetype territory. Filmmaker Lisa Brühlmann ("Killing Eve") shoots the series with a coolness that is never bloodless, balancing the impersonal design of the house itself with the emotionally specific experiences of its tenants. The series' undercurrent of shady technology calls to mind "Black Mirror," but if "The Girl Before" is like any of that show's episodes, it's the subtler early chapters — in which characters seem quietly obsessed with the notion of recapturing something lost.
An Unsubtle Ending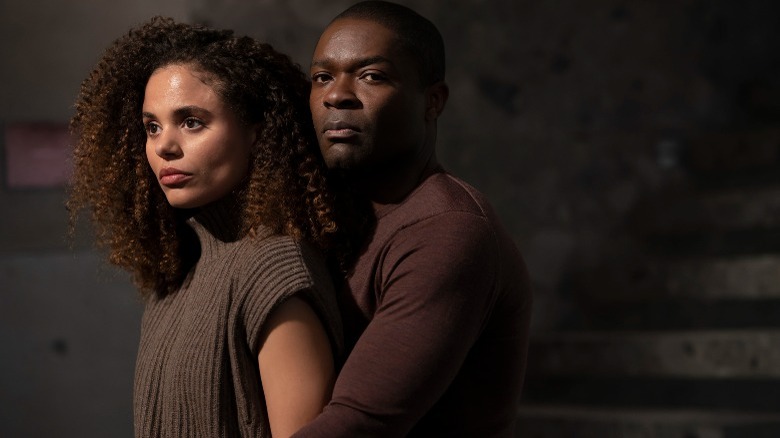 HBO Max/Amanda Searle
At only four hour-long episodes, "The Girl Before" doesn't overstay its welcome, but unfortunately, it does torpedo its own ending. The series, which at its best feels like a hypnotic Hitchcock riff with more fully realized women at its center, returns to the mystery-thriller status quo in its disappointing final hour. Despite its simmering dread, much of the show is lyrical and languorous. That is, until its unsubtle climax comes crashing through, misappropriating all the ideas at its core for the sake of a quick shock and an equally unconvincing epilogue.
Despite an ending that threatens to sour the entire endeavor, "The Girl Before" is still an immersive detour from the prescribed mystery miniseries blueprint. There's a unique emotional ache to the series as it explores the limits to which one can make emotional healing methodical. The series succeeds most when it plays–obsessively and repeatedly–with shadows from the past. It only falters when it tries to cram the whole of those sprawling preoccupations into its too-average conclusion.
"The Girl Before" will be streaming on HBO Max starting February 10, 2022.