Haley Joel Osment Was Almost A Major Character In The Harry Potter Franchise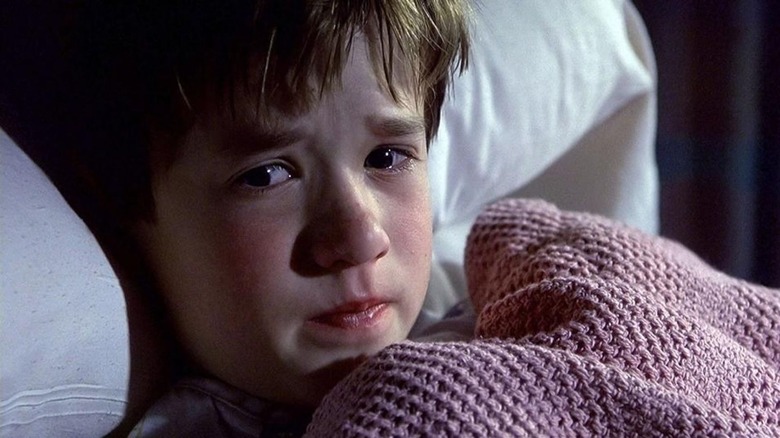 Buena Vista Pictures Distribution
Chris Columbus wasn't always set to direct "Harry Potter and the Sorcerer's Stone," and Daniel Radcliffe wasn't always going to play the boy who lived. The film franchise, adapted from J.K. Rowling's fantasy novels of the same name, once pegged legendary filmmaker Steven Spielberg to direct the first movie in the series. Spielberg was associated with the project for months before his creative row with the British author and Warner Bros. led him to leave the project. At the time, Spielberg wanted Haley Joel Osment — the child actor who earned an Academy Award nomination (at age 11) for "The Sixth Sense" — to play a central character in the films.
In "The Sixth Sense," Haley Joel Osment played Cole Sear, a nine-year-old boy who can communicate with ghosts. The young actor was praised for his breathtaking performance, and the vulnerability he displayed at such a young age. It is perfectly understandable why Spielberg wanted Osment in the "Harry Potter" films. Unfortunately, Warner Bros. had other plans.
Haley Joel Osment Almost Played This Character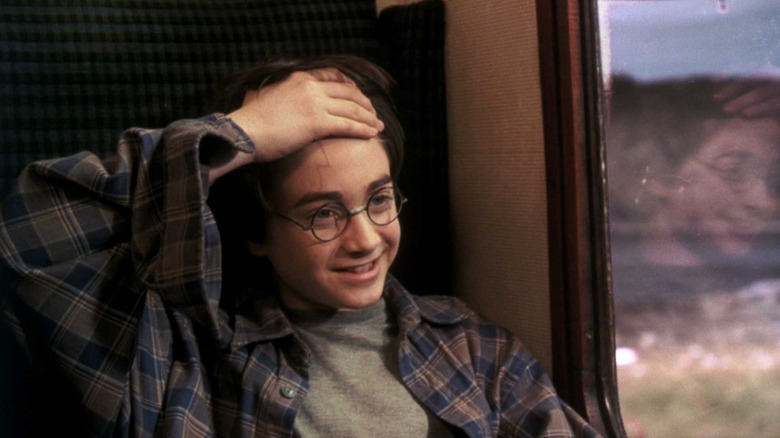 Warner Bros.
The "Harry Potter" film series eventually cast Daniel Radcliffe (who beat out more than 300 child actors at auditions) as the titular character, a young boy who, on his eleventh birthday, discovers he is a wizard. Radcliffe continued to reprise his role in the franchise's remaining movies, which spanned seven years of Harry Potter's life. Today, it's hard to imagine that anyone but Radcliffe could do justice to Harry's story. But what if Warner Bros. had decided to go another way?
Before Chris Columbus was selected to helm "Harry Potter and the Sorcerer's Stone," the project was being led by Steven Spielberg, who had a very different creative vision when compared to Warner Bros. and J.K. Rowling. Spielberg wanted "Harry Potter" to be an animated series, but the studio wanted a live-action film series. And if the adaptation had been animated, the "Schindler's List" director wanted Haley Joel Osment to voice the character of Harry Potter. Still, J.K. Rowling strongly opposed the idea of an animated series and envisioned Harry and the other characters to be played by an all-British cast.
When Warner Bros. secured rights to the "Harry Potter" films in 1998, Spielberg's company DreamWorks Animation proposed a partnership. They'd combine a few of the books and bring in a cast of actors to voice the animated series, with Haley Joel Osment as the chosen one.
As per IndieWire, Warner Bros. studio head Alan Horn at the time disagreed with DreamWork's vision.
"I did think it would be worthwhile for Steven Spielberg to direct," Horn said. "We offered it to him. But one of the notions of Dreamworks' and Steven's was, 'Let's combine a couple of the books, let's make it animated,' and that was because of the [visual effects and] Pixar had demonstrated that animated movies could be extremely successful. Because of the wizardry involved, they were very effects-laden. So I don't blame them. But I did not want to combine the movies, and I wanted it to be live-action."
After Steven Spielberg dropped out of the project, Chris Columbus stepped in to spearhead the movie. The cast featured all-British and Irish actors while big-name American actors, including Robin Williams (Hagrid, Remus Lupin), Rosie O'Donnell (Molly Weasley), and Liam Aiken (Harry Potter) were turned down for roles. The all-British casting rule stayed in place until the "Harry Potter" spin-off franchise, "Fantastic Beasts," was greenlit, and cast American actors such as Johnny Depp (Gellert Grindelwald) and Zoë Kravitz (Leta Lestrange).