Star Trek: Strange New Worlds Could Bring Back Khan, But Should They?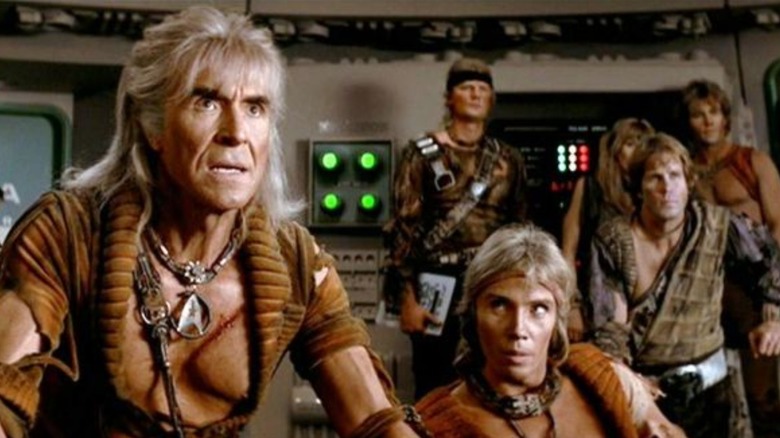 Paramount Pictures
This week, the TCA virtual winter press tour brought plenty of news about shows we love, along with several new ones we're eager to check out. Somewhere in between lies "Star Trek: Strange New Worlds," the upcoming Paramount+ series that will help expand the streamers' Star Trek universe to new horizons. Except, it sounds like the series might also visit some familiar horizons, too.
Variety reports that series showrunners all but confirmed the new series' link to Khan at the Paramount+ panel. Trek fans had been speculating about the villain's presence since cast member Christina Chong was first revealed to be joining the cast as a character named La'an Noonien-Singh. Noonien-Singh is the last name "Star Trek" villain Khan uses in the original series.
"Star Trek: Strange New Worlds" co-showrunner Akiva Goldsman responded to a question about La'an's Khan connection with an impressively vague answer, as reported by Variety:
"She's related to Khan, for sure, and, uh, and the deal will unfold ... We don't want to bring folks into the show to be splashy. We want to dig deeply into characters that are part of our ensemble and then, obviously, we're open to getting our arms ... but right now, what you see is what you get."
Goldsman's response doesn't exactly clear much up, but it does confirm that La'an will be a relative of Khan. Given that "Star Trek: Strange New Worlds" is a direct prequel to the original series, it makes sense that familiar faces will appear. Some of the new show's cast has already appeared in an episode of "Star Trek: Discovery," including Ethan Peck as Spock and Anson Mount as Kirk's predecessor, Captain Pike.
Khan Is A Tough Character To Re-create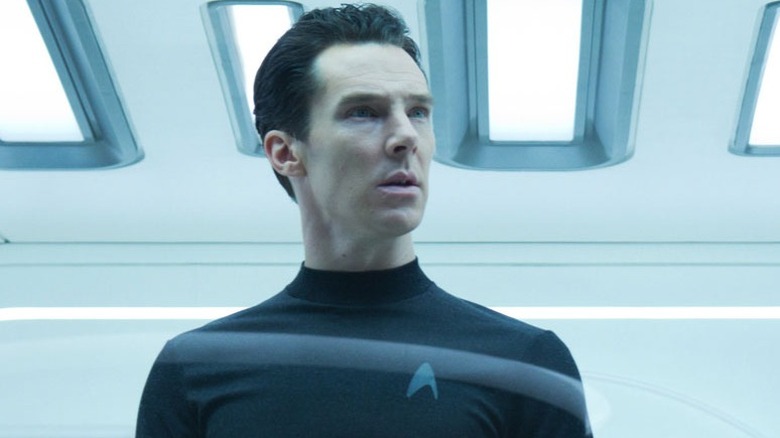 Paramount Pictures
Again, I'm not entirely sure what "open to getting our arms" means, but it sounds like showrunners have a thoughtful if cagey plan in place for connecting La'an back to Khan. This is a nerve-wracking decision, to say the least. For one thing, Khan's character has an extremely intense backstory, as he was originally presented in the episode "Space Seed" as the specially bred product of a major war fought over eugenics. This is serious territory for a Trek story to re-enter, though if it engages with the subject thoughtfully, it could also provide the powerful political commentary the best Trek stories are known for.
The "Star Trek" series also doesn't have the best track record with reviving Khan, as another "Strange New Worlds" co-showrunner, Alex Kurtzman, knows all too well. The filmmaker has contributed plenty of excellent work to the 21st century "Star Trek" universe, but "Star Trek: Into Darkness," which he co-wrote, isn't exactly popular within the franchises' canon. The film's attempt to bring back Khan resulted in a reveal that went over poorly with many fans, and Benedict Cumberbatch, for all his talents, was a far cry from Ricardo Montalbán's vibrant performance.
We're probably getting ahead of ourselves here. After all, there have been rumors of a Khan re-imagining for years now. "Star Trek: Strange New Worlds" may not end up being everyone's cup of intergalactic tea, but it's still an exciting new chapter of "Star Trek" lore. The Paramount+ "Star Trek" universe has already pulled off many geeky miracles, like bringing back Jean-Luc Picard (Patrick Stewart) and creating the franchises' very first comedic entry in "Star Trek: Lower Decks." Consider us wary but interested in the "Strange New Worlds" approach to Khan.
"Star Trek: Strange New Worlds" will premiere on Paramount+ on May 5, 2022.