The Walking Dead Actor Moses J. Moseley Has Died At 31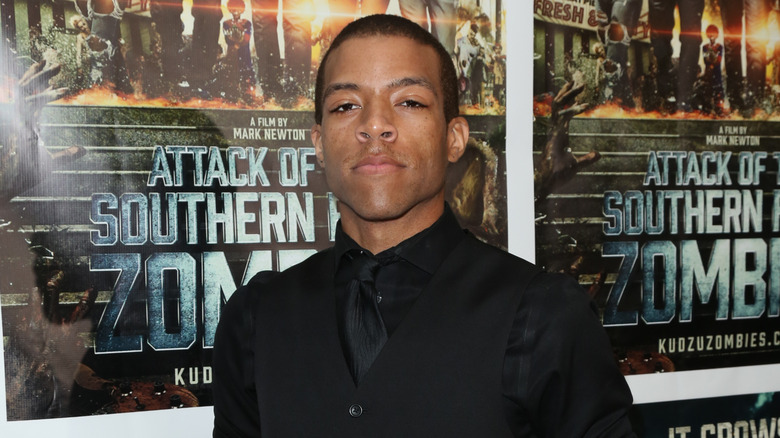 Paul Archuleta / Getty Images
Moses J. Moseley, the young actor who got his big break playing Michonne's (Danai Gurira) "iconic pet zombie" on "The Walking Dead," has died. He was 31 years old.
He had been working as a model and actor since 2010, and started to create an impressive CV, including bit parts in "Watchmen," "The Hunger Games: Catching Fire," and "Queen of the South." According to Variety, Moseley's body was found in Stockbridge, Georgia, late last week by authorities. The details are still fairly sparse, but it seems an investigation is currently underway. 
Moseley was represented by Avery Sisters Entertainment, who confirmed the news. They posted a touching tribute to the young actor on the agency's official Facebook page, writing:
With a heavy heart, we at Avery Sisters Entertainment offer our sincerest and deepest condolences to the family and friends of our actor, Moses J. Moseley. We are truly saddened. Moses was a phenomenal actor who has appeared in movies such as "The Walking Dead," "Queen of the South," and "American Soul," but MUCH more than that, he was an AMAZING person! For those who knew him, he was the kindest, sweetest, most generous person you would ever meet. We will miss you dearly! Rest in Heaven! ❤️‍
The "Walking Dead" team also paid tribute to the actor, sharing a photo of Moseley on Twitter. The tweet read, "Our thoughts and prayers are with our 'The Walking Dead' family member Moses J. Moseley."
He Dreamt of Stardom
Moseley's IMDb bio feels like a tiny glimpse into his mind. "Moses Moseley has been modeling since 2010," it reads. 
He didn't begin to seriously pursue his dreams of modeling and acting until he reached his ideal weight. At the age of 16 he tilted the scales at 300 pounds. Two years through diet and exercise he lost over 150 pounds and his dreams of becoming a model and actor proved to be within his grasp. Moses got his first taste at stardom walking out of his class at Georgia State. Moses is best known for playing the role of Michonne's iconic pet zombie on the hit show "The Walking Dead" and being on the cover of Entertainment Weekly for "The Walking Dead." He has since then costarred in the HBO series "Watchmen." He also has co-starring roles in USA Network's "Queen of the South," BET "Tales," and BET's "American Soul."
It feels as though he was just starting to get his footing in the industry and was making a name for himself. He had two projects in post-production, both of which were horror projects: "Hank" and "Descending." As with his Instagram post above, he seemed to recognize that the world lay ahead of him, full of possibility. His passing hits fans of "The Walking Dead," and shocks everyone who knew him.