Moon Knight Merch Gives Us Another Look At The Marvel Hero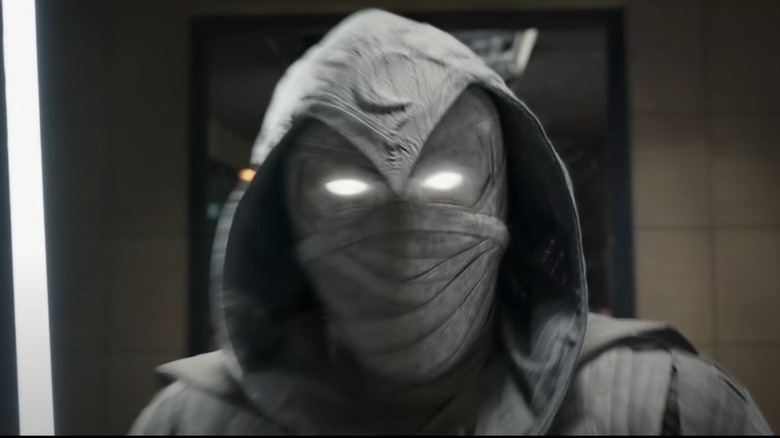 Marvel Studios
We may receive a commission on purchases made from links.
Marvel Studios is barreling towards the release of "Moon Knight," the newest buzzy TV offering for the Disney+ streaming service. This character currently has more cult status than mainstream recognition, but as we saw recently with things like "WandaVision" and "Eternals," Marvel Studios is embracing the Very Cool Yet Slightly Weird corners of the Marvel Cinematic Universe. Oscar Isaac stars as Marc Spector, who, in the comics, is a Marine and boxer turned CIA agent who nearly dies before being resurrected by the Egyptian god Khonshu. Khonshu tasks Spector with protecting the innocent to atone for his life of violence. Complicating matters is the fact that Spector has dissociative identity disorder, sometimes shifting into other personalities, including millionaire Steven Grant. Navigating his myriad identities alongside his god-appointed duties is a key struggle for the hero(es), and that idea is central to the Disney+ adaptation.
A short time ago we saw the release of the first "Moon Knight" trailer, which finally gave our first real feel of the series' tone and Isaac's performance (with a little suit-adorned violence to boot). Today we can celebrate a slightly deeper look into the hero, as newly released promo art has given our best look yet at Marvel Studios' interpretation of the character. The art teases a deep dive into the character's Egyptian origins and gives us a look at Moon Knight in all his full action-y goodness.
Moon Knight's Promo Art Teases A High-Octane, Myth-Heavy Series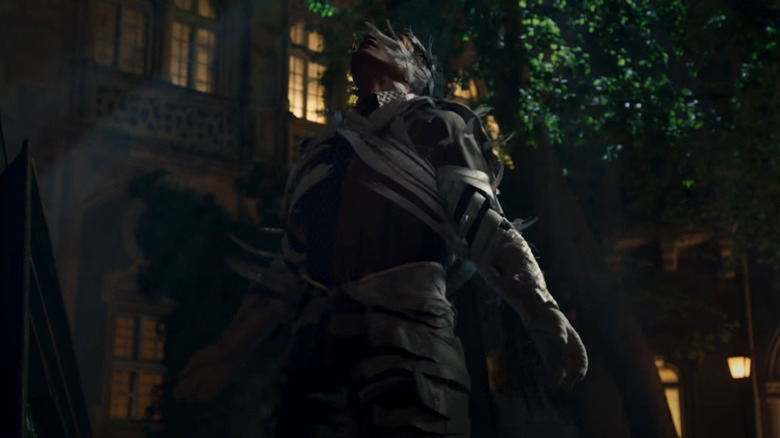 Marvel Studios
"Moon Knight," which is being overseen by Jeremy Slater ("The Umbrella Academy") as the head writer, also has Egyptian director Mohamed Diab directing four of its six episodes and the filmmaking duo Justin Benson and Aaron Moorhead (of "The Endless," "Synchronic," and the recent Sundance film "Something in the Dirt") helming the other two. The series' official synopsis highlights its identity-shifting emphasis alongside some mystery and a deep dive into Egyptian deities:
 Moon Knight follows Steven Grant, a mild-mannered gift-shop employee, who becomes plagued with blackouts and memories of another life. Steven discovers he has dissociative identity disorder and shares a body with mercenary Marc Spector. As Steven/Marc's enemies converge upon them, they must navigate their complex identities while thrust into a deadly mystery among the powerful gods of Egypt.
While Moon Knight is often treated as a street-level hero, the focus on Egyptian mythology promises a significant embrace of the larger forces at play in the series. These heavy mythological themes are reinforced in the new promo art, released as promotional shirts available for purchase at places like Amazon. 
The first piece of promotional art (for a women's tee) features a close-up of Moon Knight's head in full costume, encircled by hieroglyphics with a scarab holding a crescent moon below. It's an interesting design that really leans heavily into the series' utilization of Egyptian mythology and iconography.
The second piece of promotional art is from a long-sleeved tee, showcasing a leaping Moon Knight in full costume. The full-body action image (against a fiery backdrop surrounded by two mirrored crescent moons) suggests the series will also double down on the character's high-octane physical capabilities. The character is well known for his strong combat abilities, and his propensity for costumed night combat has routinely brought on Batman comparisons. It's also worth pointing out the characters' cape, which, in the promo art, appears wing-like. What's interesting here is that in the comics, the status of Moon Knight actually having substantial powers or supernatural attributes has varied highly over the years depending on the writer. His cape taking on a wing-like appearance could be a mere stylistic choice, but given that the trailer shows his armor appearing to manifest and supernaturally wrap around him, it's possible they've given it some more supernaturally-aligned traits.
Moon Knights And Powers And Pantheons, Oh My!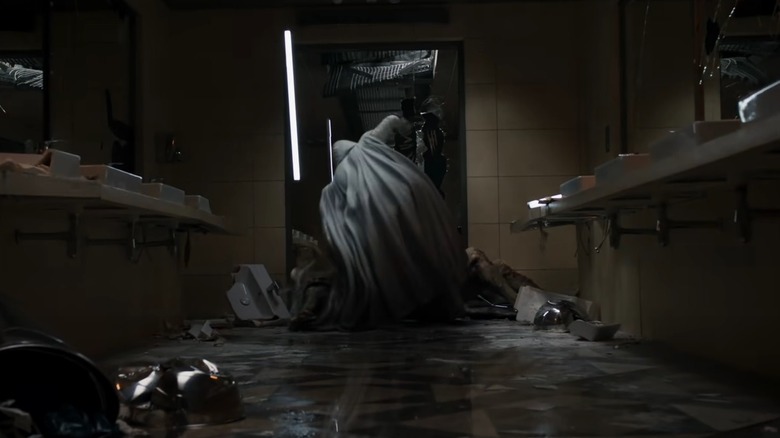 Marvel Studios
While we'll have to wait for the "Moon Knight" premiere to see the extent to which the art matches the series, the emphasis on exploring Egyptian mythology must come as a relief to fans of the comic book character. Not only that, but it also signals that the Marvel Universe is continuing to open up the MCU to a wider array of pantheons than ever before.
Egyptian mythology was a key influence on "Black Panther," with Bast serving as Wakanda's primary deity and Sekhmet also mentioned in the film. Moreover, recent MCU entries have teased other potential pantheons that could join the Asgardians as major players in the future MCU, including "Eternals" teasing the Olympians and "Shang-Chi and the Legend of the Ten Rings" involving a number of creatures and entities from Chinese mythology. With "Thor: Love and Thunder" using the infamous pantheon killer Gorr the God Butcher as a central villain, it's a great time to expand the mythologies of the MCU, and it looks like "Moon Knight" is following suit.
The big curiosity now is whether Spector's costume will have a more supernatural element to it than has been common for the character in the pages of the comics. Considering Marc Spector's complicated mental state, is there a chance he's not actually wearing a costume at all? Maybe that white flowing cape is entirely in his head. Thankfully, we won't have to wait much longer to find out.
"Moon Knight" hits Disney+ on March 30, 2022.