Unlikely Prequel Grease: Rise Of The Pink Ladies Reveals Full Cast
Through all the years since the 1971 musical "Grease" and the 1978 film of the same name (and the 1982 sequel "Grease 2"), we've all been wondering the very same thing: Where the heck did the Pink Ladies come from? Wait, you haven't been wondering that? All these decades, you haven't found yourself in mental turmoil about how the lady gang who bullies and harasses the new girl in school came to be? Well, you're clearly not living your best life. All the cool kids are very curious about the group Frenchy is from. I mean, she had pink hair before it was cool. 
I kid, I kid. No one — not one single person — has ever wondered that. Too damn bad, because you're about to find out. Today Paramount+ has announced that principal photography has begun in Vancouver on the upcoming prequel series "Grease: Rise of the Pink Ladies." We've also got the cast list for you. Now I want to be clear. I'm always happy for actors and crew to get work. Do all the shows! Be in all the movies! I'm just very confused by why this particular series was made. Were people asking for this? Did the very bad message about conforming in the film (which was fun, despite the bad movie advice) mean we needed a backstory?
A Prequel We Needed, I Guess? Or the Prequel We Deserve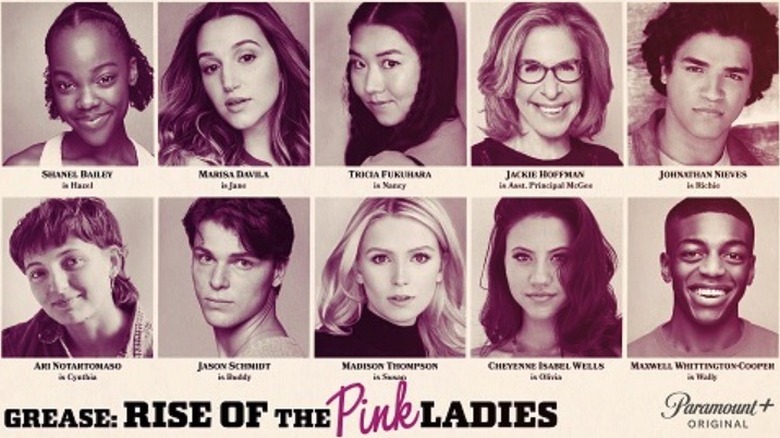 Paramount+
Needed or not, we're getting one. "Grease: Rise of the Pink Ladies" will star Marisa Davila as Jane, Cheyenne Isabel Wells as Olivia, Ari Notartomaso as Cynthia, Tricia Fukuhara as Nancy, Shanel Bailey as Hazel, Madison Thompson as Susan, Johnathan Nieves as Richie, Jason Schmidt as Buddy, Maxwell Whittington-Cooper as Wally, and Jackie Hoffman as Asst. Principal McGee. Here is the official info for you:
The musical series takes place four years before the original "Grease"; in 1954 before rock 'n' roll ruled, before the T-Birds were the coolest in the school, four fed-up, outcasts dare to have fun on their own terms, sparking a moral panic that will change Rydell High forever.
Okay, sure. There will be 10 episodes of this musical series, and it will launch on Paramount+ later in 2022. Nicole Clemens, President, Paramount Television Studios & Paramount+ Original Scripted Series said of the new show:
"We are thrilled to unveil our new original series that will introduce an incredible cast of young stars in the making and electrifying musical numbers you will fall in love with. Annabel and Alethea have managed to brilliantly capture the spirit of the iconic beloved classic film which like RISE OF THE PINK LADIES, is both set in the past but relevant to the present."
Too Pure to Be Pink
"Grease: Rise of the Pink Ladies" is written and executive produced by Annabel Oakes ("Atypical," "Transparent"), who also serves as showrunner. Marty Bowen will executive produce for Temple Hill, Adam Fishbach will also executive produce, and Alethea Jones ("Made For Love," "Dollface," "Evil") will direct the pilot and two other episodes and will executive produce. Erik Feig and Samie Kim Falvey will executive produce via PICTURESTART, and it's produced by Grace Gilroy. Choreography by Jamal Sims and music by Grammy award nominee and executive music producer Justin Tranter.
A musical prequel to "Grease." Fine. That's fine. Everything is just fine in the world of entertainment and we're definitely not scraping the bottom of the barrel for things to reboot/prequel/sequel. I guess we should all be looking on Etsy for Pink Lady jackets? If Didi Conn doesn't have a cameo, we riot, okay?