After Yang Trailer: Get Ready To Cry For Kogonada's Latest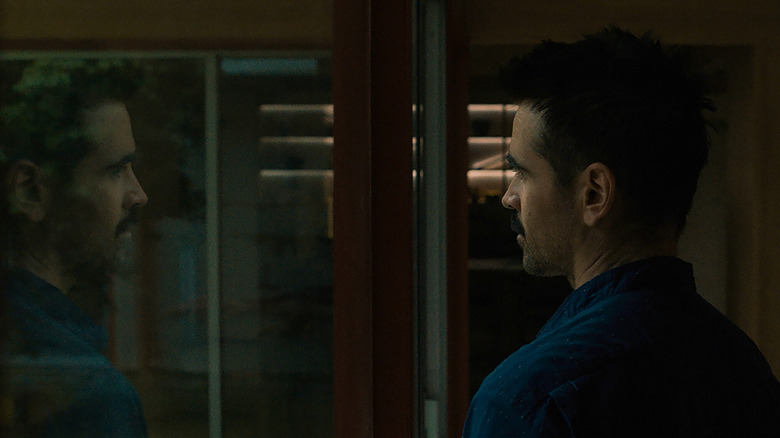 A24
The South Korean-born Kogonada (the widely-used pseudonym in place of his real and unknown name) emerged as a serious filmmaker from an extensive background in creating several insightful and eye-opening video essays, covering various topics such as "Breaking Bad," Wes Anderson's filmography, exploring neorealism, the use of sound in Darren Aronofsky films, and so much more. In 2017, Kogonada emphatically broke through into feature films of his own with the soulful, melancholy, and impressively restrained "Columbus," starring John Cho and Haley Lu Richardson. The supremely confident film debut landed the filmmaker squarely on the map, taking viewers on a surprisingly emotional exploration of loss and connection through the stunning architecture of Columbus, Indiana.
It's no secret that fans have anxiously awaited Kogonada's next movie ever since. After holding its world premiere at the Cannes Film Festival in July of 2021 (you can read /Film's review here), his sophomore effort "After Yang" recently landed at this year's Sundance Film Festival (want even more invaluable insights into the film? Read /Film's Ben Pearson's review here!) and, in both cases, received almost universal acclaim. Now, the rest of us will finally get a chance to experience his latest for ourselves. A24 released the first trailer for the upcoming movie today, which you can check out below.
After Yang Trailer
In a major change of pace from "Columbus," "After Yang" follows the sci-fi story of a futuristic world where people use robot/android caretakers (referred to as "techno-sapiens" in the movie) to supplement their own families and, in the case of the main cast of characters, teach an adopted daughter about her Chinese heritage. When the family techno-sapien Yang breaks down and the family has to consider the prospects of life, well, after Yang, his glaring absence and the hole that remains unfilled in the aftermath forces the family members left behind to come to terms with weighty ideas regarding, as Ben Pearson puts it in his review, "grief, loss, lineage, and finding beauty in unexpected places."
"After Yang" stars Colin Farrell as the family patriarch Jake, Jodie Turner-Smith as his wife Kyra, Malea Emma Tjandrawidjaja as their daughter Mika, Justin H. Min as Yang himself, and even the return of Haley Lu Richardson as a woman from Yang's memories. Written, directed, and edited by Kogonada, the film is based on a short story written by author Alexander Weinstein. You can check out the synopsis below.
When his young daughter's beloved companion — an android named Yang — malfunctions, Jake (Colin Farrell) searches for a way to repair him. In the process, Jake discovers the life that has been passing in front of him, reconnecting with his wife (Jodie Turner-Smith) and daughter across a distance he didn't know was there.