Emma Thompson Comedy Good Luck To You, Leo Grande Will Stream On Hulu In The U.S.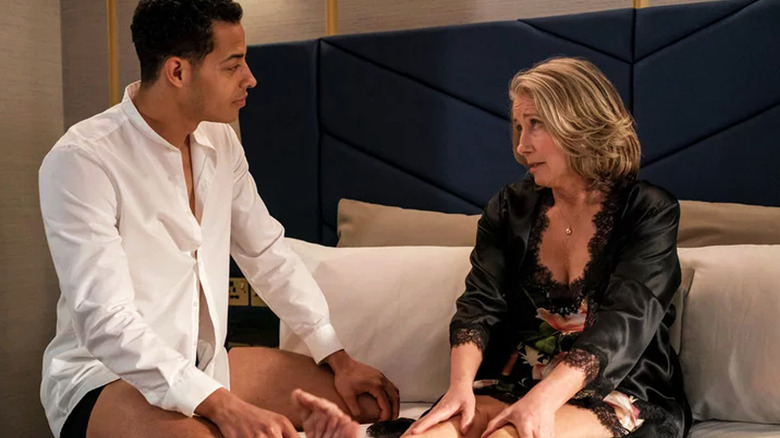 Searchlight Pictures
"'Good Luck To You, Leo Grande' expands the definition of pleasure," is how the Emma Thompson-led sex comedy is described by Sundance, where the film recently premiered. There is no doubt that an eye-opening sex comedy that offers a nuanced perspective on female pleasure makes for a thrilling watch. However, if you still have doubts, you can gain more insights by checking out the film's in-depth Sundance review by /Film's Ben Pearson. Given the ingenuity of the film, the U.S. rights for "Good Luck To You, Leo Grande" were quickly acquired by Searchlight Pictures, as per The Hollywood Reporter.
Fifty Shades of Intimacy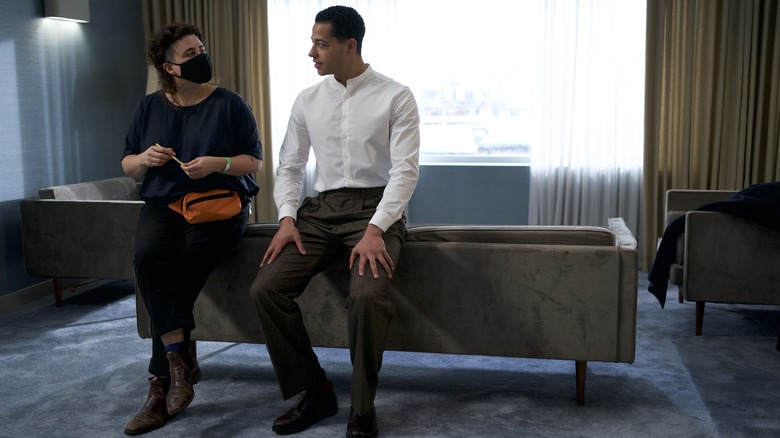 Nick Wall
Directed by Sophie Hyde from a script by Katy Brand, "Good Luck To You, Leo Grande" is expected to stream exclusively on Hulu in the U.S. Apart from seasoned thespian Thompson, the film also stars Daryl McCormack, who plays a sex worker named Leo Grande. Thompson plays retired school teacher Nancy Stokes, and she enlists Leo's help to navigate her sexual fantasies better, which had otherwise eluded her through most of her life.
Although on the surface, this might seem like the plot of a typical sex comedy, the film delves deeper into the many layers of intimacy, starting a personal discourse about sexuality, body positivity, and what it means to embrace one's sexual autonomy. Keeping these themes in mind, it is no wonder that the U.S. rights for the film were acquired, with CAA Media Finance and Cornerstone brokering the deal with Searchlight executives. Per Deadline, Searchlight presidents Matthew Greenfield and David Greenbaum lauded the film for its inherent humanity:
"Sophie Hyde has brought Katy Brand's brilliant script to life with a joy and humanity that perfectly captures the journey of searching for connection and liberation. "Good Luck to You, Leo Grande is a beautiful film, and Emma Thompson and Daryl McCormack are simply perfect."
Also, "Good Luck To You Leo Grande" was reportedly sold amid a competitive scenario for roughly $7.5 million. Hyde went on to comment about the Searchlight acquisition, describing it as a pleasure, hoping that the film is also able to bring pleasure to audiences:
"We are soaked in a culture that encourages us to dislike our bodies and be ashamed of what brings us pleasure, but I hope Leo Grande brings much pleasure to U.S. audiences. I loved every second of working with Emma and Daryl on this movie. Collaborating with them, and the incredible artists who helped craft the movie has been a true delight and I couldn't be more thrilled that the team at Searchlight will be guiding its release."
Apart from "Good Luck To You, Leo Grande," Searchlight also picked up Mimi Cave's "Fresh," ahead of its premiere at Sundance, and the film is also expected to stream on Hulu. This, of course, is good news, as "Fresh" is one of Sundance's surprise breakout features, chronicling the nightmarish tints that haunt everyday dating from a satirical perspective.