Daily Podcast: The Book Of Boba Fett Chapter 5 Spoiler Discussion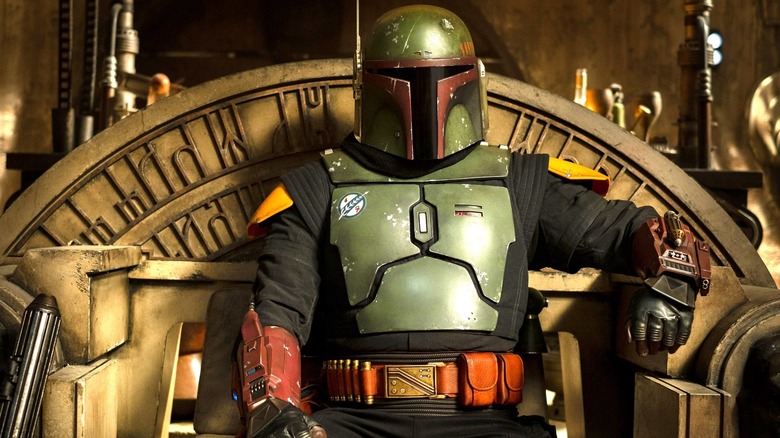 Lucasfilm
On the January 26, 2022 episode of /Film Daily, /Film editorial director Peter Sciretta is joined by /Film editor Brad Oman and Star Wars expert Bryan Young to have a spoiler-filled discussion about The Book of Boba Fett Chapter 5 "The Return of The Mandalorian".
In The Spoiler Room: The Book of Boba Fett Chapter 5 "The Return of The Mandalorian"
Feedback

Dean points out that There might not have been a bantha death in that last episode but there was a bantha skeleton

Tim writes in "did it seem to you that the way Boba got revenge on the biker gang (killing them all while they were virtually defenseless) added some gray to his morality and took a step back from the notion that he's now just a "good guy?""

Tyler from Seattle writes in: Why did Boba think that his armor was in the sarlacc pit when he knows that he climbed out of the pit wearing it. In fact it help him escape the pit in the first place. Unless he thinks the armor came off him and back into the pit? I know that he doesn't know that the Jawas took it but it makes no sense why he would think it was in the pit.

Brief reactions
Breakdown

Speculation
Also mentioned:
All the other stuff you need to know:
You can find more about all the stories we mentioned on today's show at slashfilm.com, and linked inside the show notes.
/Film Daily is published every weekday, bringing you the most exciting news from the world of movies and television as well as deeper dives into the great features from slashfilm.com.

You can subscribe to /Film Daily on Apple Podcasts, Google Podcasts, Overcast, Spotify and all the popular podcast apps (RSS).

Send your feedback, questions, comments and concerns to us at peter@slashfilm.com. Please leave your name and general geographic location in case we mention the e-mail on the air.

Please rate and review the podcast on Apple Podcasts, tell your friends and spread the word!