Sirens Review: An All-Woman Middle Eastern Thrash Metal Band Rocks During A Tumultuous Time [Sundance 2022]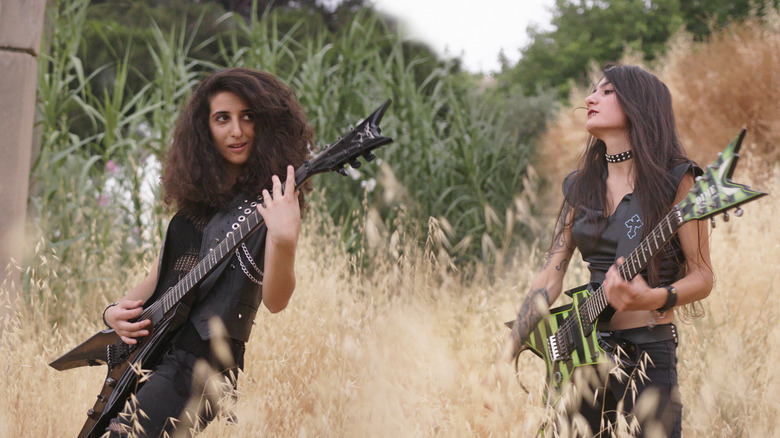 Sundance Film Festival
Trying to make it in the music industry is hard enough, but when you're the only all-woman thrash metal band in the Middle East, it's even harder. In Rita Baghdadi's documentary "Sirens," the group known as Slave to Sirens (led by founders and guitarists Lilas Mayassi and Shery Bechara) has to deal with the struggles of their people in the tumultuous and unraveling city of Beirut, Lebanon. As the 20-somethings at the center of the film confront the trials and tribulations of living in a deteriorating capital city full of protests, they're also trying to sort out their own lives, not to mention all the woes of being part of an up-and-coming rock band who argues with each other just as much as they love head-banging.
Slave to Sirens has been together for about seven years. Our main subjects are founding members Lilas Mayassi and Shery Bechara, longtime friends (and former romantic partners) who have undeniable chemistry and a collaborative relationship that makes their passionate arguments about their music hit that much harder. But we also have drummer Tatyana Boughab, vocalist Maya Khairallah, and bassist Alma Doumani, although they mostly linger in the background and only get involved when it's time to jam or sort out the typical band squabbles.
Perpetually decked out in black clothing, ever-changing hair color, and plenty of tattoos, these women rock hard. Even at a sparsely attended appearance at a smaller stage in the Glastonbury music festival, they don't hold back when it comes to wailing and screaming, both on their instruments and the mic. The group's dedication to thrash metal is all the more impressive when juxtaposed with the political unrest, prejudice, and old-fashioned societal norms that surround them everyday.
'Home Doesn't Feel Safe, Friendship Doesn't Feel Safe, Love Doesn't Feel Safe.'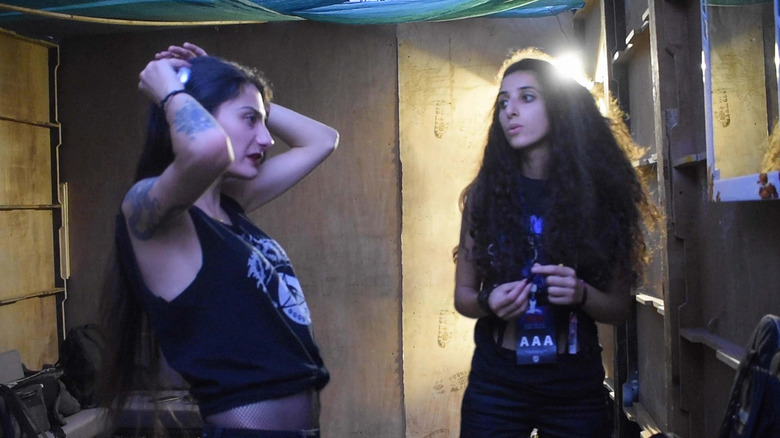 Sundance Film Festival
Lilas, who spends the day teaching music to young children, is being forced to live at home with her more conservative mother, something that is insisted upon until the young woman gets married and has children. That's a difficult prospect to deal with since Lilas is LGBTQ+, and she's forced to hide her sexual preference from her mother. Lilas boldly brings a long distance girlfriend from Syria to visit her home, sneaking the relationship past their mother as an innocent friendship. 
Meanwhile, Shery struggles with being a 27-year old woman who isn't settling down and having kids like everyone else her age. Shery doesn't have to hide her sexual preferences, but she doesn't seem to have any interest in adhering to any societal norms that force her to rely on what is viewed as the traditional path for a woman. Thankfully, she has parents who are wholly supportive of her individuality, but it doesn't make it any easier. 
Rita Baghdadi cuts back and forth from the band's practicing, songwriting, concerts, and general hangouts, to the escalating protests and rioting in the streets of Beirut. It serves as a constant reminder of what all these young women have to deal with everyday, whether it's the band's potential unraveling due to a rift between their founders or something as devastating as the shocking port explosion that made international headlines back in 2020. That disaster brings the all the unrest to a head, hitting Lilas particularly hard. In the film, she notes, "Home doesn't feel safe, friendship doesn't feel safe, love doesn't feel safe." Needless to say, it's a lot to take in during some of the most formative years of their lives.
But the personal and political sides of the documentary come together in a pivotal sequence. When Lilas and Shery are having a casual conversation after lunch about their current dating life (following an argument that nearly tore them and the band apart), a political protest suddenly marches into the streets beside them, and as the sound of the protest starts to overtake the conversation, the two young women begin to march along with them. It's the perfect encapsulation of the story at the center of this eye-opening documentary.
If there's one shortcoming to "Sirens," it's that it runs a brisk 78 minutes when it feels like the film could have maybe dug a little deeper into all the unrest that surrounds these young women. It also feels like the film ends rather abruptly, especially when it comes to the band's story. The sudden conclusion is all the more perplexing when the credits feature footage of Slave to Sirens playing to huge crowds at other festival concerts. Maybe Rita Baghdadi ended her film just a tad too soon, but the final result is still a must-see. 
/Film Rating: 8 out of 10