The Afterparty Stars Sam Richardson And Ben Schwartz Demanded A Ukulele Song Before They'd Answer My Questions [Interview]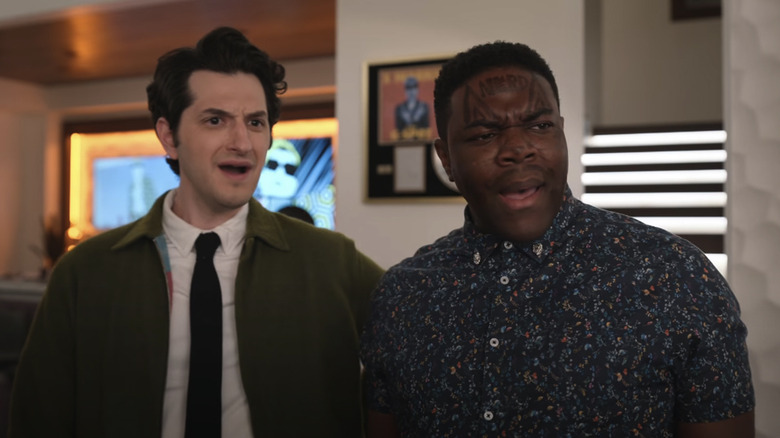 Apple TV+
"Break out the uke! Break out the uke! I'm not answering a goddamn question unless you play one song!"
Before I could even squeeze in my first question with Sam Richardson and Ben Schwartz, two stars of the new ensemble murder mystery comedy series "The Afterparty," our interview had gone completely off the rails. 
In what I now realize was an open invitation for chaos, I had framed our video call in such a way where the actors could see a ukulele hanging on my wall in my office over my right shoulder. Sensing an opportunity to spice up what I imagine was a day full of journalists asking them the same questions over and over again, they insisted I play something on it before we got started. "Come on!" Richardson exclaimed. "One quick uke!" 
When I protested that I only had five minutes to do a joint interview with both of them and the clock was already running, they remained firm. "I'm not doing a bit," Schwartz said, clearly doing a bit. "One song!" 
Time was ticking down. I hesitated. The saw that hesitation, and immediately knew there was blood in the water. Going in for the kill, they said the only words that could get me to actually comply with their ridiculous request. "We'll add one minute to the clock if you break out the uke. One minute. I need to hear it."
To their great delight, I caved.
I know probably seven or eight chords, and I'm far from an accomplished ukulele player. With the pressure on to perform for two of the funniest actors working today, I grabbed the instrument off the wall and strummed a jaunty little tune comprised of three simple chords, repeating it once as they danced along, their faces lit up with the joy of being able to inject something unexpected into an otherwise strictly regimented press junket.
Schwartz Finally Got His Big Musical Moment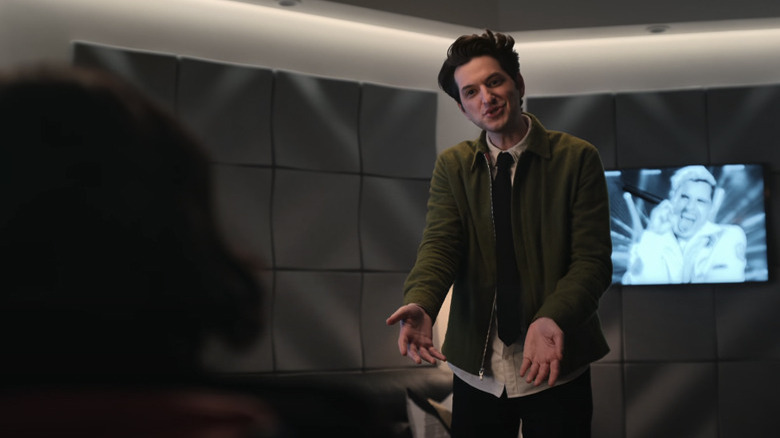 Apple TV+
Perhaps I should have known something like this might happen. After all, Ben Schwartz has his own delightful history with ukuleles, singing a memorable duet of "Tonight You Belong to Me" with Zooey Deschanel way back in 2011 that's since racked up more than three million views. And he often incorporates little sing-song moments into his comedic performances, most famously as the hilariously incompetent Jean-Ralphio Saperstein on "Parks and Recreation."
In "The Afterparty," Schwartz plays Yasper, an aspiring musician who was once in a band with Xavier, the pop star, actor, and recent murder victim played by Dave Franco. Since each episode of the eight-episode series is told using a different genre style as the suspects recount the night's events to a detective (Tiffany Haddish), it only makes sense that Yasper's episode would be presented as a musical, complete with a rap battle, a catchy pop tune, and a soaring ballad. This show is the biggest musical showcase for him yet, and he "felt so lucky" to step into this world.
"Jean-Ralphio got to do tiny little sing song-y things and [I sang] as Dewey Duck in 'DuckTales,'" Schwartz said. "I also have a very famous Hanukah song in the cartoon ["Home: For the Holidays"] where I rap," he laughed, "but this is the first time as a live action really singing and having a singing coach, Fiora Cutler, and an actual choreographer in Kat Burns, who is a genius and a real dancer. I remember when I was a kid I heard about rock camp, where people could really sing in front of real bands. To me, that's what this was. It was me singing, trying my best, with great people who do lyrics and great dancers, and so it felt like heaven. It felt great."
Injecting His Personality Into the Choreography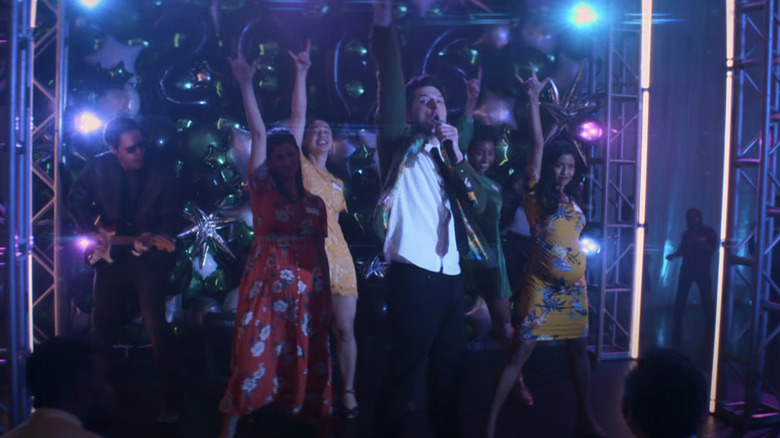 Apple TV+
There's a quick moment during "Yeah, Sure, Whatever," the episode's big pop song set in a high school gymnasium, that struck me as a pure "Ben Schwartz" moment. After swinging across the room on a line of balloons and rolling over a table, Yasper jumps up and catches a microphone that's been thrown to him from out of frame. But when he catches it to continue singing, his hand is upside down as he raises it to his mouth. It's a tiny little visual gag, but I think it typifies Schwartz's comedic style of finding comedy by tweaking expectations. (See also: The ukulele gag at the start of this interview.) When I brought this up, Schwartz was quick to share the spotlight with his unseen scene partner in that moment.
"You want to hear a great fact?" he asked. "[Showrunner] Chris Miller's the one who threw me the microphone every time. So every time I caught the microphone, it's Chris on a chair, just off camera, throwing the mic. There were a bunch more. There was a perfect catch, but I think it's just funnier that I'm like [mimics doing it upside down]."
When I asked if there were other little moments where Schwartz could inject bits of his own comedic instincts into the choreography, such as when Yasper uses his cell phone to strum an acoustic guitar in the ballad "Three Dots From Stardom," he nodded.
"There's little pieces throughout. The phone thing was part of it, but there's little dances — when I jump on the table and kick off the [dishes in 'Yeah, Sure, Whatever'], we're finding new ways to do it. Originally, it was a little tap dance that Kat taught me, which was great. But then because we're little comedy nerds, I did one where I just kicked everything all over the place and Chris was like, 'Yeah, that. Keep doing that. That's insane.' It's great because Chris Miller is a genius, so you let him guide you and you find fun things to do."
Richardson Took a Page From the Tom Hanks Playbook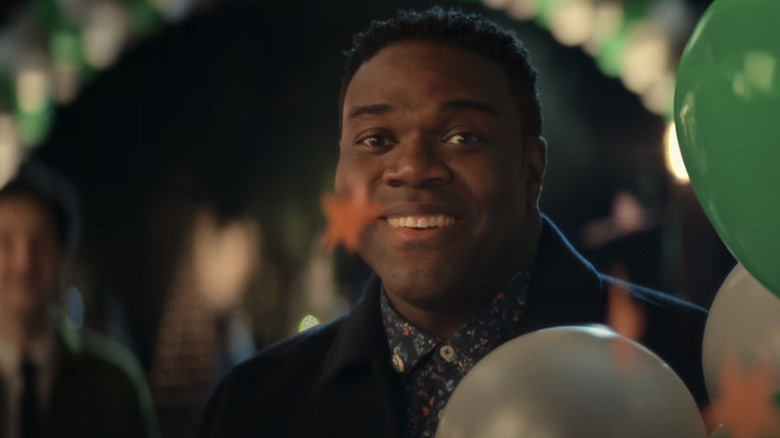 Apple TV+
Meanwhile, Richardson has been absolutely killing it in the comedic realm lately, popping up on "Marvel's M.O.D.O.K.," "I Think You Should Leave," and "Ted Lasso," just to name a few recent appearances. Here he plays Aniq, a sweet everyman who's been harboring a crush on Zoe (Zoe Chao) since they were chemistry partners in high school. Zoe's marriage has fallen apart, and since she sent Aniq an email saying she hopes to see him at their upcoming 15 year high school reunion, he's hoping to be able to finally make his move. The show's first episode centers on Aniq's perspective, and it's told in the style of a classic romantic comedy. When I asked Richardson if he watched any specific movies for inspiration, he explained that he was trying to distill several performers' styles and filter them through his own abilities.
"I'm a fan of the rom-com to begin with," he responded, "so I'm pretty well-read — or well-watched — in all Tom Hanks movies and most of Ben Stiller's movies and those sorts of things. Tom Hanks is, to me, the prototypical, archetypical rom-com protagonist. I kind of studied those movies and 'While You Were Sleeping,' another one of my favorite rom-coms. 'You've Got Mail.' Just those tropes and personality quirks and how the sarcasm in rom-com works. I try to use some of that in there, and I had a good time doing that."
The first three episodes of "The Afterparty" are currently available to stream on Apple TV+.