Looney Tunes Cartoons Valentine's Extwavaganza Trailer: Love Is In The Air For Bugs And Co. On HBO Max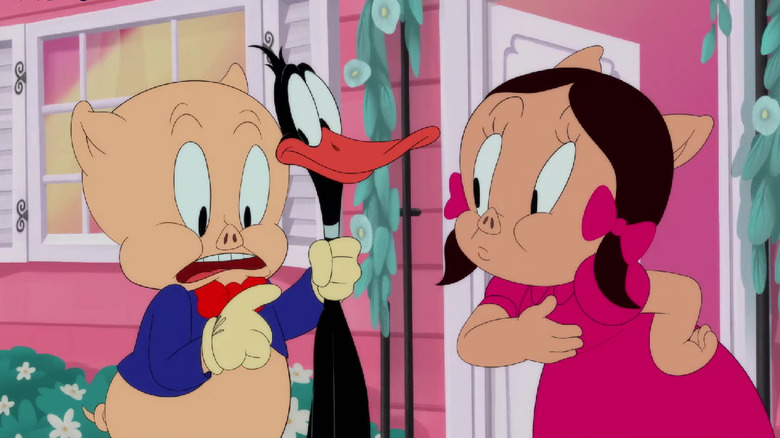 Warner Bros. Entertainment
The animated comedy of Friz Freleng, Chuck Jones, and Tex Avery has left its mark on the childhoods of multiple generations of kids now. Between Merrie Melodies and Looney Tunes, a cadre of silly, endearing characters like Bugs Bunny, Daffy Duck, and Porky Pig have carved out a sturdy place in the pop-culture consciousness. The cartoons' hold on public recognition is so strong that the title of Warner Bros. latest offering banks on common knowledge of each 'toon's speech pattern — we know a Tweety title when we hear one. It's all about the love in Warner Bros.' "Looney Tunes Cartoons Valentine's Extwavaganza!," a new animated special from the new "Looney Tunes Cartoons" series on HBO Max. The special, developed by showrunner Peter Browngardt, features the "Looney Tunes" cartoons just in time for one of the most lovey-dovey days of the year.
Plot details are unknown for now, but Warner Bros. teased a quick synopsis:
In this love-struck episode, Porky's sweet on Petunia, but Daffy is sweet on Porky's sweets. Then, Bugs comes face-to face-with an unexpected admirer ... These and more romantic misadventures are in store for the "Looney Tunes" characters, you don't want to miss it!
Now there's a trailer ready for your love-struck peepers. Check it out below.
Calling All Toonheads
Often, a "Looney Tunes" cartoon will feature a gross abuse of power with Cupid's love-tipped arrows or a semi-problematic Pepé Le Pew struggling with the notion of consent. The 2022 evolution has Bugs Bunny repelling advances from an affectionate gorilla (who resembles Mrs. Gruesome Gorilla from "Merrie Melodies" of yore), but all of these situations have been the source of giggles for decades, through multiple iterations from 1930 onward including "The Looney Tunes Show," "New Looney Tunes," and the "Tiny Toon Adventures" series. Beginning in the golden age of animation in their run from 1930 to 1969, "Looney Tunes" and "Merrie Melodies" shorts grew in popularity until they were the most acclaimed shorts to play in movie theaters throughout the midcentury. Says, Warner Bros.:
"Looney Tunes Cartoons" echoes the high production value and process of the original "Looney Tunes" theatrical shorts with a cartoonist-driven approach to storytelling. In this modern iteration of the classic series, marquee "Looney Tunes" characters are featured in their classic pairings in simple, gag-driven, and visually vibrant stories.
The "Extwavaganza" special and "Looney Tunes Cartoons" at large are executive produced by Pete Browngardt (creator of "Uncle Grandpa") and Warner Bros. Animation president Sam Register. The voice cast includes Eric Bauza (who voices Bugs, Daffy, Tweety, and Marvin the Martian), Bob Bergen (Porky Pig), Jeff Bergman (Elmer Fudd and Sylvester the Cat), Fred Tatasciore (Yosemite Sam), Candi Milo (Granny), and Michael Ruocco (Beaky Buzzard).
"Looney Tunes Cartoons Valentine's Extwavaganza!" arrives at HBO Max on February 3, 2022.