Zombae, A Horror-Comedy From 2017, Is Somehow Returning From The Dead In 2022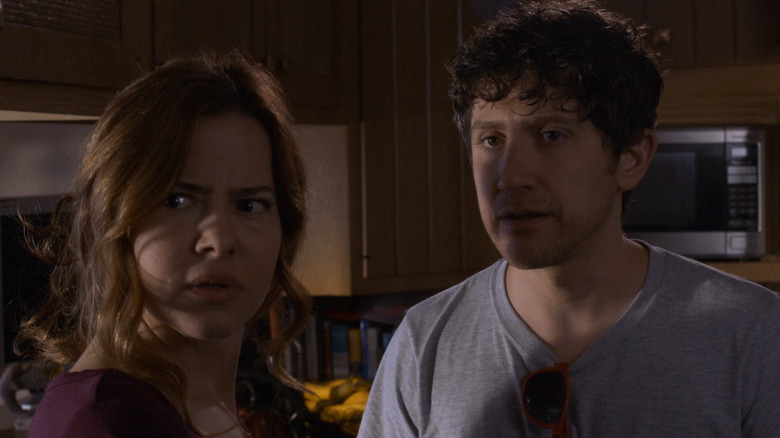 Indican Pictures
We may receive a commission on purchases made from links.
Twenty-first century romance can be hell, but it gets a little more complicated when your significant other becomes significantly undead. That's the premise behind "Zombae," a new horror comedy coming to DVD and On Demand next month from Indican Pictures. Or is it new?
The movie's trailer debuted exclusively on DailyDead, but it weirdly looks almost identical to another movie released in 2017 by the same director, cast, and production company, called "ZBurbs." There are shots in the trailer for "Zombae" that come straight from the trailer for "Zburbs," so I'm not entirely sure what's going on, but I'm definitely intrigued. The synopsis for both films is nearly identical, though the marketing is incredibly different, so maybe this is just an attempt at re-marketing the same movie and presenting it as new? What is even happening here?
The trailer and more details for "Zombae" below, because I'm not sure I can entirely figure out this mystery on my own.
What to Do When Your Husband's Undead
The official synopsis for "Zombae" reads:
"What is a woman to do in the current dating climate? When a suburban housewife discovers that her husband has become a zombie with an appetite for human flesh, she must decide whether to stay in the marriage or wade into the dating pool. As she dips her toe in, she soon finds that the men out there are even worse than her zombie husband! With a little help from her best friend, she decides to make it work – no matter what."
The official synopsis for "ZBurbs" is a bit different, but shares similar DNA:
"When a suburban housewife discovers that her husband has become a zombie, hungry for human flesh, she decides to make it work by feeding him bad people. But when the government gets wind of what she's doing, his potential as a weapon brings on a different kind of hunger, and a tough decision must be made."
And check out the trailer for ZBurbs, just for extra measure.
Both are from director Greg Zekowski and star Ian Alda, Marieh Delfino, Gina Hecht, Gabe Greenspan, and Clint Carmichael. "ZBurbs" is available to rent through Amazon, which means if you want to do an investigative double feature when "Zombae" releases on DVD and On Demand on February 15, 2022, you absolutely could. The film will be available on Apple TV, Prime Video, Vudu/FandangoNOW, Google Play, and DirectTV, which means you can enjoy this zombie rom-com from the comfort of just about anywhere, even if it might be a re-cut version of a five-year-old movie. At least bringing back something from the dead is on theme.