Percy Jackson And The Olympians Has Officially Been Given A Series Order At Disney+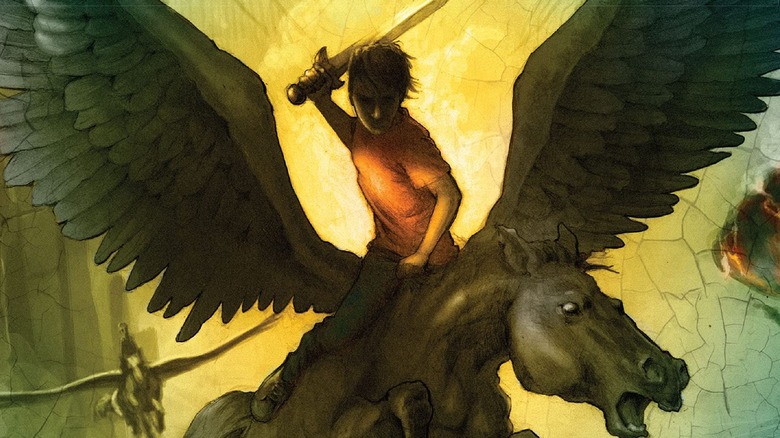 Disney Hyperion
Fans of magic, monsters, and mayhem won't have much longer to wait for the streaming adaptation of "Percy Jackson and the Olympians." The fantasy series by author Rick Riordan, which was adapted into two feature films in 2010 and 2013, is getting the live-action treatment once more, this time with the original writer's stamp of approval. You'll likely remember that Riordan could hardly contain his distaste for the original movie, dismissing it as an unsatisfactory attempt at translating his material. However, the author will be directly involved with this new Disney+ series. The news arrives straight from Disney, who announced that Riordan will write the pilot for the show along with Jon Steinberg, and James Bobin will direct. All three also serve as executive producers, further exemplifying the degree of creative control that Riordan appears to enjoy on this project.
This announcement comes almost two years after we first received word that the series was in its earliest stages of development, news which Riordan himself broke and has served as a public cheerleader for ever since. In keeping with that tradition, Rick Riordan also made today's exciting announcement through the official Disney+ Twitter account, which you can watch for yourself below.
Percy Jackson and the Olympians Series Announcement
Whether you be human or demigod, pinch yourself because you're not dreaming. "Percy Jackson and the Olympians" is officially a go, coming to the Disney+ streaming service and with the author's full and unabashed stamp of approval. Rick Riordan heaps nothing but praise on director James Bobin, the director, writer, and producer who is known for directing "Dora and the Lost City of Gold," "The Muppets" starring Amy Adams and Jason Segel, and also Disney's "Alice Through The Looking Glass" film. In the official press release, the series is described as:
Geared towards a general audience and especially tweens, teens, and young adults, the live action series tells the fantastical story of a 12-year-old modern demigod, Percy Jackson, who's just coming to terms with his newfound supernatural powers when the sky god Zeus accuses him of stealing his master lightning bolt. Now Percy must trek across America to find it and restore order to Olympus.
President of Disney Branded Television Ayo Davis released a statement saying: 
"With Rick Riordan, Jon Steinberg, and Dan Shotz leading our creative team, we're deep into creating a compelling TV series worthy of the heroic mythological characters that millions of Percy Jackson readers know are well-worth caring about, and we're eager to invite Disney+ audiences into stories that are true to the blockbuster franchise and full of anticipation, humor, surprise, and mystery." 
The series does not yet have a release date, with Disney having only revealed that production will begin "this summer." Given the tenuous status of the project for so long, fans will surely be thrilled to know that all parties involved are giving this project their full-throated support so early in the process. Stay tuned to /Film for more information, including casting, in the weeks and months ahead.