Pierce Brosnan Movie The King's Daughter, Filmed In 2014, Finally Releases (And Bombs)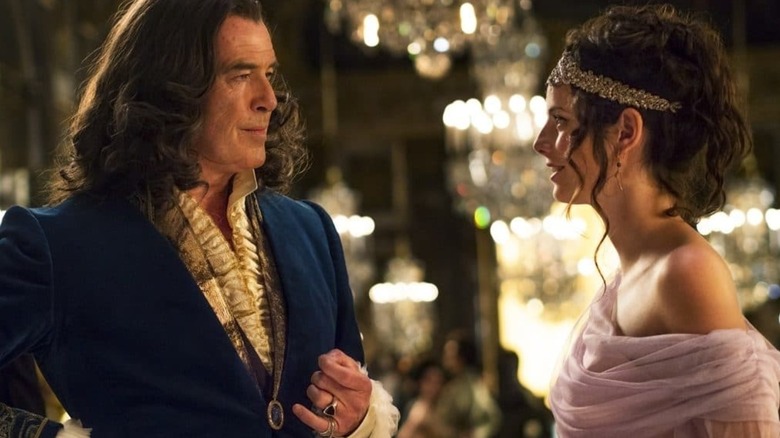 Gravitas Ventures
This might be one for the development hell record books: "The King's Daughter" finally hit theaters today, seven years after its initial planned release. The movie, which is based on a 1997 novel called "The Moon and the Sun," made its theatrical debut this weekend, with only $750,000 to show for it (per BoxOfficeMojo).
While plenty of perfectly good movies get shelved for reasons beyond their control, this doesn't seem to be the case with "The King's Daughter." Directed by Sean McNamara, the film follows King Louis XIV (Pierce Brosnan in a very bad wig) as he attempts to, as far as I can tell, eat a mermaid that he thinks will make him immortal. Meanwhile, Kaya Scoledario plays Marie-Josèphe, the king's illegitimate daughter who fights on the mermaid's behalf. The movie doesn't look bad enough to leave it gathering dust for the better part of a decade, but it certainly doesn't look good, either.
Filmed in Australia and France in 2014 for a planned 2015 release, "The King's Daughter" was shelved with no official explanation, though a source at the time told The Hollywood Reporter the film still needed more special effects work. The King's Daughter," which originally shared the novel's title, was revived in 2020 with a new title and Julie Andrews joining as narrator, per Screen Daily. Finally, the film was bought by Gravitas Ventures for what eventually became its 2022 release.
Distributors Gambled On A Wide Release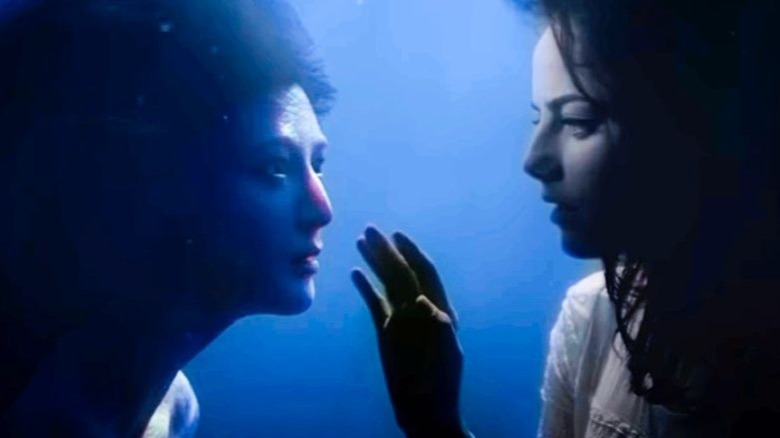 Gravitas Ventures
We may never know exactly how this lengthy post-production delay happened, but eight years from filming to release is a long time for anything that isn't a James Cameron movie. "The King's Daughter" was filmed two presidencies ago. It filmed just one year after Scoledario finished playing Effie on "Skins," a show that already feels at least two decades old. Other semi-recent films, like "Margaret" and "The New Mutants," suffered similarly long journeys to theaters, but neither passed the seven-year mark.
This story wouldn't be so uniquely weird if it weren't for Gravitas Ventures' release strategy. According to reporting by IndieWire, the company released the film on over 2100 screens, the widest release of the weekend. This means each theater made under $400 on average over its first weekend. Gravitas CEO Nolan Gallagher told IndieWire that the company is "releasing more in theaters than we had in the first 15 years of our existence," including five movies since the pandemic began. It sounds as if the company, which typically works in independent VOD releasing, is filling holes in a theatrical schedule plagued by ever-postponed tentpole release dates.
If the story of "The King's Daughter" bums you out from start to finish, just do what I do, and retreat into your mind to imagine an alternate universe where The Jim Henson Company's version of the movie came out instead of this one.