Scream Directors Didn't Kill A Character Because They Loved The Actor So Much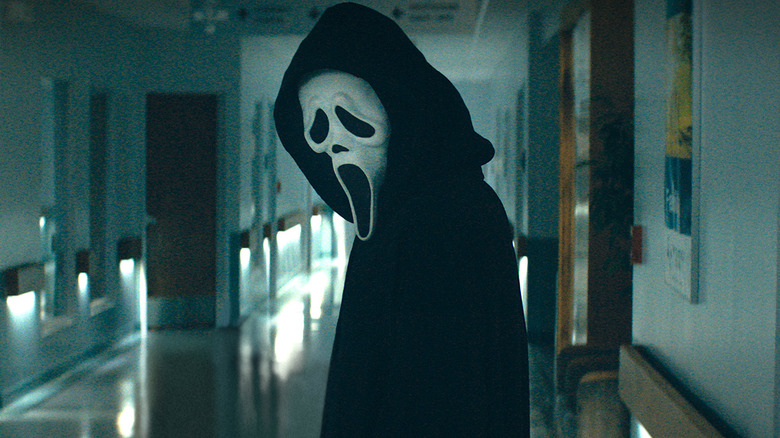 Paramount Pictures
This post contains major spoilers for the new "Scream."
Surviving a Ghostface attack is no easy feat — just ask the thoroughly traumatized heroine, Sidney Prescott (Neve Campbell). The franchise final girl never walks away unscathed, but she still has an undeniable talent for living. So what about everyone else? How can one escape the killer's wrath without Sidney's improbable survival skills? Most "Scream" characters take one of two very classic approaches — running far, far away from the action, or getting seriously injured in the third act, only to pop back up before the movie closes. But according to the filmmaking team behind the latest entry, there's another surefire way to avoid death by Ghostface: impeccable charm.
The 2022 return to Woodsboro comes from filmmaking duo Matt Bettinelli-Olpin and Tyler Gillett. Picking up 25 years after the original murder streak, "Scream" checks in on the once-quiet town just as a new killer dons the Ghostface mask to resurrect old secrets. Though it sees the return of franchise biggies like Sidney, Gail Weathers (Courtney Cox), and Dewey Riley (David Arquette), the film mostly focuses on a new group of teenagers — and this is where charm came in handy.
Too Charming For Death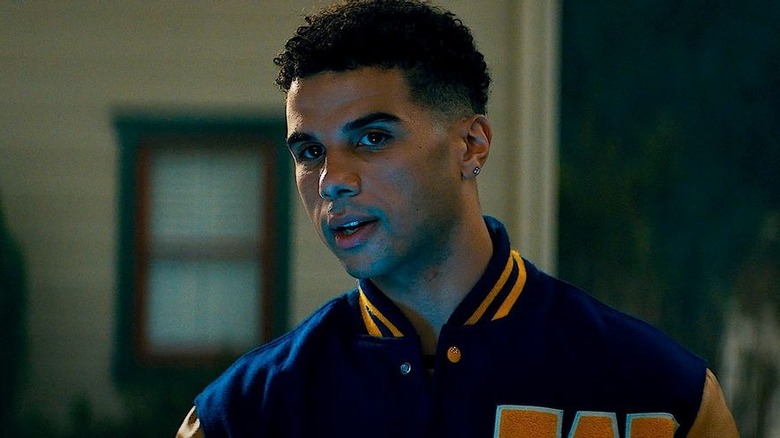 Paramount Pictures
Since the franchise wouldn't be the same without lots of creatively brutal deaths, not all the new kids get to survive their trip to Woodsboro. It's a real shame, because the cast is stellar all-around, featuring scene-stealing performances from Ghostface victims like Jasmin Savoy Brown ("The Leftovers," "Yellowjackets") and Mason Gooding ("Love Victor," "Booksmart"). The duo play Mindy and Chad Meeks-Martin, the horror-smart twins well-attuned to the rules of surviving a re-quel. They also happen to be related to the late Randy Meeks, the OG nerd know-it-all (which doesn't really help their bid for survival). The filmmakers told The Hollywood Reporter that after a Zoom meet-and-greet with Gooding, they knew the role of Chad Meeks-Martin was his. Bettinelli-Olpin said:
"Mason is a force. He is so loving and charismatic. He is the definition of someone who walks into a room and lights it up. He has that presence no matter what the situation, where he is, and we had a Zoom with him during the pandemic when we were doing casting. Not an audition, just a, 'Hey, what's going on?' Two seconds after the zoom we were texting, 'Oh f*** this is bad, this has got to be Chad.' He blew us away."
Here's an example of that famous Gooding charm: the actor recently revealed that his audition process involved digging up an only college essay. During a meeting with the filmmakers, he mentioned a six-page paper he once wrote about why the "Scream" franchise deserved a reboot, and they asked to read it. Two weeks after sending it their way, they reached out to offer him the role. While everything was good on Gooding's side, the filmmakers had a problem to sort out: in the original script from writers, James Vanderbilt and Guy Busick, Chad dies in the third act. If you've seen the film, this shouldn't come as a surprise. While Chad ultimately manages to survive alongside his twin sister, he has plenty of stab wounds to nurse by the end of "Scream." Take one scene out of the film — his brief exchange with Mindy as they're wheeled into the ambulance — and Chad is no more. Bettinelli-Olpin added:
"The conversation as soon as he signed on was, 'Well we can't kill Chad. Mason has got to be in the other movies. This guy is the greatest! We'd be crazy to get someone this charismatic and just kill them.' I went to a screening this weekend to see it with an audience. I heard an audible, cathartic, gasp. You could feel people were so glad that he lived. That includes us."
While there are no concrete plans s for a "Scream" followup, the directors have certainly floated the idea of more sequels, continuing the story to feature both the new and legacy cast members.