The Spine Of Night Giveaway: Win A 4K SteelBook Of This Heavy-Metal Horror Fantasy Film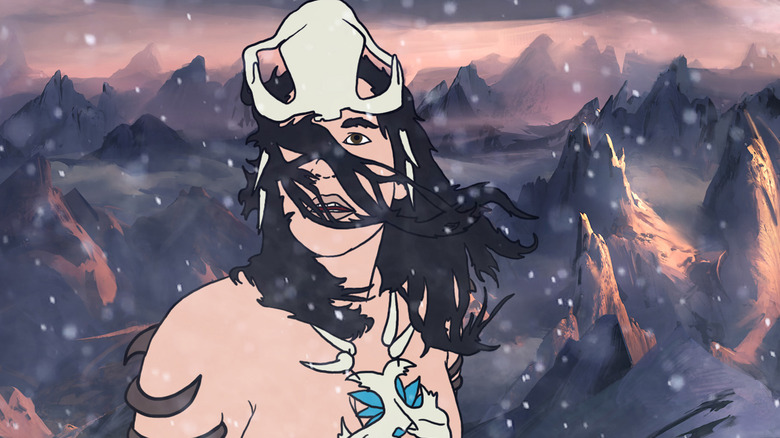 RLJE Films
In just a few weeks, audiences can enjoy the ultra-violent fantasy horror film "The Spine of Night" in all its gorgeously animated glory, all from the safety of their own homes. The sprawling fantasy epic is making its physical media debut on February 1, meaning you can finally get more than a quick glimpse at its unique rotoscope animation and find out what all the horrific hype is about. The film has been sparking conversation since its 2021 SXSW debut; in fact, /Film's own Danielle Ryan spoke to the writer-director duo behind "The Spine of Night," who pitched their film by saying:
If you ever wonder to yourself, do I like ultra-violent, that pretty naked, hand-drawn, dark fantasy animation? Then this is your chance to find out. This is your litmus test. Check the movie out and you might think, 'oh, wow, that was not for me.' But, you might also think, 'oh my God, I love this. it's incredible.'
With "The Spine of Night," Philip Gelatt and Morgan Galen King crafted a hard-fantasy throwback featuring slick animation and an all-star cast. With the epic tale coming soon to DVD, Blu-ray, 4K UHD DVD/Blu-ray SteelBook®, /Film has teamed up with the folks at RLJE films for an exciting new giveaway. You can check out the contest details below!
How To Win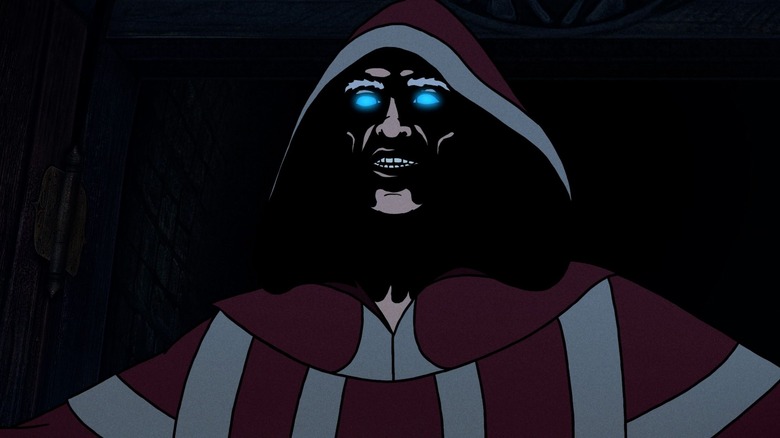 RLJE Films
We're giving out 4K SteelBooks of "The Spine of Night" to four lucky winners! The rules of the contest are simple: just quote-tweet the below tweet with your favorite rotoscope animated movie! Four winners will be randomly selected from the bunch and rewarded with the SteelBook. 
#TheSpineOfNight Steelbook comes out Feb. 1, and to celebrate all its horror-fantasy greatness we're giving away 4K Steelbooks to four lucky winners! Just follow @slashfilm and RT for a chance to win. (Only open to U.S. participants) pic.twitter.com/oje7TsE4U8

— /Film (@slashfilm) January 24, 2022
See the box art for the 4K SteelBook below. The bonus features include a making of "The Spine of Night" and two additional films from the directors, "The Spine of Night: Exordium" and "Mongrel."
The Spine of Night Comes To 4K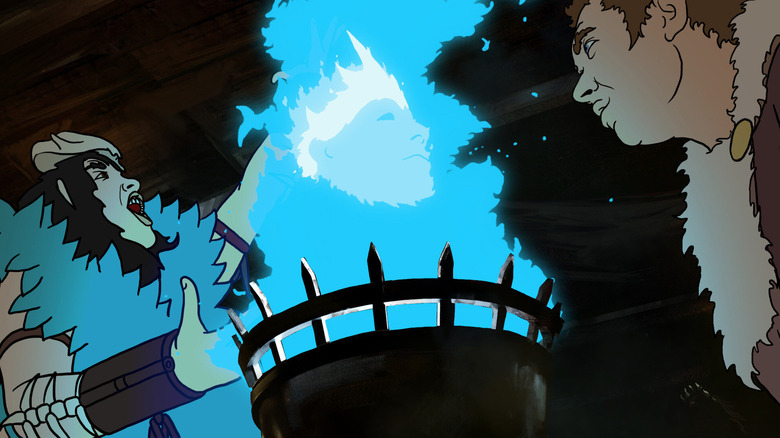 RLJE Films
"The Spine of Night" tells the haunting history of a land that never was. The movie ties together multiple stories through two ancient beings sharing memories — an ancient keeper called The Guardian, voiced by Richard E. Grant, and the swamp witch Tzod, voiced by "Xena: Warrior Princess" herself, Lucy Lawless. The intertwining tales begin with dark ambition, then reach all sorts of bloody and unexpected heights as the world expands. The film also stars Patton Oswalt ("Young Adult"), Betty Gabriel ("Get Out"), and Joe Manganiello ("True Blood").
"The Spine of Night" is coming to DVD, Blu-ray, 4K UHD DVD/Blu-ray SteelBook® on February 1, 2022: the DVD will be available at $27.97, the Blu-ray for $28.96, and the 4K UHD DVD/Blu-ray SteelBook for $35.97. After making its way around the festival circuit, the film made its theatrical and digital debut back in October 29, 2021, so it's also available to rent or buy digitally. You can read the full movie synopsis below.
This epic fantasy tale, about the history of a land that never was, begins when an ambitious young man steals forbidden knowledge from a sacred plant. He falls to its darker temptations and in so doing, unleashes ages of suffering onto mankind. As his power grows over the years, it falls to people of different ilk and culture to attempt to stop him. Among those who stand against him are a daring tomb-robber, star-crossed lovers, a maniacal necromancer, winged assassins, and an undying guardian.