Every Ted Bundy Movie Ranked Worst To Best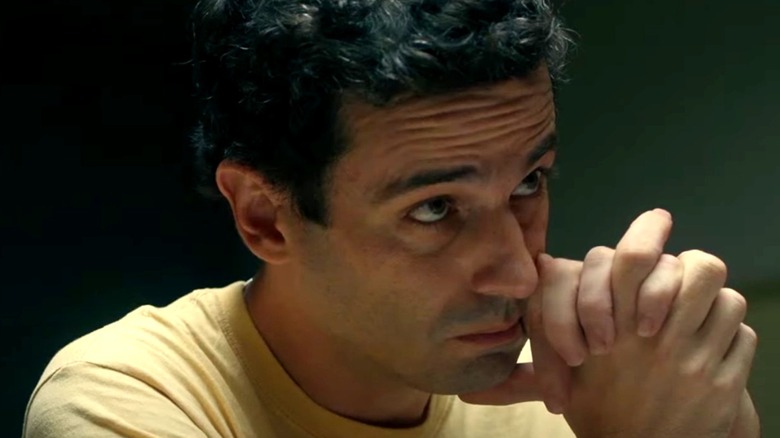 RLJE Films
Serial killer Ted Bundy began his killing streak more than 40 years ago. Through early arrests and a highly-publicized trial, he captivated America with his charm and "good looks," although that latter claim is debatable. From the detectives working the case to psychologists to newspaper journalists, everyone wanted to know why the man displayed such a blatant disregard for human life, particularly women's. Countless books and documentaries, including Netflix's 2019 release "Conversations with a Killer: The Ted Bundy Tapes" and "Ted Bundy: Falling for a Killer," have tried to delve below the surface to understand what made one of the world's most notorious killers tick.
Over the years, several mainstream and indie films focusing on Bundy have been produced as well. Many are schlocky, low budget offerings that fail to present new information or fresh perspectives. Others, though, approach the Bundy murders with care, merely referencing the tragedies in favor of reassessing who Bundy was by examining the relationships in his life. Ted Bundy was a monster; that's an indisputable fact. But a few of the stories found here are fascinating case studies in human nature, and show how such a seemingly normal, next-door-type fooled so many innocent people.
10. Bundy: An American Icon
By merely existing, films about Ted Bundy are salacious, transfixed on our cultural obsession with the macabre. Billed as a biopic, 2008's "Bundy: An American Icon" (also known as "Bundy: A Legacy of Evil") frames Bundy's life story through a myopic lens. Details about his childhood are distorted to elicit gross empathy from the viewer. That would be okay if this were a fictionalized retelling, but in context such blatant misinformation is irresponsible at best. Flashbacks are mixed with boring walk-throughs of Bundy's crimes, exposing nothing that we haven't already seen in much better films.
With director Michael Feifer at the helm, "Bundy: An American Icon" has little creative merit. Its shoddy production, amateurish cinematography, and tepid lead performance by Corin Nemic make this a bottom-of-the-barrel offering. There's a crudeness to the low budget (not an inherent fault of a film) that could work in better, more capable hands. But here, it is simply an exhausting exercise in perverse violence that has nothing new or remarkable to say about its subject. You have to wonder exactly why a horror icon like Kane Hodder (known for his work as Jason Voorhees in the "Friday the 13th" franchise) signed on to such an egregious display.
9. Bundy and the Green River Killer
Budgetary restrictions are not a reason to dismiss a film. Rather, it's what filmmakers do with their limited resources that matters. Unfortunately, "Bundy and the Green River Killer" neither rises above its modest means nor has anything interesting to say. Directed by Andrew Jones, this 2019 film is a tepid attempt to dig into the story of infamous killer Gary Ridgway, whose case famously required insight from outside sources, including death-row inmate Ted Bundy.
Richard Mark and Jared Nelson give little life to Bundy and Ridgway, respectfully. They often feel completely detached from the rest of the picture and its players, although both actors have a strange, aloof tendency in their performances that would work quite well in another context, and with a better script. 
Throughout the '80s and '90s, Seattle and Tacoma, Washington became the backdrop for Ridgway's murders, which largely involved sex workers. David Reichert (whose name was changed to David Richards in the film, and who's portrayed by Mark Homer) led the investigation with help from Robert Keppel (Bob Keller, played by Phillip Roy). "Bundy and the Green River Killer" painfully walks through the events of the case, particularly how Bundy wrote Reichert a letter to offer his services, and several of their one-on-one conversations. While Bundy did offer up advice to the task force, his involvement in helping solve the case is overblown.
8. Ted Bundy: American Boogeyman
No one could have predicted that a '90s heartthrob would one day don the mantle of a serial killer, but here we are. As with most actors hired for the lead role, Chad Michael Murray is far too handsome to pull off Bundy's bizarre, mousy look. However, the "One Tree Hill" star has plenty of presence, particularly during solo moments when he's required to dig deep into the mania of a killer.
Daniel Farrands directs, and "Ted Bundy: American Boogeyman" is surprisingly far less exploitative than his offensive glimpses into the murders of Sharon Tate and Nicole Brown Simpson. Farrands, also known for penning 1995's "Halloween: The Curse of Michael Myers," could have easily tipped into the abyss of repulsive storytelling, yet he pulls the reins in here. He guides the viewer through the usual tentpoles of the story, from Bundy's early killings to the Florida State University massacre, with little purpose or drive. Moments of brilliant cinematography (a key moment involving Murray's silhouette as he descends upon the sorority is effectively chilling, for example) are muddled by an otherwise pedestrian perspective on the story.
Murray's best moment comes when he's alone in a Florida boarding house that's littered with mannequins. It's days after his much-publicized escape, and Bundy has reached his breaking point. Feeling like a leftover from 2012's "Maniac," it's one of the most unsettling sequences Murrary has ever appeared in, the only real bright spot in an otherwise shrug-worthy entry on this list.
7. The Capture of the Green River Killer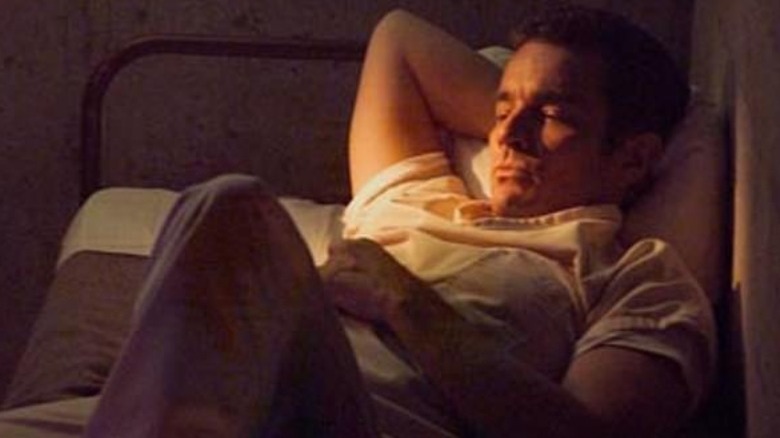 Lifetime
If you have three hours to spare — and you're bored — "The Capture of the Green River Killer" is not a total waste of time. Produced for Lifetime, you can expect the network's usual over-dramatization of events and superfluous plot points and characters. Much like 1986's "The Deliberate Stranger," this Norma Bailey-directed film is billed as a two-part miniseries and dives deep into the story of the hunt for Gary Ridgway, fleshing out detective Dave Reichert's family life and how he became entangled with Ted Bundy.
For Bundy's part, James Marsters only appears in one scene, and his performance is unremarkable. It certainly adheres closer how little Bundy was actually involved with solving the case, and that should be commended. That said, the 2008 feature plays to the emotions as much as possible. A new character named Helen (Amy Davidson) serves as a stand-in for the many real-life victims whose lives were ripped apart. The addition of her story, which takes her from familial strife to sex work as way to make ends meet, holds together a sterile crime procedural. Often, Helen speaks directly to the camera, even after her death, turning the entire feature into nothing more than a glorified PSA.
6. The Riverman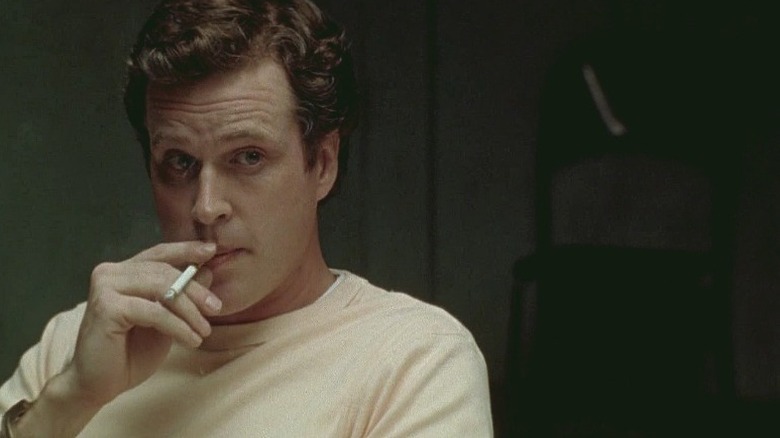 A+E Networks
"The Riverman" was released in 2004, the same year as "Saw," both of which starred Cary Elwes. Elwes' turn as the demented serial killer probably slipped under most people's radars, largely due to an oversaturation of Bundy-related content. The film, directed by Bill Eagles, largely focuses on Detective Dave Reichart (Sam Jaeger) and his hunt for the Green River Killer. Robert Keppel (Bruce Greenwood), a criminology professor at Washington State who worked on the task force that caught Bundy a decade prior, is roped into the investigation. He soon receives a personal letter from Bundy, who offers up his services to help track down the new murderer.
As such, Bundy is a secondary character, but Elwes makes the most of it. The many one-on-one conversations featuring Bundy are shockingly engaging and frequently unnerving, with Elwes serving up a truly menacing performance. He oscillates between Bundy's cool charm and his threatening presence with refreshing subtlety. It's never overcooked or under-baked, and it's a real shame that Elwes never had the chance to lead a more Bundy-centric film.
Bundy's tips for catching a criminal, particularly his advice to consider the possibility that the killer had been arrested before, lead to an arrest and, eventually, a conviction. "The Riverman" is a decent watch, and gives the viewer a deeper understanding of the man behind the madness.
5. Ted Bundy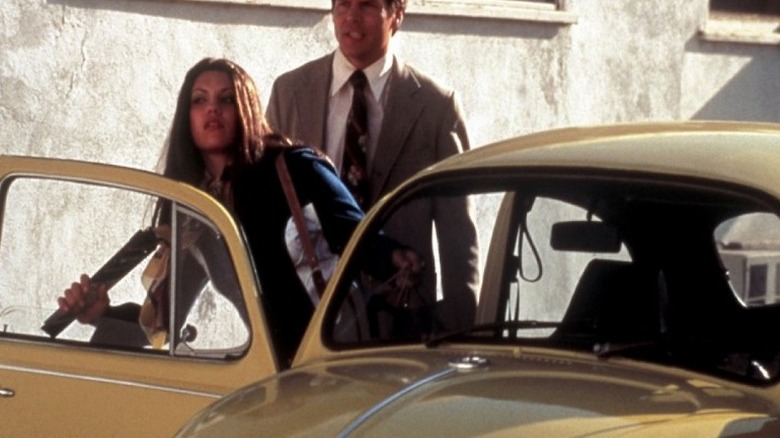 First Look International / YouTube
Director Matthew Bright manages to capture Ted Bundy's double life quite effectively. Co-written by Stephen Johnston, the 2002 film "Ted Bundy" blends Bundy's seemingly idyllic home life with the grotesque violence that made the man infamous. Jovial musical choices starkly contrast with haunting images; it's sometimes distracting, but serves to underscore the reality of how charming the serial killer really was. Michael Reilly Burke delivers a solid lead performance as Bundy, playing opposite Boti Bliss as his girlfriend Lee (loosely based on Bundy's real life partner, Elizabeth Kloepfer).
The film largely excels in telling Bundy's story as frankly as possible, unaltered by the public's perception of the events. Several uncomfortable sequences in the third act display Bundy's total disregard for human life, particularly a rape scene involving two of his victims. There is a realism in these moments that feel ripped out of 1978's rape-revenge film "I Spit on Your Grave," a coarse presentation that is downright sickening. The film never crosses completely into exploitation, but it toes the line. Otherwise, "Ted Bundy" walks viewers through the facts of the case, culminating in Bundy's execution by electric chair.
4. Ann Rule Presents: The Stranger Beside Me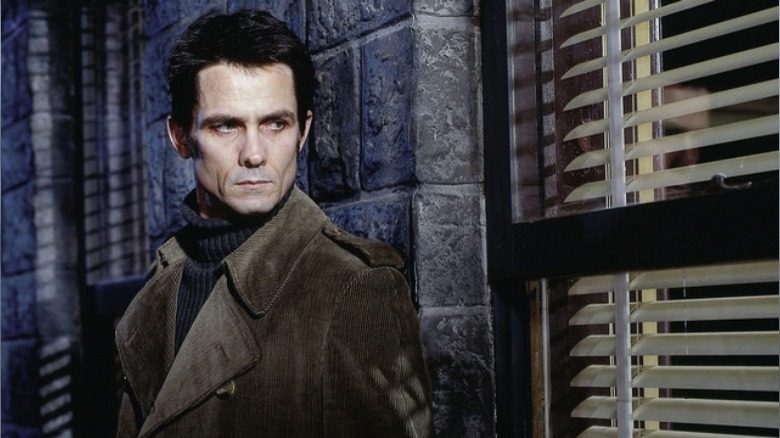 Columbia Pictures
Despite being made for TV, the 2003 film "The Stranger Beside Me," an adaption of Ann Rule's acclaimed book, does not suffer from a low budget. Performances by Billy Campbell as Ted Bundy and Barbara Hershey as Ann Rule, who once worked alongside the killer at a crisis center, make the film a compelling glimpse into Bundy's platonic relationships. It is directed by Paul Shapiro, with a script co-written by Matthew McDuffie and Matthew Tabak.
Bundy's crimes take a back seat in this film, which focuses instead on his friendship with Rule. Like others, Rule never suspected her co-worker of his involvement in grisly murderers, but as the body count climbs, she begins to have doubts, and eventually reports Bundy to the police. However, law enforcement has been overwhelmed with possible leads, and her report is simply added to a growing stack of paperwork.
"The Stranger Beside Me" comes from a firmly unique perspective. It foregoes any sort of exploitation in favor thoughtful, engaging storytelling. Of course, Hershey's ("Black Swan," "The Entity") emotional performance does a lot to ground this retelling of actual events.
3. Bundy: The Deliberate Stranger
It shouldn't come as a surprise that "Bundy: The Deliberate Stranger" was released during Ted Bundy's life. Originally broadcast on NBC as a two-part miniseries, the film presents an honest portrayal of Bundy's crimes. Even his lawyer, Polly Nelson, praised the film in her 1994 book "Defending the Devil: My Story as Ted Bundy's Last Lawyer." Despite its bloated three-hour runtime, Mark Harmon shines with a Golden Globe-nominated performance that embodies everything the serial killer was: mainly, a terrifying charmer with a psychotic nature.
In 1980, Seattle Times reporter Richard W. Larsen published the book on which the film is based. Larsen's perspective offers important insights, and draws upon his own experiences covering Bundy's life and crimes in real time, starting with a 1972 interview he conducted during Bundy's political days and moving through the 1974 slayings. With direction by Marvin J. Chomsky, "The Deliberate Stranger" expands upon the story's known facts by taking a deeper, microscopic look into Bundy's private life, including his work at a suicide hotline and his burgeoning romance with Elizabeth Kendall (Glynnis O'Connor), whose name was changed for the film to Cas Richter.
2. Extremely Wicked, Shockingly Evil, and Vile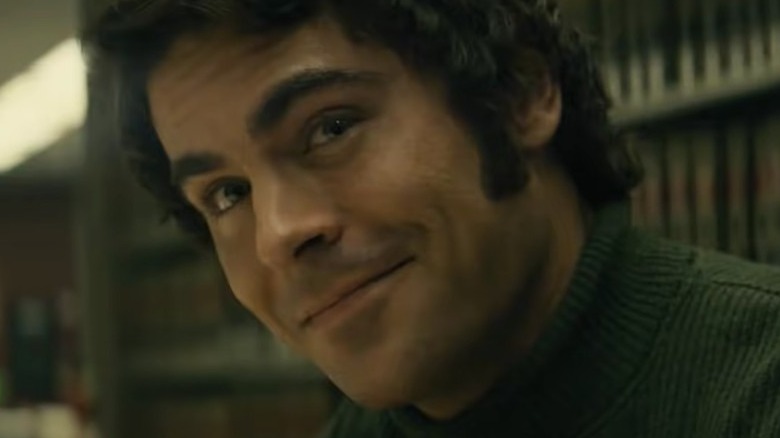 Netflix
The best Ted Bundy films are those that devote little screen time to the actual murders. The strange casting of Zac Efron aside (he's far too good looking), what makes "Extremely Wicked, Shockingly Evil, and Vile" special is the lens through which the story is told. In lieu of giving Bundy yet another platform, filmmaker Joe Berlinger hands the proverbial mic to Elizabeth Kendall, portrayed by Lily Collins.
The film takes cues from Kendall's own biography, "The Phantom Prince: My Life with Ted Bundy," and offers the viewer a perspective we've never witnessed before. We see how the two met, fell in love, and nurtured a family together. As Bundy plots his rampage, we get a glimpse into Liz's reconciliation of the loving family man she knew with the deranged killer in the headlines. Collins' performance is frequently moving, even soul-crushing, and you easily understand the spell Bundy cast over her and the many other women in his life. Efron is fine as Bundy, even if he's not especially inspired, which works since Bundy is not the narrator of this story. It's fully, unapologetically Liz's, and it's empowering that she finally gets to tell it.
1. No Man of God
It's been more than 30 years since Ted Bundy's execution, and there's very little we don't know about one of the most notorious killers in history. Everything, from his childhood to his political work to the murders, has been put under the microscope. No stone has been left unturned.
That said, "No Man of God" is one of the most surprising additions to the Bundy filmography. The movie, directed by Amber Sealy, reexamines the story through Bundy's "friendship" with FBI agent Bill Hagmaier. Transcripts and recordings from conversations conducted between 1984 and 1989 serve as the basis for the film, laying the foundation for a very different perspective than we're used to. As Hagmaier, Elijah Wood plays opposite Luke Kirby, who delivers the most brilliantly chilling on-screen Bundy to date.
Kirby's cool, calculated performance seems eerily ripped from Bundy's real-life interviews. When he explodes in anger, or his facial expression turns from congenial to menacing, you feel it in your core. Kirby's entire performance is a showpiece, but the most unsettling moment comes in the final scene, in which he finally confesses to several crimes, and it appears that he's relishing the details. Pulling off these beats is the mark of a truly great actor, and Kirby is a cut above the rest.