The Bizarre Horror Movie You Never Knew Starred Meat Loaf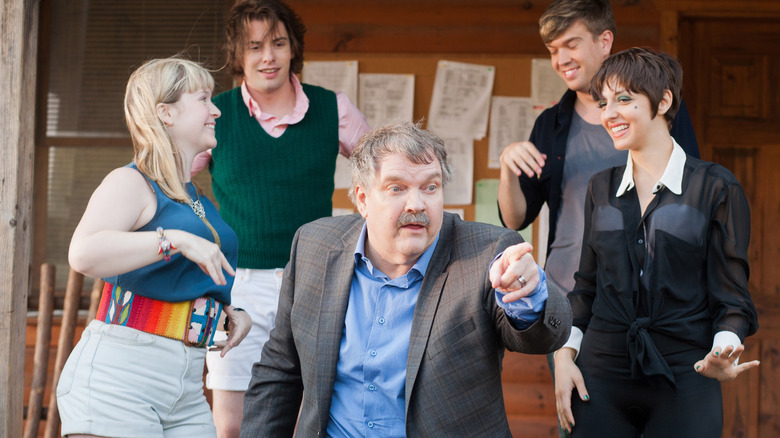 Entertainment One
If you've ever found yourself watching a musical and longing for the addition of murder and Meat Loaf to liven things up, then you'll be pleased to know that your wish was already granted back in 2014 with the arrival of "Stage Fright."
"Stage Fright" is 50% horror-comedy, 50% musical, and 100% bizarre. In it, Meat Loaf plays the role of Roger, the stressed-out producer of a failing musical theater camp. In addition to being on the verge of bankruptcy, the camp is plagued by a masked saboteur and serial killer who sings about how much he hates musicals.
Murder, Music, and Mayhem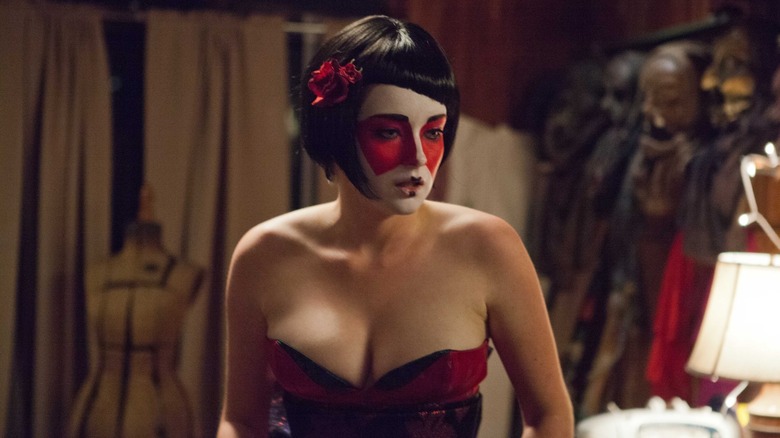 Entertainment One
Roger is pretty stressed out. Not only is he trying to save the camp, he's also raising the teenage children of his former lover, a broadway diva named Kylie Swinson, who was brutally murdered after a performance several years prior. Now, Camilla, the daughter of the dead diva, has dreams of following in her mother's footsteps and sees the camp's culturally appropriative kabuki production of "The Haunting of the Opera" as her big break. Not only is the fictional musical "The Haunting of the Opera" an obvious nod to the real-life musical "The Phantom of the Opera," it's also the same musical that her mother starred in on the night she was killed.
With Roger's blessing and some deeply uncomfortable sexual advances from the casting director, Camilla vies for the role of the play's leading lady. Roger becomes heavily invested in making sure that Camilla gets the part when he learns that a bigshot broadway agent will be stopping by on opening night, so he ignores the fact that people are being killed on camp grounds. The show must go on.
Should You Watch It?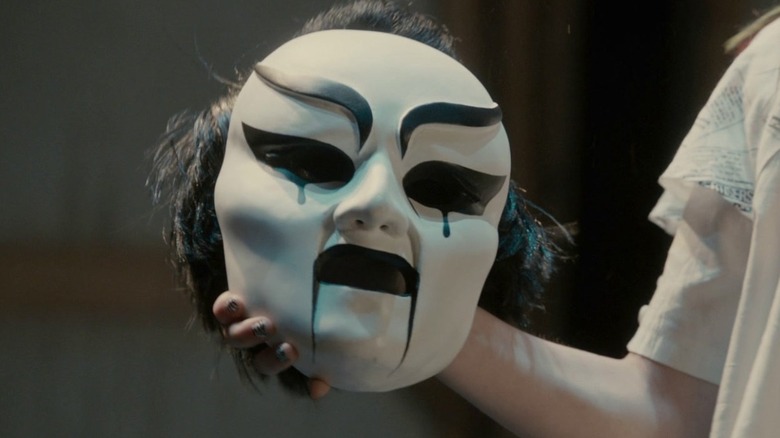 Entertainment One
"Stage Fright" received mostly unfavorable reviews, garnering a 37% approval rating on Rotten Tomatoes and a similarly abysmal 39/100 on Metacritic. Watching it, it's easy to see why "Stage Fright" failed to impress. While there are some funny moments, the film doesn't really succeed as a comedy. As a horror movie and musical, things aren't much better. There are gallons of gore and musical numbers galore, but the scares are scarce and the music is mediocre. This isn't to say that "Stage Fright" is terrible; it's just not the type of movie you should watch if you're expecting "Phantom of the Opera" or "Sweeney Todd." Basically, it's not bad enough to be "bad in a good way," and definitely not good enough to be considered good.
Despite the negative reviews, many critics found Meat Loaf's over-the-top performance as Roger to be the saving grace of the otherwise underwhelming film. If for no other reason than to appreciate the late performer's theatrical flair, "Stage Fright" is definitely worth a watch. This comes as no surprise when considering the late singer's own words during an interview about the film in 2014. "For almost 50 years, everything that I do on any given night has to be better than the night before, and if I think it isn't, I'm upset," he revealed. It makes sense that someone so committed to making every performance memorable and consistently outdoing himself would bring that same level of artistic drive to the set of "Stage Fright."
How Did Meat Loaf Become Involved?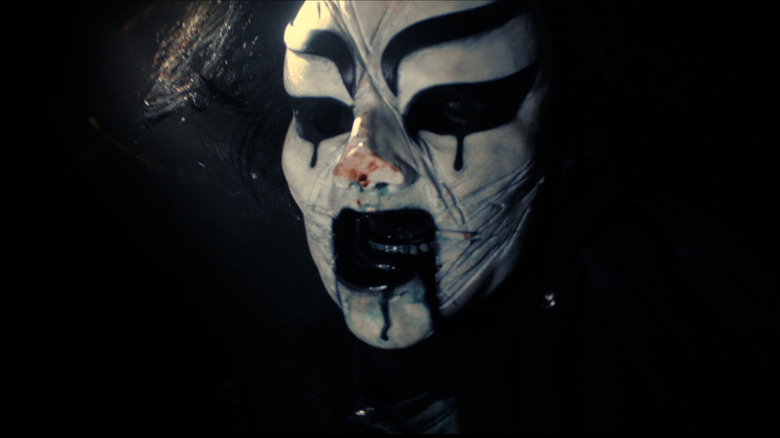 Entertainment One
Meat Loaf was best known for his dramatic musical performances and operatic vocals, so people who knew him solely for his musical abilities may be surprised to learn that the man behind "Bat Out of Hell" also acted in a number of films throughout his career. In fact, he has said that he considered himself to be more of an actor than a musician, so it makes sense that he would be in a movie that combined two of his passions — even if that movie was "Stage Fright."
Prior to "Stage Fright," Meat Loaf had already racked up quite the filmography with roles in iconic films like "Rocky Horror Picture Show" and "Fight Club." Interestingly, after playing the doomed biker Eddie in "Rocky Horror," Meat Loaf said he was actually hesitant to star in another musical due to the "infamy" of the horror-comedy. However, 35 years later, Meat Loaf became intrigued by the opportunity to play a struggling musical camp director in "Stage Fright." In particular, he was enticed by the vocal style of his character, which differed from the power ballad style was known for, and his presence ended up being the best thing about the movie.