The Legend Of Vox Machina Voice Cast Includes David Tennant And Stephanie Beatriz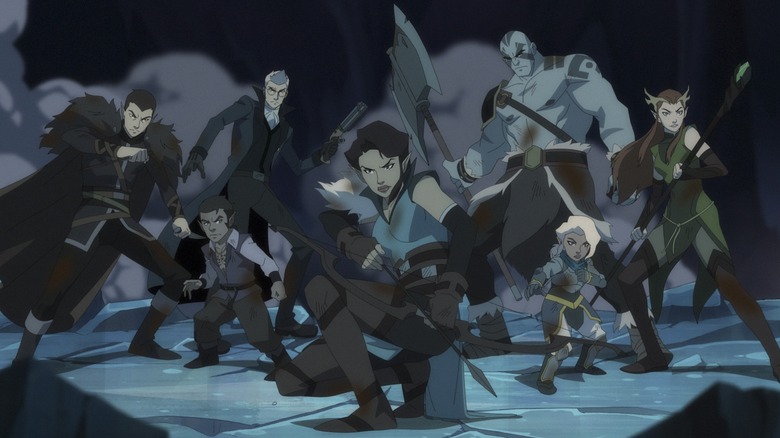 Prime Video
Critical Role is kicking off a new campaign by bringing their Dungeons and Dragons roleplay to life with "The Legend of Vox Machina." The new animated series from Prime Video is already set for a massive two seasons (totaling 28 episodes) that retell the tale of their immensely popular web series. Prepare to watch a ragtag gang of adventurous guns for hire engage in seriously chaotic hijinks. The unlikely heroes begin their journey in an effort to pay off their bar tab but end up on a quest to save the realm from terrifying monsters and dark, magical forces.
Fans of the hit podcast were thrilled to learn that the original voice cast is reprising their roles (with the exception of Orion Acaba). But you know what makes every tabletop RPG just a little bit better? Growing the party! So joining the beloved original cast are an army of talented newcomers to the series — including some very familiar voices. The big-name guest actors are set to support the cast by taking over the many side characters of Vox Machina's story. Originally, these characters were played by the series creator, and the campaign DM, Matthew Mercer. But the cast collectively welcomed the opportunity to get new voices in the mix. Prime Video announced the full extended cast via YouTube, sharing a behind-the-scenes look at the upcoming series. You can check out the sneak peek below!
The Legend of an Epic Voice Cast
As the behind-the-scenes doc reveals, the extended cast of "The Legend of Vox Machina" is full of A-list stars and big names from across geek culture. As our seven heroes set off on their epic adventuring, they'll come across both friends and foes, presenting the perfect opportunity for said guest stars. This includes appearances from Stephanie ​​Beatriz ("Encanto," "Brooklyn Nine-Nine") as Lady Kima, Tony Hale ("Veep") as Sir Fince, David Tennant ("Good Omens") as General Krieg, Dominic Monaghan ("Lord of the Rings") as rebel leader Archibald Desnay, Stephen Root ("Barry") as Professor Anders, Gina Torres ("Firefly") as Keeper Yennen, Felicia Day ("The Guild") as Captain of Emon, and Indira Varma ("Game of Thrones") as Lady Allura Vysoren. And that's just naming a few.
Expect to also hear the voices of Khary Payton, Sunil Malhotra, Anjali Bhimani, Eugene Byrd, Esmé Creed-Miles, Darin De Paul, Grey Griffin, Bobby Hall aka Logic, Kelly Hu, Rory McCann, Max Mittelman, Mason Alexander Park, Stacey Raymond, and Tracie Thoms.
It's no wonder so many big names are in the mix when you consider the series started with a core cast of acclaimed voice-over artists. Between them, the original stars have voiced characters in game franchises like "The Last of Us" and "Final Fantasy" and series including "Star Wars: The Bad Batch" and "Teenage Mutant Ninja Turtles." Here's a refresher on the main cast members reprising their roles in the series: Matthew Mercer returns as Sylas Briarwood, with Ashley Johnson as gnome cleric Pike Trickfoot, Travis Willingham as goliath barbarian Grog Strongjaw, Laura Bailey as half-elf ranger Vex'ahlia "Vex" Vessar, Liam O'Brien as half-elf rogue Vax'ildan "Vax" Vessar, Taliesin Jaffe as human gunslinger Percival "Percy" Fredrickstein Von Musel Klossowski de Rolo III, Marisha Ray as half-elf druid Keyleth of the Air Ashari, and Sam Riegel as gnome bard Scanlan Shorthalt.
Per Amazon Prime Video, here's a series synopsis:
They're rowdy, they're ragtag, they're misfits turned mercenaries for hire. Vox Machina is more interested in easy money and cheap ale than actually protecting the realm. But when the kingdom is threatened by evil, this boisterous crew realizes that they are the only ones capable of restoring justice. What began as a simple payday is now the origin story behind Exandria's newest heroes.
"The Legend of Vox Machina" arrives on Amazon Prime on January 28, 2022.