The Morning Watch: Creating The Ghostbusters: Afterlife Farmstead, Seth Rogen Gets Spicy On Hot Ones & More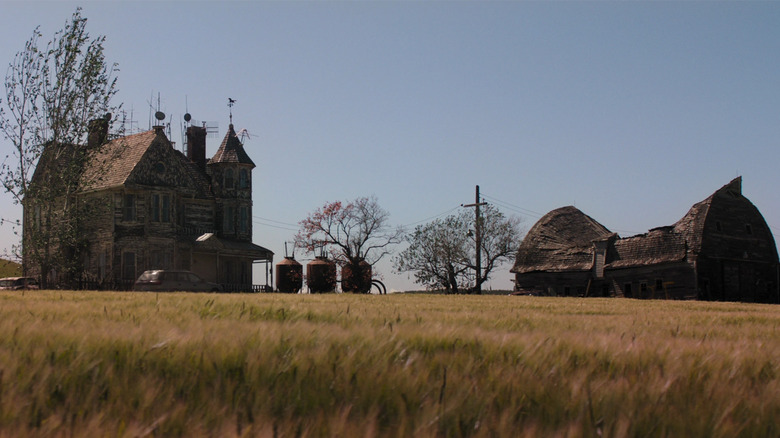 Sony Pictures
(The Morning Watch is a recurring feature that highlights a handful of noteworthy videos from around the web. They could be video essays, fan-made productions, featurettes, short films, hilarious sketches, or just anything that has to do with our favorite movies and TV shows.)
In this edition, Adam Savage finds out how the crew of "Ghostbusters: Afterlife" moved an entire barn up to Canada for production. Next, Seth Rogen stops by "Hot Ones" to talk about the upcoming Hulu series "Pam & Tommy" and get all spicy with some of the hottest wings on the planet. And finally, watch Michael Keaton make his first appearance on "The Tonight Show" with Johnny Carson.
Touring the Ghostbusters: Afterlife Farmstead
First up, Adam Savage and the Tested crew were present on the set of "Ghostbusters: Afterlife" for the first day of filming, and it all started with them turning an empty field in Calgary, Canada into Egon Spengler's farmstead. In fact, the dilapidated barn with the collapsed roof was actually moved from an entirely different location. Find out how they moved an entire barn and created the entire set in the full video.
Seth Rogen on Hot Ones
Next, Seth Rogen has plenty of new projects on the way, including the Hulu series "Pam & Tommy" and the animated anthology series "The Boys Presents: Diabolical," set within the universe of "The Boys" on Amazon Prime Video. With so much to talk about, there was no better time for Rogen to return for an episode of "Hot Ones" for his first solo episode. How does he handle the new hot sauce line-up? Find out.
Michael Keaton Appears on The Tonight Show
Finally, here's a throwback clip from "The Tonight Show" with Johnny Carson. After appearances in "Night Shift" and "Mr. Mom," Michael Keaton was finally welcomed to the show for his leading role in "Johnny Dangerously" in December of 1984. Keaton comes out on stage and starts by walking a few steps on his hands before having a chat with Carson. Did you know Keaton is one of a family that includes seven kids? Watch the whole interview for more.