If You Loved The Action In The Book Of Boba Fett Episode 4, Thank Kevin Tancharoen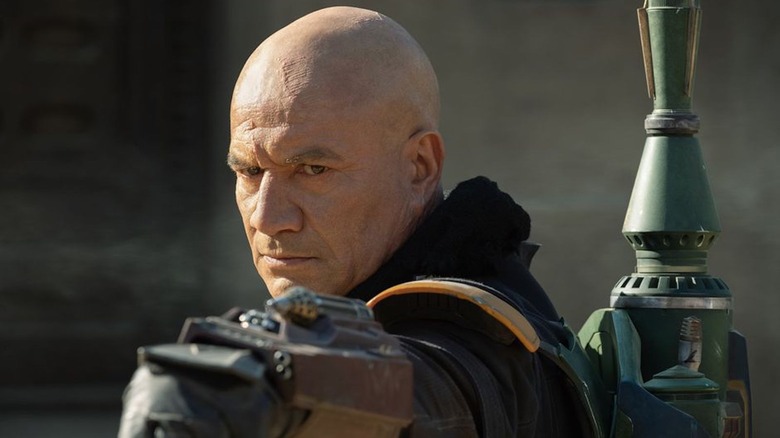 Disney+/Lucasfilm
This article contains spoilers for the new episode of "The Book of Boba Fett."
Say what you will about the live-action "Star Wars" movies, but they've rarely failed to deliver the goods when it comes to top-notch action scenes and spectacle. Even "The Phantom Menace," for all of its flaws, gave us the exhilarating podracing sequence and a kick-ass lightsaber duel between Darth Maul, Obi-Wan Kenobi, and Qui-Gon Jinn.
That maxim held true when Boba Fett made his triumphant return in "The Mandalorian" season 2 episode "The Tragedy," after his brief cameo at the end of the second season premiere. The combination of Robert Rodriguez's direction and Temuera Morrison pulling from his knowledge of Māori weaponry and the Haka ceremonial dance resulted in some excellent fight scenes, with Boba using the gaffi stick gifted to him by his Tusken Raider friends (RIP) to beat the snot out of some hapless stormtroopers. That also boded well for the bounty hunter-turned crime lord's spinoff series, "The Book of Boba Fett," which makes it all the more frustrating that the show's action has been rather inconsistent up to this point.
This is not to say "The Book of Boba Fett" has been completely lacking in this respect. Episode 2, "The Tribes of Tatooine," featured a solid sequence where Boba and a group of Tuskens take down one of the Pyke Syndicate's hovertrains, and the series' premiere had Fennec Shand (Ming-Na Wen) parkouring like a boss over the rooftops of Mos Espa while pursuing Boba's would-be assassins. Episode 2 also pitted Boba against a pack of Nikto miners in a tightly-executed bar brawl, which only called more attention to how choppy his fight scenes were in episodes 1 and 3 (both of which were, curiously, directed by Rodriguez). And who can forget the now-infamous Mos Espa speeder chase in episode 3, a sequence that was no doubt challenging to pull off using the show's StageCraft tech but was almost comedically slow in motion?
Thankfully, this week's episode, "The Gathering Storm," had some of the stronger and more varied action on "The Book of Boba Fett" so far. You can credit that to the episode's director, Kevin Tancharoen, the hard-working filmmaker and choreographer who's spent the last 10 years quietly churning out slick fight scenes on TV and streaming.
Wookiee Fights and Sarlacc Shenanigans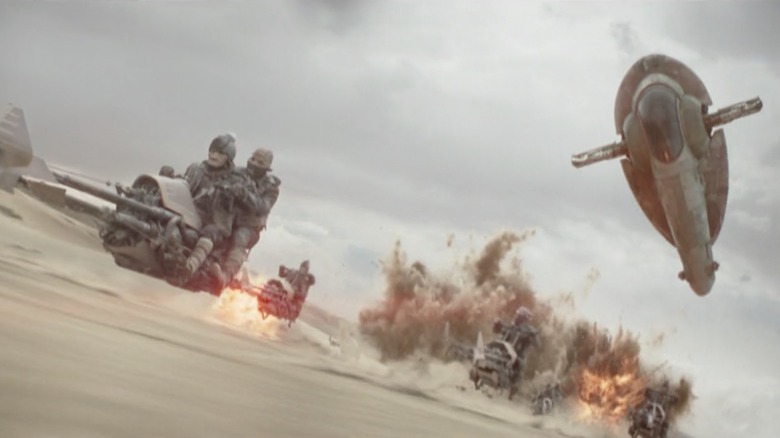 Disney+/Lucasfilm
A quick primer: After helming the 2009 "Fame" remake and 2011's "Glee: The 3D Concert Movie," Tancharoen transitioned into directing action with the well-received "Mortal Kombat: Legacy," a live-action web series that was born out of his failed attempt to land a green light for a "Mortal Kombat" movie reboot based on his short film, "Mortal Kombat: Rebirth." He would go on to lend his talents behind the camera to multiple Arrowverse shows, shifting with ease from directing the grittier fights in "Arrow" to the more playful brawls in "DC's Legends of Tomorrow" and the first episode from the "Elseworlds" crossover. However, it was his efforts on Marvel's "Agents of S.H.I.E.D." (a series co-showrun by his sister Maurissa Tancharoen and brother-in-law Jed Whedon) that really highlighted his skills, with Tancharoen delivering impressive one-shot action scenes where series lead Daisy Johnson took out her enemies "John Wick"-style.
Tancharoen's range as an action director is on full display in "The Gathering Storm." There's the scene where Boba recovers his ship from Jabba's palace while Fennec swiftly snipes several guards with a blaster before pummeling a Gamorrean with her bare hands. It's a good showcase of just how deadly Wen's character is (not to mention, a reminder that Tancharoen knows how to use Wen as a performer after working with her on "Agents of S.H.I.E.L.D."), and its gritty tone is carried over smoothly into the next scene, where Boba gets his revenge on the Nikto gang that killed his adopted Tusken family by using his ship to remorselessly blast them to pieces.
This grim turn-of-events is complemented by the episode's sillier yet entertaining moments, including Black Krrsantan tossing around a group of Trandoshans at the Sanctuary and ripping one of their arms off as though it was made of paper, all while Boba and Garsa Fwip (Jennifer Beals) look on in bemusement and annoyance, respectively. The scene where Boba and Fennec unwisely tangle with the Sarlaac before quickly dropping a seismic charge down its gullet is equally comical-but-cool (as "Star Wars" has always been) and shows that Tancharoen has a firm grip on the vibe he's going for at any given time. It's also a reminder that, as a director, he can handle set pieces just as well as close-quarter combat, which is all the more reason to hope he returns to a galaxy far, far away in the future.
New episodes of "The Book of Boba Fett" debut Wednesdays on Disney+.