Simon Pegg Would Like To Play His World's End Character Again, But Probably Won't [Exclusive]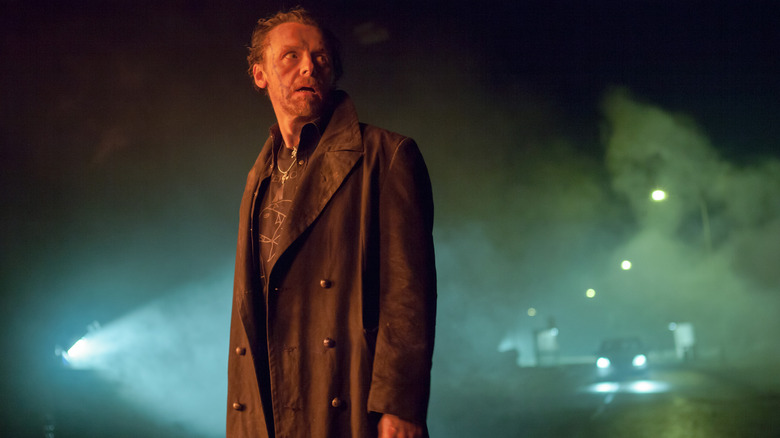 Focus Features
Simon Pegg is about to revisit the role of Buck in "The Ice Age Adventures of Buck Wild," which arrives on Disney+ later this month. Pegg is also set to return as Benji in "Mission: Impossible 7" later this year. But what other character from his past would the actor like to revisit? Gary King from "The World's End," as it turns out. Though this is a reprisal that is unlikely to happen, according to the actor.
I recently had the chance to sit down and speak with Pegg on behalf of the upcoming "Ice Age" movie. During our chat, I asked him what character he'd most like to revisit, provided the opportunity. He revealed that he would like another crack at Gary King from 2013's "The World's End," which capped off the so-called "Cornetto Trilogy," alongside "Shaun of the Dead" and "Hot Fuzz." All three movies were directed by Edgar Wright and starred both Pegg and Nick Frost, making for the connective tissue. Pegg told me the following:
"I'd love to play Gary King again from 'The World's End' because I really, really loved playing that character. And Edgar and I tend not to dwell on the past. We don't sort of do sequels to our movies because we just always want to just keep things moving, do different things. And people always ask us about sequels, and we always say no. And I think that will always be the case, but in an imaginary kind of scenario where we did do a sequel, I would definitely do a kind of post-apocalyptic World's End sequel with Gary off in the wilderness with his blank friends fighting."
Preserving The Integrity Of The Original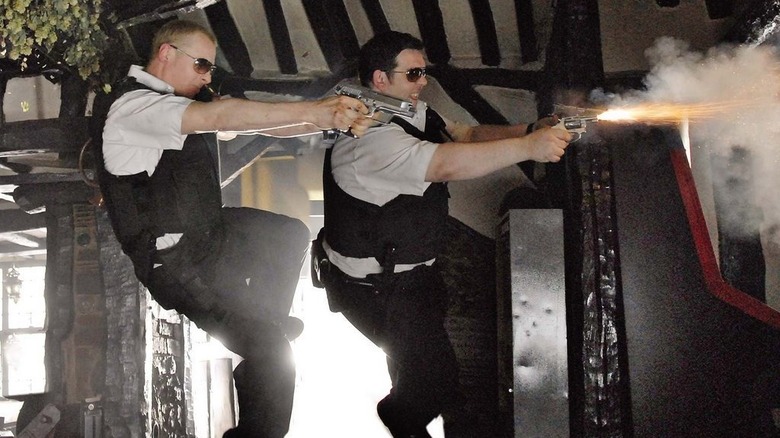 Working Title
Even though Pegg kind of has a whole pitch laid out, the odds of this happening are slim. It seems likely that Wright and Pegg could generate interest for the project, if they wanted to, but the fact of the matter is they simply don't want to revisit the past. Beyond that, they also don't want to spoil the magic of the original in the process.
"You don't want to spoil them retroactively. You don't want to kind of... Sometimes you add to something, and it ends up damaging the original. Even something like 'Jaws,' which is an unassailable masterpiece, you can't help but mention 'Jaws 4' [The Revenge] in the same breath. And it's just slightly diminishing."
This is also why we likely won't see "Hot Fuzz 2" even though, as Pegg says, "Hot Fuzz is an origin story," which is why "the title is at the end of the movie." As much as I would love to see a "Hot Fuzz" sequel, I see his point. Comedy sequels are especially difficult to nail and, in an era of Hollywood dominated by sequels and reboots, it's hard not to respect the fact that Pegg and Wright are happy to let these movies just exist.
"The Ice Age Adventures of Buck Wild" arrives on Disney+ on January 28, 2022.
"The Ice Age Adventures of Buck Wild" continues the hilarious escapades of the sub-zero heroes as they create more prehistoric pandemonium. Eager for a little independence, the thrill-seeking possum brothers Crash and Eddie set out to find a place of their own but soon find themselves trapped beneath the ice in a massive cave inhabited by dinosaurs. They are rescued by the one-eyed, adventure-loving weasel Buck Wild, and together, with the help of some new friends, embark on a mission to save the Lost World from dinosaur domination.