Why Bam Margera Barely Appears In Jackass Forever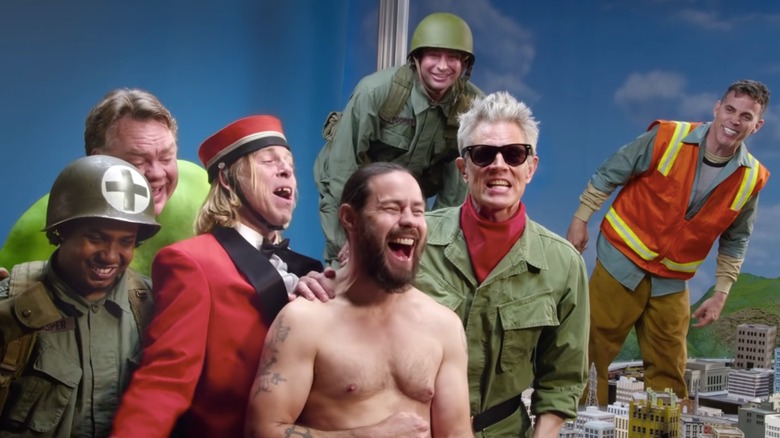 Paramount Pictures
"Jackass" is a franchise that has tested the limits the human mind and body with a litany of crazy, gross, weird, and all-out insane stunts that the whole crew took part in. But sometimes, the lifestyle of cast members would go a little overboard and into some darker territory. Such was the case for Bam Margera, who was long a fixture on the show and movie series, and is curiously absent from "Jackass Forever."
The fourth main installment in the "Jackass" movie franchise restarted filming in the fall of 2020 following a hiatus due to the COVID-19 pandemic. Margera tested positive for Adderall during filming and was not invited back onto set when "Jackass Forever" resumed their shoot. Margera, a former professional skateboarder and founding cast-member of "Jackass," isn't the first or only Jackass member to have some behavioral and substance abuse issues — Steve-O was infamously an addict for much of Jackass's run before seeking help and turning his health completely around — but he has caused rifts with the group as of late, resulting in his presence in the upcoming movie getting severely limited.
A Messy Situation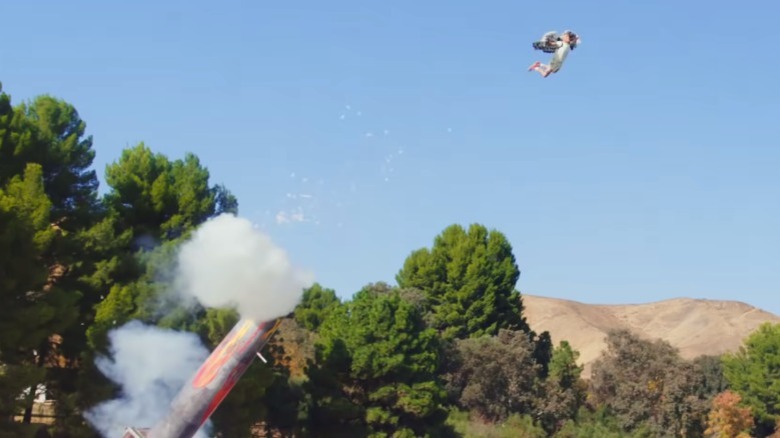 Paramount Pictures
Margera only appears in a single stunt throughout the movie and is credited near the end of the cast list in film: as the 45th out of 49 members. After his ban from the set, he released videos on Instagram making accusations towards Paramount, and Jackass co-founders Johnny Knoxville and Jeff Tremaine, all of whom Margera proceeded to sue. Knoxville said that the intention, of course, was to include Margera for the entire film but the situation had changed.
Steve-O spelled it out clearly in a reply to one of Margera's Instagram videos, stating, "Everyone bent over backwards to get you into the movie, and all you had to do was not get loaded. You've continued to get loaded, it's that simple." Producer Spike Jonze is also part of the lawsuit, which claims that Margera was prescribed Adderall for his Attention Deficit Disorder and thus, his ban from the set was illegal. The lawsuit is also claiming millions from the movie's producers and Margera went so far as to call for his fans and fans of "Jackass" in general to boycott the movie.
The End of Jackass?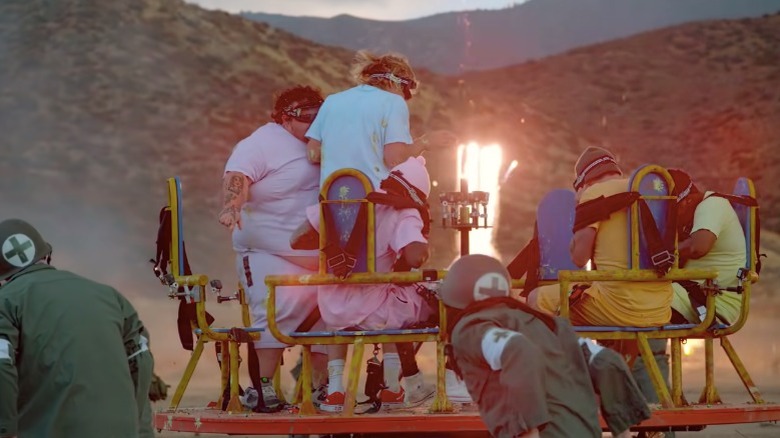 Paramount Pictures
While it's not certain what the future of "Jackass" is, Johnny Knoxville has all but declared that it is his final foray into the world of stunts and pranks. It would have been nice to have the entire crew there for "Jackass Forever" to send everyone and especially Knoxville off in glorious fashion, but with  the combined untimely death of cast member Ryan Dunn (Margera's best friend) and Bam Margera's personal issues, it looks like the show will have to be carried on the backs of Knoxville, Steve-O, Wee Man, and the rest of the gang.
"Jackass" cast members have made a living off of putting themselves in precarious situations but in this case, things have gotten a little realer and frankly, sadder, than they would've hoped. Bam Margera's erratic and unpredictable nature was an asset for "Jackass's" best stunts, but it has since turned on its head in the real world. Margera's drug addiction is something which has affected Knoxville quite a bit. He laments, "It's really heartbreaking. I love Bam. We all love Bam. He's our brother, you know? You just hope that he takes it upon himself to get the help that he needs, because we all care about him a lot."
"Jackass Forever" hits theaters February 4, 2022.