Watch The Gorgeous Opening Scene Of Mamoru Hosoda's Belle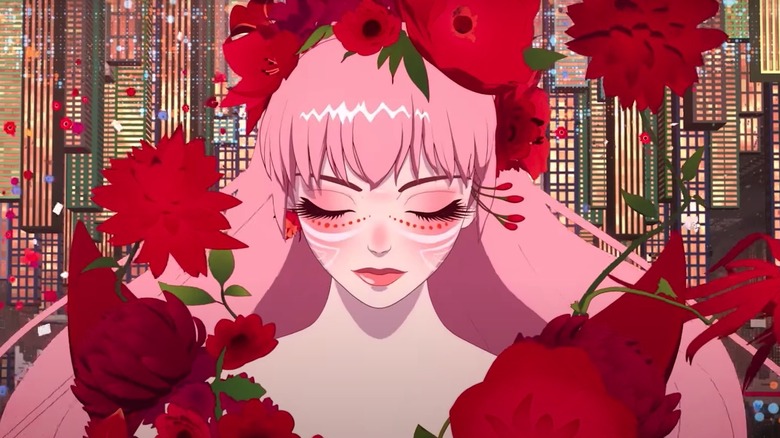 GKIDS Films
"Belle" (竜とそばかすの姫, Ryū to Sobakasu no Hime which translates to "The Dragon and The Freckled Princess") comes to us from Mamoru Hosoda and Studio Chizu, and today we've got the entire opening scene. When you can pull your eyes away from the first image (and I expect to see cosplay pics on my Twitter if you dress like this), you have to watch. It's a stunning video, and it's out there to tease the film hitting theaters and IMAX on January 14, 2022. The film will be subtitled and dubbed. 
"Belle" comes to us from Oscar-nominated director Mamoru Hosoda, creator of "Mirai," "Wolf Children," Summer Wars," and "The Girl Who Leapt Through Time," and Studio Chizu. It's "a fantastical, yet beautiful and contemporary thematic story of one girl's growth in the age of social media." It's based on the 1756 French fairy tale "Beauty and the Beast," by Jeanne-Marie Leprince de Beaumont. 
Come, It's Time to Start Another Life
The opening scene, which gives us our first listen of the English dub version of the movie's central song, introduces us to a virtual world of five billion people in the fictional app "U." It allows you to create an entire new life for yourself. It's a story we've seen before, but this opening is so beautiful that I've been officially sucked in. I cannot wait to see the whole film! Belle is riding a whale for her concert! Riding a whale!
"Belle" is an official selection of the 2021 Cannes International Film Festival and the 2021 New York Film Festival. The English-speaking cast includes Kylie McNeill as Suzu/Belle, Paul Castro Jr. as Dragon, Chace Crawford as Justin, Jessica DiCicco as Hiro, Brandon Engman as Kamishin, Manny Jacinto as Shinobu, Hunter Schafer as Ruka, and Cristina Vee Valenzuela as Peggie Sue. Additional voice actors include SungWon Cho (ProZD), Xanthe Huynh, LilyPichu, Zeno Robinson, Stephanie Sheh, Michael Sinterniklaas, and Laura Stahl. "Belle" is the third-highest grossing Japanese film in 2021.
Here is the official synopsis for "Belle:"
Suzu is a 17-year-old high school student living in a rural village with her father. For years, she has only been a shadow of herself. One day, she enters "U," a virtual world of 5 billion members on the Internet. There, she is not Suzu anymore but Belle, a world-famous singer. She soon meets with a mysterious creature. Together, they embark on a journey of adventures, challenges and love, in their quest to become who they truly are.