Children Of Blood And Bone Adaptation Coming From Paramount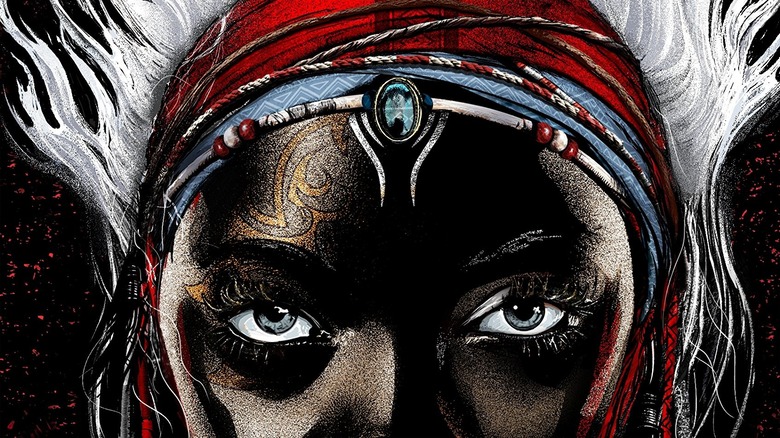 Henry Holt Books for Young Readers
A new YA franchise is making its way through Hollywood: Paramount Pictures just landed the rights to Tomi Adeyemi's epic fantasy series, "Children of Blood and Bone." Inspired by Nigerian culture, the series follows a heroine on a perilous journey to restore magic to her kingdom. The best-selling trilogy will be adapted and executive produced by the author herself, and Paramount is reportedly fast-tracking the project with producers Wyck Godfrey and Marty Bowen, both known for work on the "Twilight" saga, the "Maze Runner" trilogy, and "Love Simon." Karen Rosenfelt ("Percy Jackson," "The New Mutants") also serves as a producer.
According to Deadline, Paramount's acquisition concluded a fierce bidding war that involved several major players: Universal, Amazon, and Netflix were all included in the mix. The final offer "blew away the others as it included several incentives including a seven-figure screenwriting guarantee as well creative approvals for Adeyemi." The Paramount deal also came with a guaranteed theatrical release for the film, a particularly effective incentive given the streaming services vying for the series. Adeyemi's trilogy (the third and final book is set to be published in 2023) has already amassed a massive fan base and topped the best-sellers lists throughout its run, so it's not hard to see the potential of its wide theatrical release. 
Then there's the incredible potential of the story itself — the following synopsis should give you a hint of what to expect:
They killed my mother.

They took our magic.

They tried to bury us.

Now we rise.

Zélie Adebola remembers when the soil of Orïsha hummed with magic. Burners ignited flames, Tiders beckoned waves, and Zélie's Reaper mother summoned forth souls. But everything changed the night magic disappeared. Under the orders of a ruthless king, maji were killed, leaving Zélie without a mother and her people without hope. Now Zélie has one chance to bring back magic and strike against the monarchy. With the help of a rogue princess, Zélie must outwit and outrun the crown prince, who is hell-bent on eradicating magic for good. Danger lurks in Orïsha, where snow leoponaires prowl and vengeful spirits wait in the waters. Yet the greatest danger may be Zélie herself as she struggles to control her powers and her growing feelings for an enemy.
Is The YA Resurgence Upon Us?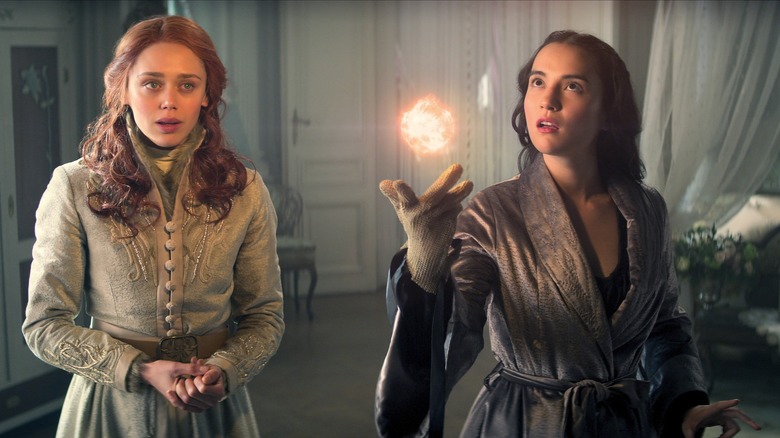 Netflix
It's no surprise to learn that multiple studios took an interest in "Children of Blood and Bone," one of the more substantial YA sagas to enter Hollywood since "The Hunger Games." We're certainly not in the peak YA era anymore, when there were YA blockbusters as far as the eye could see, but the genre hasn't exactly faded. It seems especially popular across streaming services, where you'll find everything from romance ("To All The Boys I've Loved Before") to murder mysteries ("One of Us Is Lying") to epic fantasies like "Shadow and Bone." The latter found success on Netflix, having hit the ground running with its debut season. It even snagged one of those Netflix-branded accolades (that we take with a grain of salt, since they don't actually reveal the details of their statistics): the streamer said that 55 million households watched the season within its first 28 days.
Adeyemi's series has the potential to launch even bigger with a guaranteed theatrical release and presumably a later debut on Paramount's streaming service, Paramount+. And sweeping fantasy sagas are all the rage now, as everyone tries to fill the "Game of Thrones"-shaped void in the world. This series, which offers a unique take on a transformative fantasy world, could fill that gap. Adeyemi took inspiration from some of the usual suspects — "Harry Potter" and "Avatar: The Last Airbender" included — but also drew upon West African mythology and the Yoruba culture/language.
"Children of Blood and Bone" seems a hot property, as it's been shuffling around for the past few years. It was originally optioned by Fox 2000 Pictures and Temple Hill Productions, but Fox 2000 was later shuttered following Disney's acquisition of 21st Century Fox. The film was then passed along to Lucasfilm's and almost became the studio's first original live-action project (non-"Star Wars" or "Indiana Jones" related) since its 2012-Disney acquisition. "This Is Us" writer Kay Oyegun was in talks to write the script and Rick Famuyiwa was attached to direct. With the project now in Paramount's hands, no director has been announced and the honor of adaptation goes to Adeyemi, who said:
"Paramount's passion and enthusiasm to bring this story to life has been incredible. We are all so excited for this new chapter and are already hard at work."