Dune Featurette: Denis Villeneuve Reveals The Challenges Of Adapting Frank Herbert's World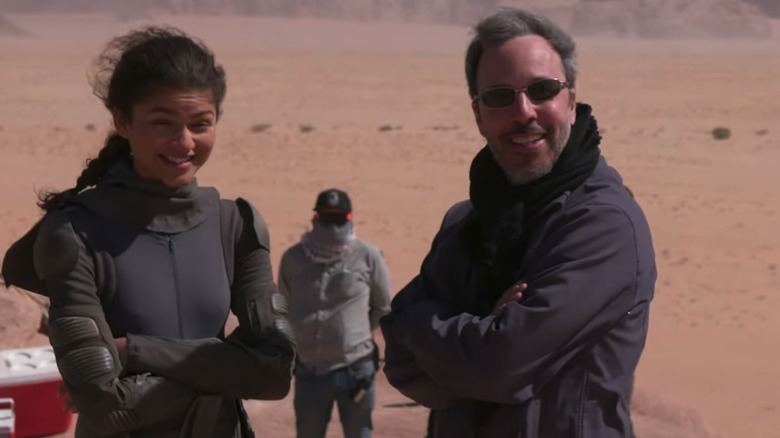 Warner Bros. Pictures
The Warner Bros. Pictures film "Dune" is out right now on Blu-ray, and today there is a new featurette from Collider that goes into how director Denis Villeneuve created his version of the world of Frank Herbert's sci-fi book series. The film is the first half of the 1965 book "Dune," which is the first book in the series. 
In the video, Villeneuve says:
"Dune took years to be made because it was a challenge to respect the spirit of Frank Herbert´s book and bring it to the big screen ... maybe the most important thing of all, I wanted the design to be inspired by nature. The light, the wind, the dust feel that these were natural environments ... In the past I've shot in Jordan, and I remember 10 years ago, saying to myself, wow, if ever the day I make a movie like 'Dune,' that's where I'm coming."
It's such a specific look, the deserts of Jordan where Arrakis parts of the film were shot. It's stunning and brutal, and fits one's imagination in terms of what Herbert's Arrakis would have looked like. Greig Fraser, the director of photography on the film, added that, "From a color perspective, Denis wanted Arrakis to be harsh and desolate."
My Desert, My Dune
There are also great discussions about the light in the Jordan desert, and the rock formations that were absolutely utilized in the film. For instance, they're areas of refuge for Jessica (Rebecca Ferguson) and Paul (Timothée Chalamet) as they try to find their way through the sands. "Dune: Part 2" will reportedly be released in October 2023, and begin filming in July of 2022.
Here is the official synopsis for "Dune" from Denis Villeneuve:
A mythic and emotionally charged hero's journey, "Dune" tells the story of Paul Atreides, a brilliant and gifted young man born into a great destiny beyond his understanding, who must travel to the most dangerous planet in the universe to ensure the future of his family and his people. As malevolent forces explode into conflict over the planet's exclusive supply of the most precious resource in existence–a commodity capable of unlocking humanity's greatest potential–only those who can conquer their fear will survive.